Tenacious Twelve
By Melanie Moffett
Jul 24th, 2014
0 Comments
1577 Views
A Profile of Twelve Restaurants with Staying Power
photography by Joli Livaudais
Restaurants can be a fickle business, where new players take the place of old standards every day. In boom times, new restaurants pop up like mushrooms on a moist Spring night. In lean times, they vanish almost without warning. Between the extremes, though, there exist the stalwarts, those eateries that seem to flourish year after year, stretching into the decades.
These dine-and-dashes, greasy spoons and haute cuisine establishments are handed down from generation to generation. Fathers and mothers train sons and daughters–and in more than a few cases, the grandchildren–to undertake the hard work of providing good service, cooking consistent meals and keeping a watchful eye on the bottom line. These are the restaurants that become legacies, those rare places that take on their own identity and become woven into the fabric of a community.
How rare these restaurants are is a matter of much debate. The American Restaurant Association pegs the "average" lifespan of a family-owned "successful" restaurant at 25 years. Very few restaurants exceed this lifespan, too. Yet in our neck of the woods, diners enjoy a plethora of family-owned diners, lunch counters and sandwich shops that have been around for more than three decades.
Open the window a little wider, and you find restaurants that are more than twenty years old and even more that just celebrated fifteen. BayouLife Magazine visited twelve of these restaurants to find out the secret of success, longevity and attracting the loyalty of legions of faithful, adoring customers. Here's what we found.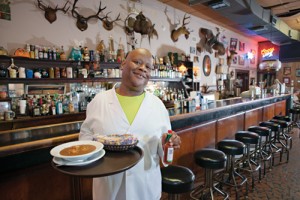 THE MOHAWK TAVERN
Established: 1952
What to try: Seafood Gumbo, Fried Shrimp or Shrimp Delight Salad
When Tom and Alline Fontana opened the Mohawk Tavern in 1952, most of Monroe still existed south of their Louisville Avenue location. In fact, trees still lined the street and, for the most part, they were on the edge of town. But times were changing. As development moved north, the Fontanas tapped into a steady stream of traffic to establish a foothold on what would eventually become the busiest thoroughfare in the Twin Cities.
More than 62 years later, their restaurant is still going strong, under the guidance of Joan Norman, their daughter. Little has changed inside what is believed to be the oldest restaurant in northern Louisiana. Stepping through the doors of the Mohawk is like stepping back in time. Photos of the restaurant through the years, trophies from hunting and fishing, and other objects of note line the walls. But people don't come for the atmosphere and history, even though the Mohawk has plenty of both. They come for the food.
The Mohawk serves a blend of fresh Louisiana seafood. The menu includes fried oysters, shrimp, fish. Then, there's the gumbo. Joan says gumbo keeps people coming back decade after decade. "It's just really good."
She demurs when asked to reveal the secret to the gumbo, declining to confirm even whether it contains crab or shrimp.  (Hint: it contains both). Instead, she shakes her head. "People have been trying to get those recipes for 60 years."
GENUSA'S
Established: 1967
What to Try: Anything Veal, Cannelloni, Fine Wines
When it comes to fine dining, one place has set the standard for almost 50 years. Genusa's on Park Avenue in Monroe consistently provides diners with an upscale experience, while serving up some of the most delicious food possible. Owner Cherry Genusa is quick to point out, though, that Genusa's isn't just another Italian restaurant. They're Sicilian.
"There's a difference between Italian and Sicilian. The difference is we use more tomatoes and more ingredients like onion and garlic, more flavorful fare," Genusa says. Savory herbs such as basil play a role along side the traditional garlic and oregano. And, since they opened, Genusa's flavors haven't changed. "We still serve the same sauce that we've served since 1967," Cherry says. "We don't change up our menu that often."
Part of that menu has been Genusa's selection of veal dishes, which Cherry believes keep customers coming back year after year. "Veal is probably the most popular dish we serve, besides cannelloni."
Over the years, Genusa's has become a fixture of Monroe nightlife, as generations of diners introduce their children and grandchildren to Genusa's quaint atmosphere and elegant service. Part of the Genusa's attraction is an extensive wine list, which is the work of Cherry's daughter, who maintains contact with vintners around the world to provide unique offerings. The wine list is just one way in which Genusa's is more than a family business. "It became an extension of our family," Cherry says. "You don't walk out on family."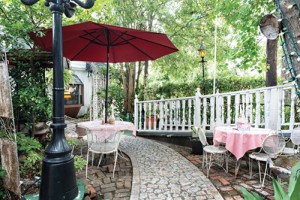 GENO'S ITALIAN RESTAURANT
Established: 1964
What to Try: Lasagna, Crawfish Alfredo, Eggplant Bolognese
Sunlight dances through the leaves of the towering pin oak that shades diners from a hot, mid-day sun. Nearby, a fountain burbles as a breeze wafts across the patio, carrying with it hints of fresh garlic and basil. For 50 years, Geno's Italian Restaurant has offered customers one of the few outdoor fine dining spots in the area.
"For a long time, we were the only restaurant with a patio," says Frank Bruscato, who operates the family restaurant with his sister
Phyllis. Their parents, Gene and Rosalee, opened in 1964, but with a surprising twist.
"They started out as a barbecue restaurant," Frank reveals.  That changed pretty quickly as customers flocked to Geno's Italian menu choices. Today, Geno's offers an exclusively Italian menu, with a few Louisiana-inspired takes on Italian classics. (Try the Crawfish Alfredo, and you won't regret it.) The key to that unique Geno's flavor is homemade. Everything is made in house, including the Italian sausage, which Frank also sells frozen. "If you call in advance, I'll have it made up fresh."
The family is dedicated to providing good, quality food to great customers. Now, a third and fourth generation of Brucatos are getting involved. "You've got to love what you're doing," he says. "When I get up in the morning, I can't wait to get to work."
While you're there, be sure to order the lasagna, one of their best-loved and most popular dishes. "People drive in from Dallas just for our lasagna," Frank says.
ENOCH'S IRISH PUB
Established: 1980
What to Try: Full Irish Breakfast Burger, Connolly's Irish Nachos, Guinness on tap
Doyle Jeter is no stranger to Monroe nightlife. For three generations of music lovers, Doyle has been at the center of the known universe. Or maybe it just seems that way to the customers of Enoch's Irish Pub, which Doyle opened with his wife, Yvette, in 1980.
Enoch's is a traditional pub, which is to say it pulls double-duty as a bar and a restaurant. A nightly happy hour runs from 4 p.m. to 6 p.m., and each night of the week features different drink specials or themed entertainment. Mondays, it's Pint Night. Tuesdays are 2-for-1 hamburgers. Wednesday, it's All Night Happy Hour. On weekends, the pub hosts live music from around the corner and around the world.
"Dad's been bringing some of the best bands around for years," says son, John. Local favorites include Doug Duffey, Jimmy and the 45s and Josh Madden. Internationally renowned acts know Enoch's, too. Marcia Ball's played there. So has Trout Fishing In America. Stevie Ray Vaughan once popped by, and Bob Dylan copped a squat at the bar for a bit.
John recommends the Full Irish Breakfast Burger. A house-made patty is grilled, topped with bacon, ham, tomatoes, mushrooms, cheese and a fried egg. This gooey pile of deliciousness is served with fries and pairs perfectly with a pint. Kick back at the bar, toss back a Guinness and spend some time with the regulars–who account for 90 percent of the business at Enoch's. "The customers are what keep us going," John says. "It's like it's their home, too."
CATFISH CABIN
Established: 1972
What to Try: Fried Catfish, Fried Shrimp, Oysters
Some days, Russell Hearn dons an apron and cooks while his wife, Lydia, minds the register. At other times, he floats from customer to customer, visiting with them to make sure they're enjoying their meal. Somewhere nearby, his brother, David, tends to some aspect of daily business at Catfish Cabin, which first opened its doors in 1972. "My father and mother started it in 1972," says Russell. "Dad had a cousin in the business, and that's how he got started."
Catfish Cabin has long been a staple of the restaurant scene, partly owing to meeting rooms where civic groups have gathered for years to lunch on chicken strips, fried shrimp, and oysters. But, as the name implies, their pride is catfish. Battered in a secret blend of spices and fried to perfection, served with fries and hushpuppies, the Hearn family catfish consistently ranks among the best around. That's because Catfish Cabin uses only fresh catfish delivered weekly from just up the road in Wisner. "We don't use any of the imports," Russell says. For those minding the mid-section, Catfish Cabin also offers a lighter menu.
Situated on the corner of Louisville Avenue and North 14th Street in Monroe, Catfish Cabin occupies a storied place in restaurants. It was originally the site of the Rendezvous, and the Hearn family has operated the business as a catfish restaurant since opening. In fact, any time the doors are open, you'll find at least one Hearn inside. That's the secret to longevity, according to Russell. "Working it. Being here," he says.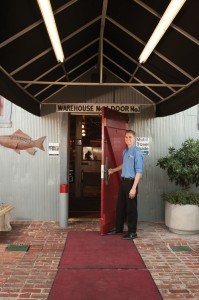 WAREHOUSE NO. 1
Established: 1980
What to Try: Peppercorn Filet, Grilled Tuna Salad, Blackened Snapper
Situated in the heart of Monroe and nestled on the banks of the Ouachita River, Warehouse No. 1 is another of the family traditions that continues to endure year after year. Opened in 1980 by Frances Mason, today Warehouse No. 1 continues under the management of Jan, her daughter, and Jan's business partner, Duane Humphries. But the Warehouse, as customers know it, isn't just a restaurant. It's a part of Monroe history.
Housed in an extensively renovated cotton warehouse, the building betrays its 100 years as a witness to Monroe history. It was with this history in mind that the Masons renovated the building, preserving as much of the rustic, original interior as possible. Oak plank floors creak with each step, reminding visitors they're not just stepping into the Warehouse, but back to a time when steamboats plied the Ouachita and cotton was king. But Warehouse No. 1 isn't without its creature comforts.
A full bar compliments a menu that includes seafood, steak and traditional Southern cuisine. One of the more popular choices is the Peppercorn Filet, an 8 oz. prime filet cooked to order and sliced, served with a tangy peppercorn sauce, asparagus and mashed potatoes. A popular offering at lunch is the grilled Ahi Tuna salad, which features a wild-caught tuna steak served atop a bed of spring mix greens.
A wide porch stretches the length of the restaurant and offers diners the chance to watch a sunset over the Ouachita River, a constant reminder of the building's deep roots and long past.
THE KITCHEN
Established: 1984
What to Try: Yes.
For Mary Taylor, serving good food at a good price is not just her job. It's a way of life and one that she's practiced since 1967. She learned the business with her husband, James, with whom she opened the couple's first restaurant, The Dairyette, in West Monroe. As Mary tells it, James bought and sold restaurant equipment. When he decided to close down that business, he had big plans. "He decided to open a restaurant instead of selling the equipment," Mary says. That restaurant became a staple of the Monroe lunch scene. It's known simply as The Kitchen.
Located in a former railroad hotel on South 6th Street in Monroe, The Kitchen serves some of the best home cooking around. Specials vary daily, but one thing doesn't change: the value. "We don't try to get rich," says Mary, who runs the restaurant with daughter Terri Kent. "We give people their money's worth and try to be nice to all our customers."
Most of The Kitchen's clientele are regulars. Terri likes it that way. "Lunch is a habit," she says. And you don't want customers to break that habit, either. The Kitchen is known for their beef tips and gravy and red beans and rice. If you want to taste classic, drop by on a Wednesday for dumplings, prepared fresh by their 30-year veteran cook. "She hand rolls those dumplings every Wednesday," Terri says.
In addition to daily lunch specials, The Kitchen also serves a traditional, short-order breakfast each morning, but more than the food–which is certainly fame-worthy–The Kitchen is known for its collection of historical Americana and Monroe memorabilia, or as Terri puts it, "all the stuff."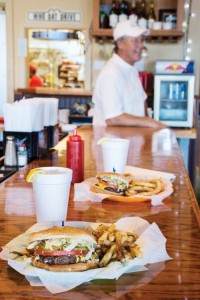 MELVYN'S
Established: 1986
What to Try: Hamburgers, Homemade Fries, Pasta Salad with Teriyaki Chicken
There are restaurants that are habits, some that are traditions, and then there is Melvyn's, a fixture in the Neville High community since it first opened in 1986. Owner and namesake Melvyn McCoy says the history really goes back before his ownership, to the days when Frank Walker operated The Brown Bag out of the original 18th Street building. He had been looking to open a sandwich shop for years when Walker closed.
"The reputation for burgers; the connection to Neville; it was just the right opportunity at the right time," McCoy says. Until just a couple of years ago, McCoy continued to operate Melvyn's in the original diner on 18th. But time–and customer demand–spurred a move to a newer restaurant in Midtown, at the Twin Cities Shopping Center. Though the location may have changed, the character remains the same. So does another thing: the burger.
"You can't go wrong with the burger," McCoy says. Melvyn's burgers are world famous, served on a toasted bun with homemade French fries. There's a secret to a Melvyn's burger that goes beyond what they put on the bun. That secret? Nostalgia. McCoy's establishment began with deep ties to his alma mater Neville High School and that connection perseveres today, as new waves of Neville students come in. Many of those students are legacies, two or three generations of which have now been enjoying post-game burgers at Melvyn's.
FREDDIE CASCIO'S ITALIAN AND CAJUN RISTORANTÉ
Established: 1990
What to Try: Spaghetti with Meat Sauce, Crawfish Enchiladas, Ribeyes
Great food runs in the Cascio family, so it's no surprise that Freddie Cascio's Italian and Cajun Ristoranté has held its own for almost 25 years. Freddie, the restaurant's namesake, is there every day to oversee this intimate, quiet little eatery steeped in family tradition and local lore. Take a look at the walls, and you'll see the standards. Beside a poster of the Mona Lisa hangs Frank Sinatra. A closer look reveals hidden among the menagerie photos of some of the state's best, brightest and most infamous.
Freddie prides himself on an extensive collection of Miss Louisiana autographs, stretching back years. The most recent, Miss Louisiana 2013 Jaden Leach, hangs near the cash register. Not far away, a signed portrait of former Gov. Edwin Edwards smiles down, underscoring at once Freddie's long history and enduring popularity. Freddie provides customers with what he expects when he dines out. "When I go out to eat, if it's good every time I've been, I'm going to go back."
Everything is made in-house from scratch, using recipes that "haven't changed since we opened." In addition to the popular Spaghetti with Meat Sauce, the ribeye is can't miss. Served with a baked potato or fries, this monster steak is cut fresh when you order it and grilled to perfection. He also offers some signature Cascio's dishes from times gone by.
So, if you feel that old Tony's and Chateau nostalgia tugging away, drop by Freddie's on Old Sterlington Road for Snapper Cascio–his take on Snapper Tony.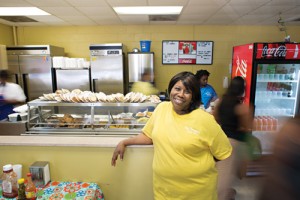 BIG MOMMA'S FINE FOOD
Established: 1994
What to Try: Fried Chicken, Macaroni and Cheese, Sheet Cake

Dorothy Gilbert smiles at each customer as she offers them a touch of Southern comfort with a greeting. She offers one portion size, the same for those who "like to eat" and for those who "need to eat." But you probably won't know her as Dorothy or Miss Gilbert. Instead, she's Big Momma, of Big Momma's Fine Foods, located at 1118 South 2nd Street in Monroe.
Big Momma opened in 1994, and six days a week ever since, she's been in the kitchen or on the line, serving up crispy fried chicken, lip-smacking mashed potatoes and juiciest baked pork chops you'll ever taste. Served cafeteria style, customers are greeted by Big Momma's friendly staff–many of whom are family, (That's Big Momma's son on the line, by the way.
You won't have to ask. He stands out.), and all of whom meet you with a smile.
She's been doing this for 20 years now, and Big Momma doesn't show any signs of slowing down, either. "I'll be here as long as I'm able," she says. When a customer wanders by, she pauses to inquire about how his mother's doing, underscoring Big Momma's deep ties to the community.
Bring a group and grab a table. Or, if it's crowded, which it nearly always is, slide into a seat next to a stranger at one of the long, banquet-style tables and get to know someone new. Chances are, too, you'll bump into someone you know. Eventually, everyone ends up at Big Momma's.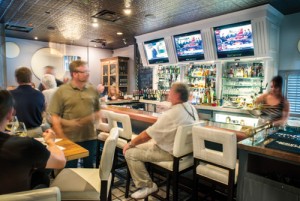 TRIO'S
Established: 1995
What to Try: Tilapia with Crab Sauce, Crab Meat Mousaka, Gyro
At only 19 years old, Trio's is a relative young 'un on the family restaurant scene, but the people behind one of Monroe's most popular nightspots are no strangers. After all, dad Johnny Johnson was the owner of one of Monroe's most legendary restaurants, the Rendezvous, which people recall forty years after it closed. Today, the Johnson legacy continues under the leadership of Johnson's daughter Jenifer Walker.
"My family's been in the restaurant business going back to my grandmother," Jenifer says. She said her father and mother decided to open Trio's because of fond memories. "Originally, it started out as nostalgia for my dad."
A big, Greek family with deep ties to the Monroe community, the Johnsons enjoy feeding and entertaining people. Trio's offers a cool, modern interior that's also intimate and private. Stepping into the restaurant, you certainly don't feel its seating for 75. Instead, you've been invited to someone's hip loft for a small dinner party. That's part of the charm. For Jenfier and the Trio's staff, work is all about getting to know their new friends. "Even if you've never been here, you come a couple of times and, on your second visit, someone who works here will recognize you," she says.
The menu has remained, for the most part, unchanged. There is the crab meat mousaka, pizzas to die for, and a succulent filet that you can't miss. Add their top-shelf bar, skilled mixologists and extensive wine list, and it's easy to lose a couple of hours socializing with friends.