Thanksgiving in Cotton Country
By Melanie Moffett
Oct 28th, 2014
0 Comments
2201 Views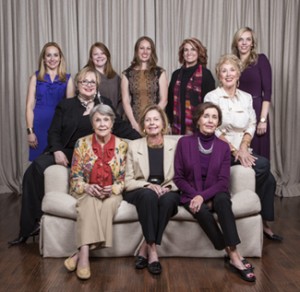 article by Michael DeVault | photography by Martin G Meyers
By any measure, The Cotton Country Collection has been an international phenomenon. But in 1972, on the eve of publication of the first edition, members of the Junior League of Monroe were wary. The cookbook faced stiff competition in the Louisiana cuisine cookbook market from River Road Recipes, a publication from Baton Rouge. Martha Jane Anderson recalls River Road as the impetus for the Junior League's own effort.
"I was at LSU at the time, when the community got behind the River Roads cookbook," Anderson tells BayouLife. Upon returning from LSU and joining the Junior League, she decided a cookbook would make a good fundraiser for the organization. And, she says, she thought it would be fun. Anderson's "fun" comprised two years of steady, hard labor to test and retest each recipe. On the eve of publication, the women of the league were worried that the cookbook would flop. Each league member was tasked with selling their allotment of The Cotton Country Collection, and even then, they were worried about their prospects. "Of course, we sold out immediately," says Jane Sartor, a member of the original Junior League cookbook committee. "Just immediately. And we had to reorder."
For two years, members of the original cookbook committee tested recipes–and they tested them on their families at home. "When I brought home the twelfth helping of gumbo for my husband to taste, he said he would never eat gumbo again and threw the bowl in the sink," says Suzanne Wolff. "I figured that was the last time I should serve gumbo!" But the women finished the project, and the herculean efforts that had tested and tried these women created a cultural and culinary phenomenon. Over the course of the last 42 years, The Cotton Country Collection has never been out of print. It continues to perform well. Copies grace baker's racks on six continents and in all 50 states.
Dianne Cage knows a thing or two about cooking and cookbooks. A television personality and cookbook author in her own right, Cage believes The Cotton Country Collection's longevity is due as much to the hard work of each new class of Junior Leaguers as it is to the book's merits–which she calls "superb." As Cage puts it, "Every generation comes in, they run with it. It's hard work to sell a cookbook." And sell it has. In a space where a "good" selling cookbook is lucky to break 50,000 copies and books by celebrity chefs barely scratch 100,000 volumes sold, The Cotton Country Collection continues to surpass expectations and has sold more than 250,000 copies. Original committee member Bobbie Jo Stinson says The Cotton Country Collection is a classic. "I think it's got such a variety of good, delicious and elegant foods," Stinson says. "It's from every day to elegant food, all there in one book."
Meanwhile, closer to home, The Cotton Country Collection has given rise to more than a few good, wholesome family traditions. And in its pages are a stable of dishes that make Thanksgiving, Louisiana-style even more delicious. This month, Bayou Eats joins five of the women who made the book a reality and five of the women who continue that legacy, as they revisit the cookbook's creation, to Thanksgiving dinner, The Cotton Country Collection way.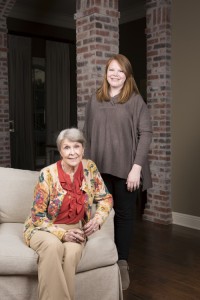 Jane Sartor & Ashton Mintz
    Jane Sartor's Junior League was much different than the Junior League of today. Whereas today, the Junior League of Monroe is a non-profit powerhouse, with numerous fundraises and more than a dozen supported organizations and efforts, back then things were more low key. "We didn't have the kinds of projects they have now," Sartor recalls. "We were a small club then."
For two years, Sartor co-chaired the cookbook committee with Marilyn Irby. Each woman contributed numerous recipes, some from family traditions, some they had clipped from magazines and improved upon, and some they had invented outright. "There were just so many," Sartor says. "I put in a pound cake, my mother's pound cake." Her favorite dish to make the Collection was called Skillet Cabbage. "That's my favorite cabbage recipe."
Ashton Mintz joined the Junior League in 2012 because of the community service opportunities the league offers. "It's a great way to give back to the community."
Ashton says she's also learned a lot from the women about the history of the region. There are just so many histories and stories of why they were active in the league." Her favorite dish in The Cotton Country Collection is Rich Pumpkin Pie. "It's sweet, a hint of spicy, and everyone loves to compete for the last slice!"
Jane Sartor, Junior League Member Since: 1963
Committee Co-Chairman, The Cotton Country Collection
Thanksgiving Partner: Ashton Mintz, Member since 2012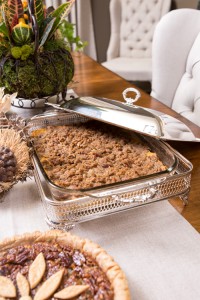 Sweet Potato Casserole
Simply delicious
3 cups sweet potatoes, about 4 good-sized ones
1/2 cup sugar
1/2 cup butter
2 eggs, beaten
1 teaspoon vanilla
1/3 cup milk
TOPPING:
1/3 cup melted butter
1 cup light brown sugar
1/2 cup flour
1 cup chopped pecans
Boil and mash potatoes. Mix in sugar, butter, eggs, vanilla and milk. Put in 13 x 9 inch baking dish. Topping:  Melt butter and mix in remaining ingredients. Sprinkle on top of potato mixture. Bake 25 minutes at 350 degrees. Serves 10 to 12.
– Mrs. C. D. Hamaker • Bastrop, Louisiana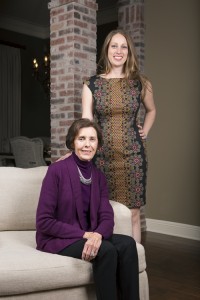 Suzanne Wolff & Cynthia Rodriguez
Before The Cotton Country Collection could make its name in the world of cookbooks, it first had to be developed. That meant the women of the Junior League prepared every recipe, every variation and then improvised on the variations to make sure each TSP of salt was a teaspoon and not, as they found time and again with the handwritten recipes, a tablespoon. "These are tried and true recipes. They were tested," says original cookbook committee member Suzanne Wolff.
 The Cotton Country Collection would play a significant role in her family's dining habits. The Wolffs kept a camp on Lake D'Arbonne, and they visited it frequently, where Pasta Salad became a fixture at lakeside cookouts. In the end, she says the cookbook, like so much else about the Junior League, was about personal growth in service. "It made me a better person, that I know we helped the community," she says.
Cynthia Rodriguez has a special place in her heart for The Cotton Country Collection: right now, she's the committee chair. Her favorite dish in the collection: Pecan Pie. "It's a recipe I'd never seen before. You have to brown the butter first and that lends and extra-rich flavor," she says.
Cynthia is impressed by women like Wolff, who've turned out year after year. "They have done so much for this community as far as being business professionals, as advocates for so many initiatives, and they've been the glue for this community," Cynthia says. "I'm so glad to be a part of what they've already initiated."

Suzanne Wolff, Junior League Member since 1963
Member, original cookbook committee
Thanksgiving Partner: Cynthia Rodriguez, member since 2010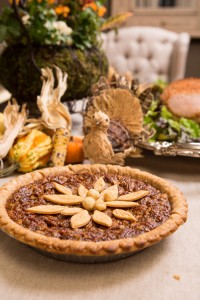 The Best Pecan Pie
Perfect for Fall
1 stick butter
1 cup light Karo
1 cup sugar
3 large eggs, beaten
1/2 teaspoon lemon juice
1 teaspoon vanilla
1 dash salt
1 cup chopped pecans
8 or 9 inch unbaked pie shell
Brown butter in saucepan until it is golden brown, do not burn; let cool. In separate bowl add ingredients in order listed; stir. Blend in browned butter well. Pour in unbaked pie shell and bake at 425 degrees for 10 minutes, then lower to 325 degrees for 40 minutes.
– Mrs. Russell Bulloch
Dianne Cage & Jennifer Ables
Dianne Cage knows a thing or two about cooking and cookbooks. A fixture on morning television for more than 20 years, Cage is also the author of successful cookbooks of her own. She credits the continued success of The Cotton Country Collection as much to community support as to the committee's vision. "The community was just so generous with recipes," she says. "Everyone got behind us."
For Cage, the Junior League of Monroe has provided years of friendship and service. "Junior League is friends, a commitment to the community and making a difference in the community," Cage says. It's certainly made a difference in the lives of these women. Many early Junior Leaguers came from backgrounds where women rarely pursued work outside the home. But it changed those women, Cage says. "It has promoted women. I think it helped instill the courage and the will to pursue a career."
The cookbook was a big part of that. Not only did The Cotton Country Collection take women out of the home and place them into roles as writers, editors, publishers and salespeople, it also encouraged them to grow in the community. It was never about great chefs or aspirations to culinary greatness, but about home and fun. "We all loved to cook," Cage says. "We were all stay-at-home mothers. We were entertaining, southern style."
Courage is just one of the traits current League president Jennifer Ables has gained. She says she's continually learning from her elders in the league. "You gain wisdom, and you learn about the history of the league, where it started and came from," she says. "I feel like I'm gaining an appreciation for the hard work they've done."
Dianne Cage, Junior League Member since: 1964
Member, original cookbook committee
Thanksgiving partner: Jennifer Ables, 2009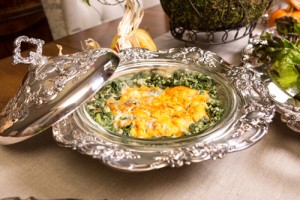 Spinach á la Sophia
4 boxes chopped spinach
1 stick butter
1 large onion, chopped
1 cup Half and Half
3 hard-boiled eggs, chopped
Chicken or shrimp, optional
2 cans mushroom soup
1/2 pound sharp cheese, grated
Paprika
Defrost the spinach and drain well to remove all moisture. Sauté the onion in butter. Combine the onion, spinach and cream in a casserole. Mix well and do not stir again! Place the chopped eggs over the spinach mixture and cover with the mushroom soup. Top with the grated cheese and sprinkle with paprika. Bake at 375 degrees for 40 minutes. Before serving, stir to mix all ingredients. Flavors mingle when this is prepared a day ahead. Variation:  A delicious main dish casserole may be made by adding chicken or shrimp when you add the eggs.
– Mrs. Edel Blanks, Jr.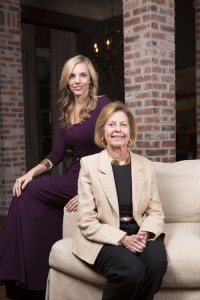 Bobbie Jo Stinson & Shannon Pittard
As much as The Cotton Country Collection changed the women of the Junior League, it also helped transform the league into the powerhouse organization it is today. From its goals to the organization's membership practices, so much is different today, according to Bobbie Jo Stinson, who joined the league in 1963. "Back then, you were invited," she says. "You didn't just want to join or be a member." Also, the Junior League was a smaller body. "It wasn't national then. It was the local Junior League."
Stinson recalls the two years of working on the cookbook as some of her favorites. "I made some close friends. It was just a regular get-together," she says. For almost all women in the Junior League, the cookbook yielded numerous family traditions, too. She frequently prepared for her family Cajun Chicken. And the Sweet Potato Casserole is a family tradition. "I do that every Christmas," she says. "It's delicious and sweet. With the pecan crust, it's nearly a dessert!"
For Stinson, years of involvement in the Junior League have meant maintaining close ties to the women she got to know there. For Shannon Pittard, now in her third year in the Junior League, it's been about personal growth. "I've learned it's good to move outside your comfort zone," Pittard says. "I think you get a little safe sometimes. But the Junior League has taught me to move outside that zone a little." Particularly, Pittard says the cookbook has pushed her to learn about sales. Still, there's something more. The women in the league help her feel connected to tradition. "I think tradition is very important, passing things along, especially today, with people not having time to sit together at the table," Pittard says.
Bobbie Jo Stinson, Junior League Member since: 1963
Member, original cookbook committee
Thanksgiving Partner: Shannon Pittard, Member since 2012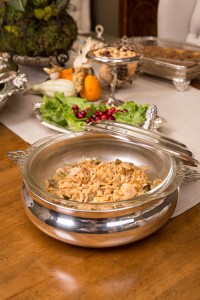 Green Bean Supreme
Great for any occasion
2 cans French style green beans
Salt pork
1 medium onion, chopped finely
2 Tablespoons butter
1 teaspoon MSG
1 teaspoon salt
2 teaspoons soy sauce
1/8 teaspoon Tabasco
2 Tablespoons Worcestershire
1 can mushroom soup
1-5 ounce can water chestnuts, sliced and drained
3/4 pound sharp Cheddar cheese, grated
1 can fried onion rings
Cook beans and juice with salt pork. Drain beans. Sauté onion in butter. Add seasonings and soup. In a 1 1/2 quart casserole layer beans, chestnuts, sauce and cheese. Repeat the layers. Bake at 350 degrees for about 30 minutes or until hot and bubbly. Top with onion rings and heat 10 more minutes. Serves 6 to 8.
– Mrs. D.L. Gibbs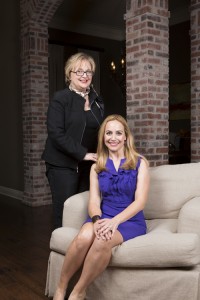 Martha Jane Anderson & Arabella Moore
Martha Jane Anderson always knew The Cotton Country Collection would be a success. But she never dreamed it would be the explosive success it became. "I knew we had the talent here, plus the fabulous recipes," she says. But when she made the proposal at the old Neville House, where the Junior League was then meeting, she expected it to be a local effort, hardly a worldwide phenomenon. Today, with more than 40 years of success behind it, that's what The Cotton Country Collection is, though. And Anderson is pleased.
"That is just an exciting thing to know it touches so many lives," Anderson says. She submitted her mother's turkey dressing recipe, a slightly more complicated version than the Easy Turkey Dressing recipe, because it contains oysters. Over the years, she's learned firsthand just how far and wide The Cotton Country Collection has traveled. "People call me every year from everywhere about that turkey dressing recipe, to make sure theirs is going to be the best it can be," she says.
As the proposer of the collection, Anderson was the original chairman of the cookbook committee. But the demands of home and education required her attention. "So, I had to step down," she recalls. "It was probably the best thing that ever happened. Marilyn Irby became the committee chairman." And the rest, they say, is history.
Arabella Moore joined the Monroe Junior League as a transfer from Baton Rouge. The Monroe league's history is just part of the draw for Arabella. More importantly, though, she says she values her time with women like Anderson, Stinson, Cage, Wolff and Sartor. "They are women to look up to and to esteem, to become. They inspire me to continue their hard work in our league," Arabella says. "They're role models to all of us."

Martha Jane Anderson, Junior League Member since: 1963
Proposed the original Cotton Country Collection
Thanksgiving Partner: Arabella Moore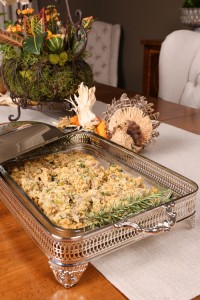 Bess Burn's Cornbread Dressing
1 black iron skillet of cornbread,any recipe
1/2 bell pepper, chopped
3 celery ribs, chopped
1 bunch green onion, chopped
1 medium onion, chopped
1 pound Bryan's sausage
4 chicken bouillon cubes, dissolved in 1 cup boiling water
1 can Morton's chicken broth
1 cup chicken fat or butter
4 eggs
1 teaspoon Lawry's seasoning salt
1/8 teaspoon cayenne pepper
1/4 teaspoon pepper
Salt to taste
1 pint oysters, drained
1 package Pepperidge Farm dressing mix
Make cornbread ahead of time by your favorite recipe in your iron skillet. Sauté bell pepper, celery and onion with the sausage. Melt 4 chicken bouillon cubes in the boiling water. Add chicken broth and chicken fat or butter. Pour all the ingredients into a large Dutch oven with the crumbled cornbread. Add the remaining ingredients. Bake in a 450 degree oven, about 1 to 1-1/2 hours, until the crust is brown on top. This will serve 12 amply.
– Mrs. Elton Upshaw, Jr.