Simply Lou: The Baby
By Katie Sloan
Oct 30th, 2017
0 Comments
128 Views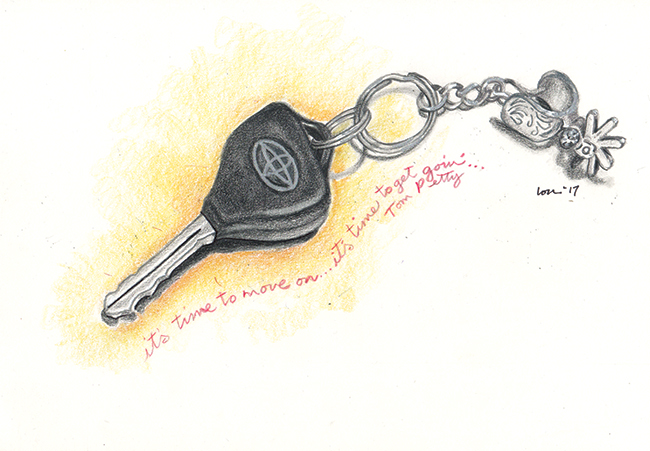 With this column, I start my third year of writing for BayouLife.  It's been a "dream come true" and something I enjoy writing more and more each month.  Thank you Maré, Cassie, Melanie, Amanda and all the other lovely ladies at BayouLife.  Thank you for making me feel a part of such a beautiful, classy publication. One more thing, they give me "artistic freedom" which I need to have!
Nearly 21 years ago, I found myself in the position of being a "widow woman."  I also desperately needed to get a newer car.  I had driven my little red Safari van until the wheels were about to fall off.  I wasn't sure what I wanted, so I just started test driving everything.  The winner was a Toyota 4Runner with 4-wheel drive.  At least three different salesmen told me "Honey, you don't need that!"  Now, that right there made me even more determined I was going to find the one I wanted! (and don't call me "Honey!")  I'd lived through two severe ice storms in Vicksburg, and I knew those 4-wheel drives could come in handy. (How did they know I wasn't a champion mud rider?!)  So, I went in search of alternative ways of buying the car I wanted.  And hey, salesmen!  I had the cash to buy it, too!  Too bad, so sad.
While deep in conversation with my son in law, Ty, about my dilemma, he mentioned one of his cousin's had a 4Runner that he was selling. My ears perked up and I said, "Call him!"  I couldn't believe my eyes when I saw that shiny silver 4 Runner just begging me to buy it!  The deal definitely went down and I had my car.
For the past 21 years this car, Ol' Betsy, has been my friend, my protector and taken me more miles that I could have ever imagined.  She's all steel, and I sometimes call her, "The Tank."  I love the "hum" she makes, when I start her up.  I know her every little noise and when something isn't quiet right, I know!  I haven't had to have many repairs done on her, but she's getting to an age. It's only a matter of time.  Bless her heart, she's 24 years old!  Since I know absolutely nothing about working on a car, I'm getting anxious driving her no further than the bank or grocery store.  She's just getting elderly and needs a rest.  I'm sad to let her go, but it's all I can do.  She's like a member of my family.  She's had a good run, and oh, the miles we have traveled.  She's still good for a few more years with a few "tweaks" here and there, but whoever ends up with her is getting a "fine old girl."  And, she's aged well.  She's still so pretty.  Like Neil Young sings, "Long May You Run."
Not too long ago two of my cousins told me they had a car for me to consider getting.  They also made me a "offer I could not refuse."  AND it was a Toyota Rav4. YES!  I said, sight unseen!  I knew anything they owned would be in perfect shape and been well taken care of. I automatically named it, "The Baby."
Now, the "tale of how Baby came to be" is the story of a "perfect column."
The day was set for them to bring "The Baby" over.  I had my insurance, the papers were all drawn up and the deal was just about done.  I got all dressed up, WITH makeup on to meet my newest "family member!"
Next call.  Battery was dead.  Going to jump it off and be on over.  Somehow wires got crossed and although "The Baby" was alright, their other car wasn't.  Sparks flew and smoke billowed out.   Not to be undaunted in getting "The Baby" to me, they were going to take the battery to Auto Zone and check it out.  If the battery was bad, then, they were going to get a new one.
We'd planned on going out to eat. So with new battery bought, they picked me up.  The plan was we'd go eat and then go on out to their house and put the battery in.  I could drive it back to Monroe.  Good plan, we all thought….
Supper was so good and we laughed and laughed at our adventure…so far.  I was going to get to see their new house and learn first hand how to get there.  We turned into this beautiful gated subdivision and through the gates.
Once at the house, I got to see one of my favorite aunts and two of the grandchildren with their mom and dad.  Oh the fun began!  I haven't laughed so much in years.  We played cars, I got stickers stuck all over me and left for home with a new artwork for my refrigerator.  And there is a four year old and two year old that have me wrapped completely around their sweet little fingers!
The plan….was that I would follow the cousins out and go on to my house.  I got into my new "Cinderella's Coach" and just sunk down into the seats.  Oh, what a wonderful feeling.  I turned the key, it cranked and I backed it up and got turned to go down the drive way.
Then, it seemed to only go 3 or 4 miles an hour.  WHAT??  I figured it was me.  What was I doing wrong?  Dogs were barking at me while I was creeping along and I was wanting them to stop!  I didn't want anybody to think I was "casing" this neighborhood!  I made it to the gate and stopped.  I wanted to cry but I started to laugh again.   My cousin called wondering why I hadn't "taken off?!"  They came back to my rescue and one of them got in "The Baby" and drove it.  He noticed some lights were on that shouldn't be.   While he was gone, a very nice man pulled into the subdivision with me standing like a "vagrant" on the side of the road.  He asked was I okay and I blurted out our whole adventure!  He could see I was no threat and wished me a good evening.   Later I found out the house he went to was none other than fellow columnist for BayouLife, Cindy Gist Foust!  I sent her a message later to tell her if I had known that was her husband, I'd told him to tell her "Simply Lou" was "loitering" out at the gates!
"The Baby" made it's way slowly back to where we started.  We all folded up into laughter again.   What was there to do? The next day, she got towed to Van Trow.  Their other car got towed to Winnsboro.  On our way back to my house that night, we couldn't stop laughing.  The whole adventure was just a "comedy of errors" all the way around, all with the best of intentions.  I know this, no matter what, MY family can have fun doing just about anything.  The bonds I have with these two cousins have always been strong, but, they are unbreakable now.  I call them  my "Angels of Mercy" and I mean that sincerely.
I have to say it was one of the best Friday nights I'd had in way too long….even if I didn't have "The Baby" yet.  I needed "laugh therapy!"  I'd had a terrible week leading up to that Friday!  My precious little four year old cousin summed up the evening so well.  "It was a magical night!"  Yes it was!
All ended well with "The Baby" only having a very small "hiccup." I have fallen head over heels in love with this lovely little car and I think we have bonded.
So, right now, "The Baby" is sitting right outside my window, because I can't stop looking at her.  Yes, I have taken her out for a couple of drives, and she is going to  be able to fill some mighty big 4Runner shoes.
Now, I will say I have had some "ditzy" moments after getting my new car. Seems my brain just hasn't reset itself to "what day it is." I seemed to have "time hopped" somewhere along the way.  I was invited to a party on Saturday and I showed up the Tuesday before. I'm NEVER on time for any thing! Next, I was so proud of myself for getting my garbage can out to the street on the "correct" night.  When I came in to watch "Project Runway," it wasn't on?   I called my daughter, Paige.  She informed me "MOM!  It's WEDNESDAY!"  I just left my can out there by the road anyway.  That way, I'm sure it will be there on time.  But, I did have to wait a day for Tim Gunn and "Project  Runway."  and I do know that today is Friday.  (I wrote it on my hand!)
Fall is officially here!  Maybe.  See y'all next month!