The Best Buy for Soul Food is Here
By Melanie Moffett
Jul 27th, 2015
0 Comments
768 Views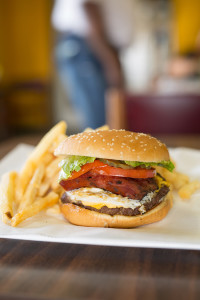 article by Tabby Soignier | photography by Martin G Meyers
How many times have you heard, 'Let's go grab a burger at Best Buy.' Chances are you haven't, but the handful of Monroe residents who have are most likely met with a "Huh?" and a confused look.
No, the nationwide electronic store has not moved the Geek Squad into the kitchen. The few who do know about the Best Buy Restaurant that sells burgers and soul food, though, are in on one of the best kept secrets in town.
You may have to drive slowly and look carefully for Cordell Blockson's eatery, located on Renwick Street just down from Carroll High School off Highway 165. He's been in business in Monroe for the past 17 years so the sign is a little faded, but the food has not lost one ounce of flare and the restaurant adds more character as the years go by.
The one constant, though, is Blockson and it all started on a feeling.
Almost every decision Blockson, 65, has made in his professional life started with a feeling.
When he was 18, he left Monroe and moved to Portland, Oregon. There wasn't a lot planned. He knew he had a friend there, but he moved on an impulse and found work at a steel company.
It wasn't long before Blockson had friends over for barbeques, and he was one of only few who would still man the grill in the rain and snow.
"Friends said, 'Why don't you build a little restaurant?'"Blockson said. "I had a good job, but I decided to open up a restaurant. Later, they (his co-workers at the steel company) told me there were a lot of bets I wouldn't make it. All I knew how to do was steel work."
It's too bad Blockson couldn't collect whatever the wager was on a yearly basis. After 27 years, he may have relocated, but his business is still thriving – and not just on the premise of the money coming in.
Renwick Street is also his own Memory Lane. Blockson graduated from Carroll High School, and old and new friends come in and out of his doors all day long.
"I like meeting people," Renwick said. "I like helping people."
Starting a restaurant may have started on a feeling, but keeping a restaurant open for almost three decades takes dedication and a lot of heart.
He loves his restaurant, but his first loves started with his mother, cooking and giving back … and all three have become the recipe for a successful business.
"When I was a kid, I got the best lesson I ever learned,"Blockson said. "We lived in a poor, poor community, and my mother and father divorced when I was 2. My mother was only making three bucks a day, so at Christmas and Thanksgiving she always baked cakes to give to people."
It was in December that a man came down the street asking for help.
"He was homeless, and he had just gotten off the train,"Blockson recalls. "She fixed him a cup of coffee, and this is when I got upset. My mother had $1 and told the man she was going to give him half of it.
"She gave that man 50 cents! I could have gotten me a cold drink and a honey bun, but she taught me a lesson. She said, 'That could have been Jesus. You don't know who it is. Never turn anyone down.'"
He watched his mother, Doris, through the years, helping others and spending most of his time at her side, watching her cook around a pit. The first thing Blockson tried his hand at, though, was scrambling eggs.
"We didn't have many, so I'd put a little baking powder in there to make it rise," Blockson said, laughing. "You can't put too much or you'll taste the baking powder though!"
Blockson starts his day between 6 and 7 every morning. He may still cook eggs, but those are for his own breakfast. He prepares chicken, pork chops, ribs, sausage and burgers and starts the work on his sides that range anywhere from macaroni and cheese to turnip greens and candied yams.
The burgers have their own spectrum. The Bulldog burger, named after the Carroll mascot, is a cheeseburger and comes with fries and a drink. It costs a customer $3, and Blockson said he hasn't gone up on the price in more than 10 years.
None of his burgers cost more than $8, and all of them come with fries and a drink. The sizes get bigger with the names – King Kong, Godzilla, Big Daddy – but the biggest and most impressive one of all is the C&C Burger, named after Blockson (Cordell) and his son, Courtney.
"I've been cooking it for over 25 years," Blockson said. "It's a burger with lettuce, tomato and pickle, then down home sausage with a fried egg topped with cheese.
"That's the big one. You can't eat that driving. You have to sit down, and if you cut it in half, it falls apart. Everything in there is whole. You just have to sit down and just eat it."
It takes dedication…something Blockson knows all about.
After winning one football game one season, he fed the Carroll football team "Godzilla" burgers to show his never-ending support for his alma mater. Some burgers have his secret sauce added to the overall taste, but like almost everything else in his life, it is created through a feeling.
"You do it by feel," Blockson said. "You taste it so many times, you lose the taste, so you have to let somebody else taste it. It's the same with making gravy or smothering chicken, you don't use a method. I don't think you can come up too salty – it's a soul food restaurant."
His son Courtney, who helps his father cook, can also be a taste tester. He came up with the name of the restaurant,too. Throw confusion to the wind, it was the only way to describe what Courtney believed was the best buy in town, whether it's the burgers or the soul food.
"I don't think there's a restaurant anywhere – it might be as good as mine, but none better," Blockson said. "And I've tried a lot of them."
Just recently, a woman and her daughter drove all the way from Arkansas to get some soul food. The daughter was pregnant, and the craving kicked in.
"I said, 'You drove from Arkansas?' You've got to be kidding," Blockson said. "We were closing, and I said, 'No, we got time.' There's nothing we won't do for our kids."
Blockson and his wife of 43 years have two children, Courtney and  daughter Gabby, who works for the sheriff's office.
bout 95 percent of his business comes in take-out orders, and the personalities range from the Carroll faculty and coaching staff to ULM athletes and even Ouachita Parish Sheriff Jay Russell. Russell and Blockson team up every year at Christmas time to give bikes to underprivileged children, and Blockson cooked for around 1,000 people in the community last year.
He has been serving dinners for the past 13 years and delivers turkeys, honey glazed hams and chicken and dressing, but his giving doesn't just stop after Christmas.
He may only deliver door to door in December, but he doesn't hesitate to feed the hungry who come through his restaurant door year round.
"You look at them, and you see it in their eyes," Blockson said. "What is a hamburger or a piece of chicken? I think I got that from my mama, too."
It's carried over into his spiritual life too. The ordained deacon had a friend years ago who fed him and a large group of people. He assumed it would cost him thousands of dollars, but the chain of love and giving came back around.
When asked how much he owed his friend, the response was something that Blockson carries with him every day, from the time he walks into his restaurant to prepare the meals until the last customer is served.
"You owe me nothing. You have to give back," Blockson said as he recalls his friend's words. "Life is a game. If I throw you the ball and you hold the ball and don't throw it back, the game is over. So you have to throw it back."
The football and baseball fields of Carroll High School and Liller Maddox Marbles Community Center may be further down Renwick Drive, but a different game of catch can be seen every day between Blockson and his customers.
You may not be able to see the sign right away, but you can see the love in each delicious bite.
   Best Buy Restaurant is located at 2952 Renwick Street and open for lunch from 10:30am-6pm Monday through Friday. To place a To Go order, call 318-322-4887.