The Boring Life
By Melanie Moffett
Apr 27th, 2015
0 Comments
2472 Views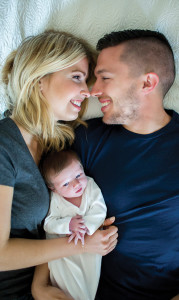 article by Tabby Soignier | photography by Angela Groce
Aly Taylor was diagnosed with breast cancer at age 25. After undergoing chemotherapy and a double mastectomy, Aly prayed for her life to be "boring again." Now, three years after her diagnosis, she is cancer-free and a mom to a beautiful baby girl. Life may not be back to boring just yet, but it is definitely overflowing with joy. This is her story:
At first glance, the biggest problem the Taylor family appears to have is the chaos of moving into a new house. There are plenty of pictures still left to hang on the wall and boxes to unpack in their new home in West Monroe, but the family scene is one for a Norman Rockwell painting.
The beautiful blonde wife sits on the couch while her adoring husband rocks their 30-day old daughter nearby. Aly Taylor tucks her flowing locks behind her ear and only if you know her story can you notice the small scar on her lower neck.
It's one of many signs that their lives are anything but a Norman Rockwell painting. There are plenty of battle scars that link to stories of heartache and struggle, but the most important presence of their new home are the two miracles that are products of the scars – the ones you can see and the others that lie on the hearts of the Taylor family and all those who know them.
April 30 is a day that will be celebrated like a birthday and it will continue to be a special mark every year on that date. Three years ago to the day, the scene around Aly and Josh looked nothing like it does now.
For one, Aly's long blonde hair was gone. She had also just lost both breasts after extensive rounds of chemotherapy and a double mastectomy. At 25, Aly was diagnosed with breast cancer in October 2011. Her doctor was 99 percent sure the lump Aly found in the shower was benign. Instead, she fell into that 1 percent of doubt and through her story she's given all the credit to the One – God.
"I felt like there's a reason I'm going through this," Aly said. "God chose me. He wants me to be a vessel, and I'm going to walk this out the way he wants me to walk this out. I didn't want for this to happen to me and for him to be disappointed in the way that I handled it. I just prayed and said, 'OK God, I want to do this however you want me to do this.'"
The news got worse before it got better. Aly learned her breast cancer was triple negative, which translates into a more aggressive form of breast cancer, and in her case, it was Stage 3 and had spread to the lymph nodes. In most cases, breast cancer victims undergo a mastectomy and then start chemotherapy and then move on to radiation.
For Aly, chemotherapy came first then she would undergo the surgery. For a good portion of the next six months following her diagnosis, Aly and Josh, her husband of five years at the time, would travel to MD Anderson in Houston for treatment. Aly's mother made most of the trips with them and other family members and friends showed their support at times too.
During that period, an ultrasound was performed every four weeks on Aly's lymph nodes to see if the cancer had shrunk or even possibly disappeared completely – that was Aly's prayer, as well as all those who knew her. "It was a slow process," Aly said. "Every time I went in for a checkup, I wanted to be that miracle case where they checked it and nothing was there, but it wasn't. It was gradual. It either shrunk or it looked the same and there was no growth."
The cancer never grew any more from her original diagnosis, though, and with a perspective of "the glass half full" Aly and Josh clung to any positive news they could.
Aly prayed for a miracle and even though it did not come in the form she wanted – or as fast as she wanted for that matter – it still came. She did one final ultrasound before her double mastectomy and the lymph nodes still looked enlarged and filled with cancer.
"They had already told us there's a good chance when they did the mastectomy if it showed a lot of cancer left (in the removed breasts) that there may have to be more treatment or whatever," Aly said. "There was a 20 percent chance to be cancer free from the mastectomy."
After being in the 1 percentile of her lump being malignant, Aly joined the 20 percentile group, too.  After the mastectomy, there was no cancer.
"We got the miraculous news after they did my mastectomy there was no cancer even in what they removed, the chemotherapy and of course we believed God touched me and healed me, but there was no cancer even though the lymph nodes appeared cancerous so that was a huge relief," Aly said.
That day – April 30, 2012 – appeared to be the start of the biggest prayer she wanted most – for her life to be "boring" again.
"I'm a big goal setter," Aly said. "I knew I had six months of this, two months of this. I was just ready to go through it all so it would be in the past. I know God had to walk me through it, but I just wanted to take a pill that would make me go to sleep and knock me out and wake me up when all this is over.
"I was just ready. It was so miserable, but at the same time God gave me a peace. I was just like, 'I want my hair to be gone, do the mastectomy…' I didn't dread those things. Once I knew I needed to go through them, I would be done. This chapter would be closed."
It did mark the end of one chapter, but not the end of the book – by far.
According to the book of Matthew 25:21, God uses his good and faithful servants, and Aly and Josh displayed just that throughout her cancer journey. Although Aly did the fighting, Josh had his own struggles. "The thing many men, whether Christian or not, struggle with is 'Did Aly get cancer because God had to go that far to get my attention?'" Josh said. "I know that to be true. It's not a question. Up until that point, I wasn't broken enough. It was pride or whatever. It literally did take for God to break me of me. It was the first thing in my life that money and talent wouldn't fix."
Josh couldn't fight for Aly either. As much as he wanted to take the chemo for his wife, instead all he could do was offer support and the biggest help of all – reassurance.
Aly battled with the questions of "Is my husband still going to think I'm attractive? He was 26 at the time. What 26-year old is going to think he's going to have a wife who is breastless?"
Josh and Aly still cry when he recalls the sight of his wife after her surgery. "When she had her mastectomy, the physical scars remind me the devil literally got his hands on her," Josh said while fighting back tears. "He didn't just think about it. He got there. He made it that far. (The scars) are a physical sign from God that He healed her. I don't have to wonder about that. She bares the reminder of he (the devil) tried and it was no good."
Josh points to the same handprints on their daughter, Genevieve.
As previously stated, there are two miracles to this story and the second one was born March 12, 2015. Two months prior to Aly's cancer diagnosis, she and Josh started trying to get pregnant. In fact, Aly thought she was pregnant when she first found her lump, thinking her breasts were sore – one of the first signs of a woman being pregnant.
It's  unknown whether chemotherapy wiped out Aly's fertility, but a test showed that at 27-years-old, she had the numbers of someone who was about to enter menopause. The heartache may not have been as severe as learning she had cancer, but it was still a heartache with painful magnitude.
After finding peace that Josh still found her attractive, now she mourned the thought of not being able to give him a biological child.
"I've always been very motherly and wanted to have children," Aly said. "It was tough … really, really tough.
"It was the guilt that it was me. He had to go through my cancer, the mastectomy, then a wife who can't give him children. It was a grieving process for me and him reassuring me that this was our issue. When he said, 'This isn't your problem. This is our problem,' that was a big thing for me, because I would always apologize and he would get so mad. He would say, 'That is the most ridiculous thing.'"
Cancer is never a good thing or even a good word to say or hear, but in Aly's case it turned out to be a blessing. It taught her that her plans were not God's plans – and those are the ones to listen to and follow.
"When I stopped trying to plan out my life to how I see it – I wanted to get married, have kids, everything is perfect, life is easy," Aly said. "I just accepted life is going to be hard. It's going to have its ups and downs. I'm going to embrace it, and now I have so much peace.
"I'm just a dreamer and at this point in my life, I'm kind of like, 'You know, I'm just going to let God direct me where I'm going to go, and I'm up for the ride."
That ride started on a rollercoaster. After many failed In-Vitro Fertilization procedures and tossing around the thought of an egg donor, Aly and Josh started to feel led towards adoption.
"Once we felt God calling us to adoption, I got to a place where I didn't want to be pregnant, because for so long that's all I wanted – just to show you how much God changed my heart," Aly said. "That is what we felt like he was wanting us to do, which was a huge 180."
Once the decision was made, the next stop on the ride was Jacksonville, Florida. The couple decided to find an attorney and adoption agency in town this past December, and they would take the next steps after Christmas. Around the same time, though, they also decided to sign up for emails sent out by a Florida attorney that shares stories of birth moms who are looking for a good home for their babies.
"A few weeks before Christmas, I got this e-mail and I had a good feeling about it," Aly said. "I told Josh, and meanwhile we were about to apply to the attorney here in town, so we had that whole conversation and prayed about it. We decided to apply (to the e-mail in Florida) and see what happens."
The two didn't get their hopes up too high, seeing as 22 couples also applied for this specific story, but one night Aly was driving to a family Christmas get-together when a Jacksonville, Florida number came up on her cell phone.
"I answered it and the voice on the other end says, 'Is this Mrs. Taylor?'" Aly said. "Did you apply for such and such application, and I said, 'Yes,' and my heart started beating 100 miles a minute, and he said, 'Hang on, I have your husband on the other line,' and my heart just dropped. I'm driving in my car and then the phone disconnects!
"He called back and said, 'Congratulations, she chose ya'll !' And we started crying on the phone." The next three months turned into a whirlwind. While most adoptions take between nine months to a year – and in some cases longer – Aly and Josh went to meet their birth mom who was due in March.
"We went from nothing to we're going to have a baby in 3 months," Aly said, grinning so big as if she had just received the news all over again. Aly and Josh made several trips back and forth to Florida and established a relationship with the birth mom to the point where they had fallen in love with not just the little girl she was carrying, but the mom herself.
Because of that shared loved, it made the next hurdle that much tougher. Genevieve Rose was born on a Thursday and by Friday afternoon the birth mom started having doubts about giving the baby up. In Florida, the law says the birth mother has to sign the papers within 48 hours, so Aly and Josh soaked up as much time as they could during that period to be with the newborn.
"She couldn't come home with us, so she just had to stay at the hospital until Monday, but thankfully our birth mom gave us a bracelet so we were able to bond with her, but then Monday came. That was decision day."
Aly took the birth mom into the room, hugged her and asked what she was thinking. "She said, 'I can't do it. From the moment I saw her, I can't do it. I feel so terrible! Because we had built a relationship with her, she knew how in love with her we were," Aly recalled. "I just told her, 'I don't know what to say.' I was just heartbroken, and I was trying to be sympathetic towards her, but my heart was breaking into a million pieces."
Instead of walking down the hospital hallway with her baby in her arms, Aly walked toward the exit to meet the rest of her family with the birth mom consoling her along the way. As they reached the point to part ways, everyone looked at each other and Josh asked if he could pray. Both Aly and Josh laid hands on the birth mom as he started to pray. "It was totally the Holy Spirit," Aly said. "I've never heard him pray like that. He didn't pray, 'God help us get this baby' or 'Let her eyes open to what she should do.' It was more 'Lord, show her she's not a failure. Give her peace, walk with her, speak wise to her, let her know she's worthy.'"
From the time they bowed their heads to pray until Josh said, 'Amen' the birth mom had a change of heart. Aly and Josh went to say goodbye and she said, 'I want to sign the papers.' A counselor came to see if the birth mom was coherent and rational, and she said, "God has only spoken to me one other time in my life, and I was for sure it was God. As soon as we got done praying, I've never been more at peace to know what to do."
From that point on, the only tears shed were happy ones from the proud parents, grandparents and every family member in between. The birth mom never cried again, even the next morning when they went to say their goodbyes.
"She was still just at peace," Aly said. "I had given her a basket full of gifts, and she opened my devotional that morning. It's a devotional that's written as if Jesus is speaking to you, and it said, 'My child you are going to make a hard decision but know that I am guiding you and I'm giving you peace.' And she said 'I woke up this morning and got confirmation and it was the most peaceful I've ever felt.
"There were no tears, just 'I love you, guys. I'm so excited that you have her.'"
Genevieve of course has her tears when she gets fussy, and she did just as her mommy started talking about God's pull to lead them to adoption. At 30 days into parenthood, Aly and Josh seem to already have a pretty good hold on things.
"Hey, baby girl. Hey, darling," Aly says looking down at Genevieve whose hand was resting close to Aly's heart – a heart that carried her through cancer and infertility and even  through the waning moments during Genevieve's first few days on Earth.
"The other day she was grabbing and pulling my hair, and I said, 'Lord, thank You that I have hair for her to pull,'" Aly said. "I hate being that person who always brings serious things in, but you think like that. You can pull my hair all day long. I don't care."
As Aly's three-year anniversary of being cancer free nears, she's back to a full head of hair to go with the love in her full heart.
Life may not be back to boring just yet, but it is definitely overflowing with joy.
To purchase Aly's first book "How Cancer Made Me A Mommy," visit her blog at www.alysfight.com. Let them know you read their story at www.alysfight.com/bayoulife to receive a discount on your book purchase. Article photography by Angela Groce of Unveiled Radiance Photography. Visit her website at www.unveiledradiancephotography.com