The Coffee Bean
By Melanie Moffett
Apr 27th, 2016
0 Comments
535 Views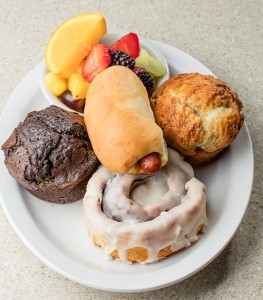 Fresh food and familiar faces are just two of the reasons Northeast Louisiana patrons frequent The Coffee Bean. Their delicious breakfast and lunch menu are why a devoted legion of customers keep coming back for more.
article by Meredith McKinnie | photographs by Martin G Meyers
It's 2:00 on a Tuesday afternoon, and the hustle of the lunch rush is dying down. Lingering over dessert plates and sandwich crumbs is the late lunch crowd, the ones in no rush to leave, with an ease of familiarity that comes with one's common lunch spot. These are the customers of The Coffee Bean, some as often as four times a week and as far back as seventeen years. They chatter quietly across a few tables, smiles on their faces, in the relaxed atmosphere of the newly renovated eatery. They value consistency. They value quality. They count on you knowing their names and their orders, and they frequent The Coffee Bean for those very reasons. The staff knows the next car in the drive-thru line is the guy who wants a coffee with two Equals, and therein one finds the comfort of being known, appreciated and recognized. The staff is longstanding, the food is fresh, and the environment is clean, without exception, every day. And this keeps bringing people back to 2501 Broadmoor Boulevard.
Co-owners, Kim Verhagen and Ann Genusa Williamson chose to combine friendship and business fourteen years ago, and the decision has served them well. Having met years prior when Kim worked for Ann's family at Genusa's, the two converged with the intention of Kim being in the kitchen and Ann working the front; nowadays it's the opposite. As the business has evolved, so have the women's roles, both filling in the gaps when necessary. Kim credits their communication and organization, both respecting the business and each other. Ann knows restaurants, having been raised in one all her life. Kim had worked all aspects of the business from "bartender, to waitress, to hostess, to sous chef – all but washing dishes." It's the respect for the business, the dedication to the profession and the commitment to doing it all well that sets The Coffee Bean apart.
When she was eight years old, Kim said she would be "an English teacher or a chef." She ended up doing both. After attending LSU and eventually graduating from ULM, Kim briefly taught middle school English before a friend suggested chef school in Denver. She moved to Boulder and attended The Colorado Institute of Art alongside friend Elise Wiggins, a now award-winning Executive Chef at Panzano in Colorado. At chef school, Kim studied different cultures and fell in love with authentic Mexican food, claiming her favorite was Zolo Grill, a Tex-Mex spot featuring fresh, not heavy ingredients. It was on these frequent brunch dates with her friends where she was first introduced to the fish taco. She learned flavors during a two-year stint in San Antonio, and an emphasis on freshness and flavor and quality ingredients is what she vowed to return to Monroe. While working at The Garden District Café back home, a friend suggested Kim "transform" The Coffee Bean, a business Bambi Starnes had opened two years before, primarily featuring muffins, coffee and bagels.
Growing up in Monroe, Kim felt the town needed a place for good, quality soup, wraps and entrée salads. Never wanting to work in a cubicle, Kim knew the demands of a small business, and she knew the restaurant business particularly. She didn't want to work at night, so she decided to open for just breakfast and lunch and still have a life. She aimed small. But gradually, her small business venture grew. Gradually she added cinnamon rolls and casseroles; she bought a freezer, and then two. Then she added another employee, and then another, and before long they began to outgrow the 18th street location.
Connie Sampognaro, one of Kim's best customers offered to build The Coffee Bean a new location on Broadmoor and let Kim rent it. Bing Bishop would build it, and Kim could design it, but Kim needed help. And in came Ann. Kim trusted her; they both knew the business. They knew each other within the business, and Ann craved something of her own. It was an ideal match, and the timing was right. Connie eventually told her husband, "I want you to sell them the land. Give them the corner, because it's better for a restaurant, and sell it to them for what we paid for it." Together, Kim and Ann designed their building and formed an official partnership.
Fourteen years later, neither regrets the decision. Rarely hearing a complaint, and overflowing with compliments, they're proud of what they've built, of how the business has evolved. They're not afraid of change, and even less fearful of competition. Ann's mother told them, "You're always going to have competition – do it your way, the best way you can." They stand behind their products, always fresh. People rave about the fruit, asking where they get it. The secret it simple; it's cut up fresh every day. Most recipes are Kim's and her Mom's; Ann's family recipes have a home at Genusa's. The customers have been coming for years, the same faces. Ones that didn't have kids, now have grown kids, and Kim enjoys interacting with them, hearing their stories, knowing their preferences. If they tried a dish for the first time at "The Bean," chances are they think it's the best. And "when you're seeing the same faces, you're doing something right."
Kim's fondness for all things food began early on before her restaurant work. She credits Piccola, a woman who worked first for her grandmother and then for her mother, a grand total of fifty years with Kim's family. While Piccola would cook dinner for Kim's family, she would watch and talk to her. She liked the ease and comfort of the kitchen, and in return for the company, Piccola would share her secrets, "the common sense kitchen stuff." Kim's brother would frequently like to "taste from the pot." Once after a repeated mistake, Kim's mother poured the whole dish out that had been cooking all day. Kim is the same; cleanliness is essential, and the respect for the dish and the creation and the pot and the process is most important. She's carried that respect to the Bean's kitchen.
Like today, Tuesdays feature soul food. Today's special was hamburger steak, rice and gravy, purple-hulled peas and cornbread. And yesterday the ladies patted out sixty hamburger steaks, and they never have to argue their freshness. The customers know. It's what sets The Coffee bean apart. Sure, it would be easier to have the fruit cut up ahead of time or get the soup in a bag, but they won't sacrifice freshness, believing there is no substitute. Wednesdays are always Mexican. Fifty quarts of chicken tortilla soup will be gone in three hours, a fan favorite. And while the tortilla and the tomato basil soup are the most popular, they also have about thirty-five other soups rotating on the menu. They sell 400 pounds of chicken salad per week, boiling their own chicken and using the broth in the soups. Friday mornings one can often find men floating from table to table, regardless of age or profession, both pharmacy reps and prayer groups. The regulars expect greatness, because they've always gotten it. Their breakfasts are superior, because they "crack the egg, nothing premade." No frozen sausages or mushrooms, pancakes and grits are made to order. And people have unique requests, all accommodated and frequently remembered for years to come.
The irony is in the name. Kim only started drinking coffee two years ago, and Ann still doesn't. The owners and staff affectionately refer to it as "The Bean," though the original owner was the first in Monroe to feature cappuccino and espresso. The orders and deliveries continue to grow, sometimes up to four before seven am. They're trusted with large orders and are seeing more every year. The girls arrive at 6 a.m. each morning and begin to prepare. The staff consists of girls who often begin in high school and work through masters' degrees. The holidays are often busy, sometimes cooking family meals and placing directly into family dishes, none the wiser. And while the consistency is in the food, the willingness to evolve keeps the place relevant. Just this past season, the ladies hand made 900 king cakes over an eight-week period, a relatively new venture for them. If they make one on Monday and it hasn't sold by Tuesday at 2:00, Kim takes it home to a neighbor; "nothing has a chance to get old."
This past October, Sandy McMillan designed the remodel. It was time, and even Ann, the more frugal one, agreed. Kim admits Ann "always lets me have my way." Ann wanted a minimalist design, while Kim was a collector. The Coffee Bean had often featured Kim's collections on the walls. And in the spirit of change, Kim let Ann have her vision. Sandy redesigned the restaurant with a modern traditional, white look with more booth seating, a more functional flow and the potential for an eventual expansion. Kim credits Sandy's talent, "being firm with color choices," much like Kim had always been with Ann. It was amusing for Ann to see Kim having "met her match" in Sandy. Both couldn't be happier with the remodel and Sandy's attention to detail. She even picked out the glass vases to hold the spoons! The ladies are considering a patio and kitchen expansion and will use Sandy again. She knew what they wanted, and she delivered.
Outside of The Bean, Ann has Genusa's with her family, and Kim has an estate sale business with her Mom. Both are strong in their faith, charitable, and always try to do the right thing. They carry on those traditions outside the walls of Broadmoor again focusing on consistency, personalization and service.