The Competition Has Gotten Younger… And There Are More of Them
By Melanie Moffett
Jul 24th, 2015
0 Comments
395 Views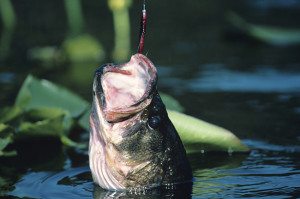 article by Kenny Covington
I have been fishing since I can remember.  I still have the picture of the first bass I ever caught.  It weighed no more than a pound and a half and was caught on a six inch chartreuse ribbon tail worm off of my grandmother's dock at Lake Lafourche.  Needless to say, I was hooked.
I started fishing tournaments when I was 13, when my father would allow me to go with him and fish.  Heavy stuff for a kid who soaked in all of the information that my young mind could process.  Like an addict who looks for their next fix, I was looking for the next book, magazine or fishing conversation to gather more information about a sport that I not only loved but had a deep fascination for.
Fast forward 30+ years.  My how things have changed.  The information I so badly looked for and sought out, is now at our fingertips.  I still fish a heavy load of events each year, but one thing I have noticed in the past few tournament seasons, the competition is getting younger.  Not just younger but they are getting better.  And a lot quicker.
Information that took me years to learn or figure out through my own trial and error now takes a few days or even hours to get a grasp on.  Techniques are no longer hush hush, because the information highway in this great sport is nonstop.  With a click of a few buttons on a computer, everything you want to learn, figure out, study or research about bass fishing is available. It's unreal!
We now have high school bass fishing teams.  Some colleges are awarding scholarships for kids to go to college to fish on their respective fishing teams.  Right here in our own back yard, ULM won a bass fishing national championship a few years ago.  One of the things we are doing right as a sport is we are getting more and more young anglers, both girl and boys, involved. The future is indeed bright.
I stand around at tournament weigh-ins, and I don't know most of the people fishing anymore.  I have suddenly become one of the old guys.  As a fan of the sport, I applaud the changing of the guard; as a competitor, I welcome the challenge of beating the kids.  Even in fishing, just as they do in life, things come full circle.
On that note…
I was asked by a gentleman who just recently moved here, if I would tell him some basic lures that would work on our area lakes.  While we spoke, it occurred to me that we actually have a handful of lures that work pretty much regardless of the body of water you are fishing.  In no particular order here at my top picks.
1.  Zoom Brush Hog 
No matter if you are using the Jr or the Big Brush Hog this soft plastic creature bait flat out catches fish.  You can throw it on a Texas rig, you flip and pitch it or you can even use it on a Carolina rig.  I have seen people even use it weightless, fishing it over grass for spawning bass.  It is effective twelve months out of the year, and water color has never seemed to be an issue.  If I could only pick one color for this bait it would be Watermelon, but I would dip the tails in chartreuse dye.
2.  Bandit Crankbait 
The 200 series Bandit has been a popular choice in our area for many years.  No matter if you are fishing on the Ouachita River or fishing the clear waters of Caney or Claiborne, a Bandit crankbait is a good choice.  While the 200 series is probably the most popular, the smaller 100 series is probably the best fish catcher in the Bandit line up.  If I had to pick one color for this bait, it would be the Splatterback.
3.  Chug Bug 
Throughout the year this walking topwater lure rules supreme when working the shallow waters of our area waterways. It catches numbers of fish, but it will also catch you the fish of a lifetime.  Among area tournament anglers this is easily the number one choice when searching for a topwater bite.  Shad patterns are popular choices, but chrome with a blue back is probably the most popular of all.
4.  Mr. Hootie Spinnerbait 
When it comes to throwing a spinnerbait, there has been more fish caught on a Mr. Hootie in this area than any other.  A 3/8 ounce chartreuse/white gold/silver double willow leaf Mr. Hootie is a fish catcher.  You can slow roll it during the colder winter months, you can burn it in the fall just under the surface or you can simply fish down your favorite bank.  It works great when you just want to cover some water.
That will just about do it for this month, but remember to please be extra careful on the water as the heat of the summer is now at its peak.  Sunscreen and water, remember to use plenty of both. Catch one for me, and I will see you next month!