The Costumer
By Melanie Moffett
Nov 30th, 2015
0 Comments
357 Views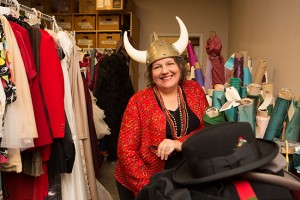 From Wonderland to Egypt, veteran costumer Marcy Hall helps theatre directors realize artistic visions and, along the way, she's also managed to tap into the fantastical.
article by Michael DeVault | photos by Brad Arender
The costuming workshop in ULM's Brown Auditorium sits at the nexus of the facility's three performance spaces and the tech area, at the top of a narrow staircase near the overflow dressing rooms. The stairs are of particular note, especially when placed into the context of the costume shop's contents. Shelves overflow with bolts of fabrics. In one corner, a pile of recently discarded costumes from a show are awaiting a thorough cleaning before being filed away. In another corner sits a sewing machine, from which flows the creations of costumer Marcy Hall.
Sometimes fantastical, sometimes mundane, each piece she produces in the claustrophobia-inducing space is designed to achieve a purpose. Every stitch, every cut, and every fold is the result of more than twenty years of study, practice and execution. Even still, trial and error plays a part, she'll tell you. Yet, when she's serged the last seam and steamed the last collar flat, the cast steps out onto the stage and the audience sees the result. It's the end result of what Hall calls "the generous collaboration" between the director and the costumer.
"The director of the show has to have an idea, but then, the director has to have this trust that I, as the costumer, with my eye, will make the director's idea realized," Hall says of the creative process, which ideally begins months before the first actor has decided to audition. The director must determine the show's aesthetic, what the stage will look like when the curtain rises. Set dressings, costumes, even lighting play a part in the early deliberations. These early decisions are among the most critical aspects of the director's efforts to put a unique imprint on a theatrical production.
Where a traditional director, such as Franco Zeffirelli, sets Romeo and Juliet in 15th Century Verona for an authentically lush renaissance setting, someone like Baz Lurhmann might take the same material, and move the story's action to contemporary southern California, which provides Shakespeare's original play with an edgy new face. This is the job of the director. Whether the costumes are brocade gowns of velvet and pantaloons or Hawaiian shirts over tee shirts with shorts is one of the more critical decisions. That Hall thrives in the innovative, sometimes bordering on avante garde, is as much a testament to her longevity as it is to her background.
all traces her costuming roots to the Young Troupe at Strauss Theatre Center, when her children were taking part in theatrical productions under the direction of Cathy Webb. Like many stage mothers, Hall had volunteered on several shows, assisting costumers with sewing, repairing and maintaining costumes for productions in which her children were appearing. Webb recognized Hall's ability at a sewing machine, saw a spark of the creative and approached Hall with an offer: costume an upcoming production of the Lewis Carroll classic Alice in Wonderland.
As is common in community and volunteer theatres, budgets were tight, resources scarce and labor in short supply. Hall was unfazed, which is one of the hallmarks of the Marcy Hall design experience, according to Webb.
"She can so make something out of nothing. I love that part," Webb says. She recounts numerous times in which Hall created or recreated an entire show out of items found in thrift stores or at garage sales. "She is a dumpster diver, like me. She's someone who loves to go to the thrift stores."
After Alice in Wonderland, Hall became one of Webb's go-to sources for costumes, especially in a pinch. Webb says Hall has the ability to see beyond an item, to see what a discarded shirt, a frayed lace handkerchief or a ratty pair of boots has the potential to become. One particular show springs to the top of Webb's mind again and again. That show was a production of The Tempest staged in the early 2000s. Webb recalls seeing a dress Hall had pulled for Miranda, the female lead, and she didn't like it. She questioned Hall's choice of dress, wondering what the costumer's plans were.
"She said, 'Just you wait,'" Webb recalls. After carefully removing the sleeves and a couple of other tiny alterations, Hall put Miranda onto the stage. "Simply enough, she had changed it, and it worked so beautifully."
Removing the sleeves of an off-the-rack dress hardly seems creative to an outsider looking in, yet the idea never occurred to Webb, arguably one of the most creative thinkers in the region. Hall was able to look at the dress, envision the change, and then execute it. "Some how, some way, that just made it fantastic, and that's just the way she is," Webb says.
For her part, Hall's innovative ideas in costuming are born of necessity, part of the dance she does with limited financial resources and even tighter time constraints. But this is Marcy Hall, and this is where she thrives.
"That's one of the things I love, having these narrow parameters set," Hall says. While the director has been developing a show's aesthetic for months, often in concert with the costumer, the show isn't cast until just before rehearsals are set to begin, usually about six weeks before opening. Between the first rehearsal and opening day, a costumer has to execute the director's vision. "I have to figure out the look of the show and how to make it happen in a very limited timeframe. I just cherish that challenge."
There's another challenge, too, and one that Hall says outsiders often overlook. Designing clothing on paper is one thing, but it's another all together when the "paper" is standing in the costume shop, getting measured. A director might picture a flowing, slinky dress or a suave, tailored suit for a character. Hall's execution of that visual faces a sometimes daunting challenge.
"It has to be done with the bodies I'm given to work with," Hall says. Costumers work on a three-dimensional canvas where those dimensions vary greatly from subject to subject. "These aren't just renderings on paper. They're going on actual, human bodies. And they're all different."
Human beings who have to move, to speak, and perhaps most importantly in live theatre, to sing. If those aren't enough challenges to deter even the most gifted seamstress from taking up a life in the wings, frequently a single character will have two actors servicing the role. More often than not, that means two body types and two costumes–both of which must match in visual identity once on the stage.
In 2005, Hall was tapped to costume one of the most ambitious shows in Strauss Theatre history. The YoungStage and MainStage were set to stage a joint production of Disney's Beauty and the Beast, a show filled with dancing candlesticks, a supersized teapot and dozens of forks, knives and spoons. Early on, Hall realized one of the challenges would be Belle's gown. Sleeveless, with a sweetheart neckline, and dozens of yards of billowing yellow satin, the gown is worn in just two scenes yet is one of the show's most iconic and recognizable images. For the 2005 production, the role of Belle was double-cast, and the two actresses were of nearly antithetical body types. Hall would need two dresses, but lacked the resources to build two complete gowns.
Hall quickly decided on a design. Incorporating two different hoopskirts and separating the bodice from the gown's skirt, Hall's creation dramatically reduced the resources necessary to adequately costume both actresses while achieving a look so identical that, side by side, the actresses looked the same.
But Beauty and the Beast wasn't the most challenging show Hall has ever dressed. That honor goes to Hal Robinson's production of Jekyll and Hyde at Bastrop's Rose Theatre. With a large chorus of dancers in bustled skirts, and with neither the time nor the finances to purchase fabrics and build a dozen costumes, Hall knew she had to find a shortcut. She didn't have to look much farther than her living room. A friend had recently donated to the Hall costume collection a number of old wedding dresses. Hall and her daughter, Mary, set to work. They stripped out components that didn't fit the show's look, bustled up the backs of the dresses, and then dyed the dresses using photo-reactive paint. Hall calls this costuming style "slice and dice costuming."
One of the reasons she's so successful at the practice of recreating existing pieces is that she comes from a family of creative women. "Between my two grandmothers and my mother, they did every handcraft known," Hall says.
Her father's mother quilted, knitted and tatted, and her mother's mother did embroidery, needlepoint and crochet. When her mother introduced Hall to machine sewing, Hall's career in textile arts was set. Knowing the techniques of each of the handcrafts she practices, Hall is able to easily disassemble and reassemble, and she's more than knowledgeable about the slow evolution of design and, perhaps more importantly, clothing construction over the decades.
More than 15 years after that first show with Webb, Hall has costumed dozens of productions, from Shakespeare to 1940s musicals to Kander and Ebb. This diversity of styles feeds into what some might assume is a mild case of ADHD. While Hall frequently jokes about her sometimes terse attention span, she offers up another explanation for why she enjoys the different styles.
"I really like the huge jump between Gilbert and Sullivan, Lewis Carroll, Lewis Carroll as interpreted by Kathy Webb, Aida as interpreted by Elton John and Tim Rice," Hall says. "I love those huge jumps. I don't want to do the same things over and over again."
She attributes her dedication to stagecraft to a sense of commitment and service. A New Jersey native who came to Monroe by way of Oklahoma, Hall relocated to the region in 1993, when her husband, Ed, was transferred here for work. Serendipity placed them in a quiet, Garden District home across the street from Webb. As her children grew, Webb recruited them for Young Troupe and, eventually, all four Hall children were Young Troupers. Hall and her husband encouraged the children's pursuits. "Everyone needs a creative outlet. Creative people who don't create get into trouble," Hall says. "And my husband and I value music and acting."
Not only does theatre instill confidence and dedication to a common cause, it also helps foster an appreciation of collaboration. A chorus of dancers must work together to achieve unison, while two singers on opposite sides of a stage must trust one another to arrive at that perfect, synchronous harmony at the perfectly timed moment. Hall points out that costuming is an equally collaborative effort, starting with the director and the costumer, but also extending to the seamstresses and other volunteers who help bring the show to life. After all, there's only so much Hall to go around and so many hours in a day.
She offers as evidence of this collaboration the Belle gown from Beauty and the Beast. While Hall designed the gown and its unique separate bodices, she relied on a volunteer, her friend Lori Lockeby, to build the dress to her specifications. That wasn't without its challenges. "Our friendship survived this dress design, which is quite a testament," Hall says with a laugh.
These days, Hall is principally involved with ULM's VAPA, where she costumes most of the shows and opera productions. She continues to spend time at Goodwills and garage sales, searching for the perfect something that she'll transform into something else. She doesn't have any plans on not doing this any time soon, either. Instead, she sees this as a natural extension of her purpose.
"If you have the talent and aren't generous with it, well, you can't be selfish with your talent," Hall says. "When theatrical productions need you, and you have the talent, then you should do them."