The Dead Key
By Melanie Moffett
Mar 27th, 2015
0 Comments
434 Views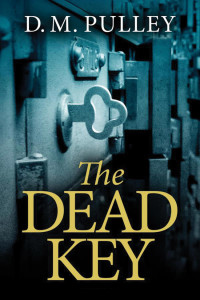 BY D.M. PULLEY   |  REVIEW BY CASEY POSEY MATTHEWS
Whenever I hear about the same book from two different people two days in a row, I consider it serendipity, and let me tell you, I read The Dead Key in one day and immediately passed it on to my husband.
 The Dead Key takes place in Cleveland, Ohio and was written by a local author (D.M. Pulley is her pseudonym) who, after being rejected by multiple publishing houses, submitted her novel to Amazon's Breakthrough Novel Award and won top prize in the mystery-thriller category. The novel is written in two different time periods, 1978 and 1998, and the storyline switches back and forth between the two female protagonists around whom the different storylines revolve.
The common thread between the two women is the First Bank of Cleveland. In 1978, Beatrice Baker obtained a job as a secretary months before the bank abruptly closes down. Young Beatrice comes from a family of secrets and acrimony, she lives with her aunt who has her own mysterious past, and inadvertently gets swept up in whatever shady and potentially deadly business the officers and board members of the bank are conducting. Her one friend, Max, is involved with the illicit dealings and suddenly disappears, leaving Beatrice to solve the mystery of her friend's disappearance and to fight for her own life.
Twenty years later, in 1998, Iris Latch is a young engineer who is tasked with mapping out the floor plan of the abandoned bank. However, Iris is never at ease in the building. Everything is left exactly as it was two decades prior, as if people got up and left and never returned. Offices have clearly been ransacked as if someone is looking for something, and Iris believes she is constantly being watched. One day she finds a mysterious key inscribed with "547" and the two women suddenly become linked together despite the years that have passed.
There were a few things that I really liked about this book. Neither one of the female characters is written to be loved by the reader; in fact, Iris is one of my least favorite protagonists because of her irresponsible nature. However, these two women are written to be very complimentary of each other: Beatrice is naïve where Iris is brusque; Iris is self-loathing where Beatrice is stronger than she appears. When I finished the novel, I had a few more questions than answers, but I intend to go back and read the book a second time to see what I missed or did not pick up on the first time around. There is also strong language in the book, so reader, beware, but ultimately, The Dead Key is a fantastic page-turner.
As a bonus, you will get a little history of my new hometown, Cleveland, from neighborhoods to political corruption. And, yes, the Cuyahoga River actually did catch fire, and in true Cleveland fashion, they named a beer after it.
---
    Casey Posey Matthews graduated with her Bachelor of Arts degree in English Education from University of Louisiana in Monroe and her Master of Arts degree in English from University of New Orleans and is now an English teacher at Beachwood High School in Cleveland, OH.