The Fat Pelican
By Melanie Moffett
Jun 28th, 2015
0 Comments
1902 Views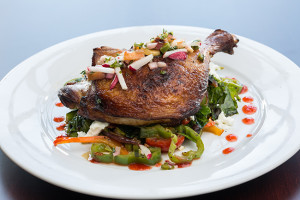 Monroe-raised chef, Chris McKnight, is bringing southern-inspired dishes to a delectable new level at his family-owned and operated restaurant, The Fat Pelican.
article by Samantha Evans | photography by Martin G Meyers
"I'll feed them." Chris McKnight, Owner and Head Chef of The Fat Pelican, says to one of his wait staff around two o'clock on a hot Thursday in June. The slow, sleepiness of a Louisiana afternoon is finally creeping through the front doors of the usually bustling restaurant when a hungry party of three arrives for a late lunch. The kitchen, finally slowing down at the tail-end of a hectic lunch hour, roars back to life with steamy hisses and pungent scents that delight every nose in the vicinity. The walk-ins, extremely thankful for a chance to grab a table at the increasingly popular restaurant, wait excitedly for "the food we've all been hearing about!"
The other few hopefuls that arrive when the kitchen is closed leave throwing verbal commitments for their returns for tonight's dinner over their shoulder as they go.
"Oh we'll be back," one mother of two calls, "I have heard good rumors about this place! We'll see y'all at dinnertime."
The rumors going around about the new restaurant – the ones about Chris McKnight knowing his way around the kitchen – are true. Each dish he prepares outshines the one before. The enticing fish and scallops demand attention from every person in the room – until the chicken arrives.
"Playing around and creating the menu has been such a fun experience" McKnight explains. "I just really like making food. Since I was a kid… I love cooking."
McKnight learned how to create your next favorite meal from spending time in numerous different kitchens.
"I've worked everywhere in Monroe," he jokes, "I love it. I learn something new every day. That is the best part of my job… I am constantly learning and trying new things."
And his love for his work is evident in the dishes he prepares. "We decide each afternoon what the special for that night will be then we go and get it and make it, right then," he says. Food is definitely his forte, which is one of the many reasons why he and his Fat Pelican are here to stay.
McKnight is not just serving fresh, local vegetables – he's planning to grow them.
"We'll have a small garden out back where you'll actually be able to see where the vegetables on your plate are coming from. I might tell someone, 'Hey, go pick out your own zucchini," he laughs.
"A small garden may not supply everything we need but it will definitely help. It doesn't get much more local than your own backyard," McKnight says.
The McKnights currently buy all produce at local markets and only serve seafood caught in the Gulf of Mexico.
Transitioning from worker bee to boss has been interesting for McKnight as well.
"Hiring people is harder than you think," he jokes. The kitchen is his domain – having a number of years of experience and training and working under award-winning Chef Corey Bahr – and so he does his best to keep up with his wife, Mandi McKnight, who runs their business like "a well-oiled machine."
"I have another job, actually," she says, "If I'm not there, I'm here, and vice versa."
The McKnight's dream of opening this restaurant have been accumulating for years. Mandi did not want to open a restaurant that she could not completely dedicate herself to until her children graduated high school.
"I had to put my family first – I knew I couldn't do this if I was worried about my kids all the time," she explains.
Mandi, dubbed The Lady In Charge by her husband, designed the entire restaurant and renovation in one sitting. "Pinterest is amazing," she gushes, "My husband, son and I sat up until four in the morning getting everything we wanted. Then finding a place for it. I picked these specific lights out that night." The lights she refers to are the lowlights hanging from the ceiling, casting a warm glow over the wooden floors.
She chose and personalized every decoration and piece of furniture in the building, from the color of the paint on the walls to the wooden finish on the tables. "I created this wall all on my own," she says, pointing to the multicolored wooden partition that divides the dining room in the front from the kitchen in the back, "I'm so proud of how well it turned out."
"Now I have my boss calling me from my restaurant telling me to come over and help out, because we're getting too busy!" she laughs.
Drawing in bigger crowds, sometimes doubling in number from the day before, is both good and bad for the McKnights.
"I'm tired," the Head Chef laughs, "I expect we'll be tired for a while."
As McKnight sits down for the first time that day a cook asks, "What are we making tonight, boss?"
"What do you think we should cook?" McKnight asks, genuinely interested in the feedback of his staff.
Two young cooks, still recovering from a busy lunch hour, pitch ideas about the dinner special for the evening ahead of them. The decision they are making this evening: the fresh fish of the day, pan seared tuna, with scallops or smoked duck. "We have duck – I always say we cook duck," one cook argues while the other makes plans for a sauce to accompany the tuna.
"We'll do both," McKnight executively decides and the cooks rush off to the kitchen, forgetting their exhaustion in the excitement for the dinner rush ahead of them.
The fish and scallops, two forces expertly reckoned with, leave nothing to the imagination. All five senses will be on high alert the moment the plate lands in front of you. "It's good," the cook assures, "It's pretty, too."
The space – completely renovated – is pretty, too. The wooden walls, large windows and fireplace are reminiscent of the inside of a glamourous old ship.
The fireplace, accessorized by two large eyes and metallic glasses, will be nothing short of wonderful paired with cooler weather and one of the delectable dessert options concocted in the kitchen. The Crème Brule, torched to perfection each time, is the perfect companion for any dish on the menu. Eat it to warm you up or choose one of their more summery options – like cheesecake – to cool you down.
The Fat Pelican gained an impressive following on Facebook weeks before they even officially opened their doors. Over 1,000 "likes" to the page in under two weeks helped push the restaurant name into the public.
The name itself is not easily forgotten. It is humorous, friendly and appropriate for a restaurant hailing from the Pelican state. "The Fat Pelican… that is from the mind of my wife," McKnight says, referring to it as her "brainchild." She named the restaurant after a band that once decorated the Monroe music scene.
The three word title strays from traditional family-owned establishments that use a last name as a business name as well. "It's catchy," McKnight says, "Everyone seems to like it so far."
Everyone does seem to like it so far – but not just the name. With the door open less than a month, the restaurant has already received over twenty five-star ratings on Facebook. Social media is drastically changing the meaning of "word of mouth" but word about The Fat Pelican is spreading.
"Every day we are busier than the day before," Mandi proudly exclaims, "But I guess that's a good thing!"
The restaurant is open but has not officially launched.  "We'll have a grand opening with ribbon cutting and all," Mandi explains excitedly, imagining all the ways she and her husband can pull out the stops for the big event.
If reservations for your next event have not been made yet look no further than The Fat Pelican. The open room and natural light will quite literally brighten your day and the lowlights and ballroom feel will enchant your night.
When asked how he planned to integrate his different, high quality foods into the Northeast Louisiana culture he had only two words: "Baby steps."
"I was born and raised in Monroe," he says. He knows the ins and outs of Monroe dining and wants to increase the quality of life for his customers by offering them something they did not know they needed.  "This is not necessarily New Orleans food, but we're bringing that style and that feel to Monroe. I think we have needed something like this for a long time."
McKnight, wanting to use his incredible kitchen powers for good, created (and is creating still) a menu that offers something to everyone.
The menu spotlights chicken and duck and fish and The Pelican Burger, made with House ground beef, fully dressed on a house made roll and paired with hand-cut French fries. One waitress, who has been in business with a few other locally owned restaurants, said that the menu and McKnight's cook staff continue to "blow [her] mind" each day as they introduce a new special.
"It's amazing," she gushes, sweeping her way from window to window, "You just can't get this quality anywhere else."
The Fat Pelican is located at 1810 Tower Drive and open for lunch from 11am-2pm and dinner 5pm-10pm Tuesday through Saturday. Takeout is available during lunch hours. Just call 318-537-9030 to improve your day and add The Fat Pelican to your new weekly routine. Keep up with them on Facebook as "The Fat Pelican" and watch for the grand opening as it is sure to launch The Fat Pelican further into the spotlight.