The Fiddle Maker
By Melanie Moffett
May 26th, 2015
0 Comments
1331 Views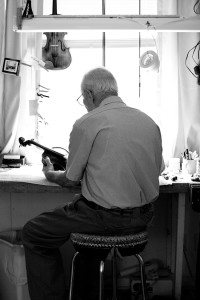 Master luthier Hilton Lytle reflects on life, creative partnerships and fostering a love of music in a new generation. In more than four decades of bending wood and strings to his will, Lytle has helped create just about as many musical prodigies as he has violins.
article by Michael DeVault | photography by Brad Arender
The first time Hilton Lytle built a violin, his father spanked him. It wasn't part of a religious aversion to musical instruments or a father's desire to spare his son from distractions. Instead, there was a far more practical reason for the punishment.
He was nine years old, and he had seen fiddle players sawing on instruments. With a notion to becoming a fiddler himself, he set about building an instrument. His father was a cigar smoker, so Hil, as his friends call him, decided the box would make a good body. A bit of stick attached to the top of it served as a bridge. But what of strings? He didn't have to look too far.
"We had just bought a new screen door," Lytle told BayouLife. "So I reached up, grabbed one of the new screen wires and pulled it down. It gave me a nice, long wire to use for my strings."
It wasn't long before his father found out. Lytle said there was a debt to be paid. "It started that door unraveling, and I got a little spanking for it. That's why I remember my first violin."
The cigar box with some screen wire may have been his first violin, but it certainly wasn't his last, though he would take many years to get to the point of master craftsman of fine instruments. Along the way, he fashioned canjos–a banjo made onto a tin can, sometimes with a harmonica attached. He made more than a few tub basses, and mouthbows have always been a popular effort of children.
He's a favorite with parents, too, he joked, as he always sends them home with a noise maker–a tin can with a rosined rope tail. Yanking a fist down the rope produces a blood curdling screech–a sound he gleefully reproduces any time he circles back to the instrument.
He met and married his life-long love, Nancy, and they started a family. For a time, violins of any variety were far from his mind. That all changed one night at a concert. At the time, he was a counselor at Neville High School. His wife had insisted they attend.
Their presence was serendipitous, as Nancy had perfect pitch. Midway through a performance, she shared an observation with Hil.
"She turned to me during the concert and said, 'One of those violins is not in tune,'" he said. "When we got home, she said, 'Let's try to make an instrument.'"
Just like that, Hil and Nancy set about the task of crafting violins. She proved to be an invaluable asset, as she had something few possess: perfect pitch.
As they worked together in the shop, Hil would strike a piece of wood he was working with a small, rubber reflex hammer given to him by his doctor. Nancy, for her part, would listen closely. First, he'd tap the top–usually of a fine spruce, and then the bottom, typically of maple.
"She could tell me when the tone in the bottom matched the tone in the top, so the vibrations would meld together, so that the tone produced would be a smooth, even tone instead of a sharp, raspy tone," Lytle said. It was a practice that paid dividends. According to Lytle, his violins were some of the best toned instruments around. To back that up, he has walls filled with photo after photo of champion fiddle players from Louisiana, Arkansas, Texas, Mississippi and numerous other states.
His instruments have appeared on the Miss Louisiana stage, in the hand of Lauren Ford–one of those state fiddle champions–and as far away as the concert halls of Nashville. Over the years, Lytle estimates he's made more than 650 fiddles to give away and another 250 to sell. All told, that's almost 1,000 instruments.
At 93, he's still going strong, too. Come to find out, with making musical instruments, the passion can take hold and it's a passion hard to fight.
For many years, he worked in a shop behind his Northside home. As one might imagine, making a violin is a remarkably labor-intensive practice. Building a violin from parts–China's spruce and maple forests are a good source for unfinished soundboards and back, right now–can take as long as 40 hours. Starting with a solid block of wood and carving it down to an instrument, honing every surface to perfection with ever-increasing levels of precision, takes more than 200 hours.
He's learned a lot about wood over the years, and he thinks he may be onto a secret of producing a warm, rich tone. He holds up an instrument he made, running his fingers across the back. The wood is burled, showing deep yellow and brown tones in burled wood. The patterns are beautifully matched across each of the two hemispheres of the back, meeting perfectly in the center where the two halves have been joined. There's only one problem, according to Lytle, and that's the tone the instrument produces. It's not pure, not clear.
He has a solution, though, and shows the back of another instrument. On this one, the back is beautiful, but it lacks the character, the richness of tone and texture, of the burled maple. "On this one, the grain runs perfectly straight," he said. "I think that helps produce a much better, more even tone."
As he's gotten older, his operation has gotten a bit smaller. He moved the shop into the back porch of his house, not too far from the comfortable chair, where he watches television. The workbench is strewn with parts and, for a moment, it would be easy to dismiss this as an abandoned area. After all, there's a pile of broken glass in the middle of it all.
But there's an explanation.
The glass, Lytle reveals, is one of the tools used to scrape wood from inside an instrument one or two layers at a time. Thinning the wood allows the maker to change the tone of the instrument. Lytle prefers tuning to an F#, a task that was made difficult when he lost his wife a few years ago. He developed a workaround, though.
Sitting on the desk, clipped to the workbench, is an electronic tuner. Now, he can just tap away and read the display. When the piece produces an F#, it's time to stop whittling and sanding. This isn't the only workaround Lytle had to develop, either. He is an expert at stringing bows with genuine horsehair, a labor-intensive process that originally required his wife to hold one end, while he brushed the hair flat again and again along a long, wooden dowel.
With no one on the other end to hold the hair, Lytle had to do something. So he took the dowel and affixed an oversized mousetrap to the other end. With the addition of a bit of padding and masking tape, the workaround was in place. He laughs again, and wonders what his wife might think.
"She'd sure be upset if she knew I replaced her with a mousetrap!" he said, chuckling.
Lytle worked for more than forty years, first as an infantryman in the U.S. Army during World War II, a time he recalls in vivid detail. A battlefield promotion–"I became a lieutenant, standing in a fox hole," is how he recalls it happening–saw him become an officer in the Army, and he was recalled during the Korean War.
Following the war, he worked for a time in the private sector, but eventually he found his way into the school system as a career and vocational counselor at Neville High School and then, eventually, to a similar position at Delta Vocational Technical College in western Ouachita Parish. He retired with more than 40 years, a state pension, and because of his time in the military and private sector, Social Security–an important detail, as the Social Security check is what feeds his violin habit.
"I use my Social Security check to buy parts and supplies for my violins," he said. "That way, if I mess up, I can say the government did it."
And just like that, he's laughing again.
It would be easy for a veteran of 93 years, who's lost his wife, friends and family, and seen the massive changes of the 20th and 21st Centuries come and go. Yet, he's almost always smiling, quick to crack a joke, or to share some witty observation. He's not only become a master crafter of fine instruments, but he's also taken an interest in repairing damaged violins and identifying others. One such endeavor found him in close proximity to some truly special instruments.
A woman had a violin she wanted to identify. Lytle examined the instrument closely. Immediately, he was struck by its quality and its tone. "I looked in all of my books, my research materials to identify old violins, and I found that her violin had been made by a man named Montagnana in about 1702," he said. "It was probably worth about $80,000. She felt good about that."
Another gentleman approached him at his cabin in Mountain View with an instrument he had purchased. He asked Lytle to "put it in first class shape." He began working on the violin, and then something jumped out. "I looked on the inside, and the name was 'Samuel Clemens.' It was Mark Twain's violin."
He speaks of Mountain View with a certain fondness. In addition to owning a cabin there, he's also a regular musical celebrity. A frequent performer at the historic Jimmy Driftwood Music Barn in Mountain View, AR, Lytle is good on stage, too. He keeps a DVD of one such appearance, where he performed a few songs with a brother and sister. The sister, a tiny girl of eight who was almost dwarfed by the full-sized violin in her hand, played lead. The brother, all of four, accompanied them on a tub bass.
He watches the video, narrating as it goes, about how she had helped make that violin and then learned to play. Holding an instrument a few minutes later, he demonstrates. "If you give this to them and say, just on this one string, play this note," and he plays a note. "Then put a finger here, and teach them this note," and he plays another. He repeats the process several more times, adding a string and a note, then he puts it all together. The crude tones of "Twinkle Twinkle Little Star" emerge, and it's easy to picture the eight-year-old girl in the Driftwood barn video learning to play this song.
These days, Lytle is still plugging away on violins. At least two violins were in progress on his workbench during BayouLife's visit. He gives most of them away to children in need, and he knows where every single one of his violins has ended up. More importantly, though, he's intent on passing down what he's learned to a new generation of luthiers.
He frequently invites the parents of children to bring their little ones by, where they'll spend a week or so working together to make an instrument. It's a process that Lytle said instills in them a sense of accomplishment. "When they're done, they're holding a violin they made," he said.