The Field House Scores Big
By Melanie Moffett
Feb 26th, 2015
0 Comments
1434 Views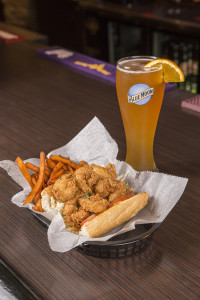 LOCATED JUST OFF THE ULM CAMPUS, THE FIELDHOUSE IS A LAID-BACK ESTABLISHMENT WITH AN ALL-STAR MENU THAT KEEPS PATRONS COMING BACK.
article by Mary Napoli | photography by Martin G Meyers
He didn't plan on it, but Joey Trappey is contributing to his family's lengthy and successful history in the food industry. The Trappeys have greatly prospered in the family business, but Joey remains humble.
"I'm really just taking care of and giving back to the community that has given so much to me," says Trappey, the owner of the Fieldhouse Bar and Grill.
Located just off the ULM campus, the spot was a natural choice for the Warhawk alum to start his sports-themed, casual dining spot.  Trappey is not only a ULM grad, but a former tight end for the football team (1st team All-Louisiana and 1st team All-Conference, as a matter of fact!) and a guard for the basketball team.  His memories of his sports career at ULM are dear to him, although the New Iberia native admits that when the prospect of playing ball as a Warhawk presented itself, the then high school senior had to do a little geographical research.
"I knew I wanted to chase the college football dream, but I didn't know much at all about this part of Louisiana," says Trappey. "I had to take out a map to figure out where Monroe was!  I had no clue!  But now I am so connected to this community.  This is where I have made my home and a family."
Trappey is now married to the lovely former Holly Hammock, a Monroe native, with whom he has two darling little girls.  Although he now calls Monroe home, Trappey brings a rich family history with him from Cajun Country.  His name likely looks familiar because it is a well-established brand of exemplary Louisiana food products that began in 1898 with the creation of a popular hot sauce.  From that one product grew Trappey's Fine Foods, Inc., a national brand that includes southern kitchen staples ranging from pickled peppers to canned goods.  The restaurateur's entrepreneurial instincts came honestly.
Even on a Wednesday night, the Fieldhouse is buzzing.  The main dining room is alive with patrons—some at tables, some belly-up to the bar—all enjoying fantastic food in a casual atmosphere.  The "party room" is packed with large parties of families with children running about and giving their parents a chance to relax and visit with one another.  As Trappey walks through the room, he can only take a few steps before someone reaches out to shake his hand or pat him on the back.  It seems that everyone knows his name, although no one seems to pronounce it correctly.  As someone with a last name that is often mispronounced, I pick up on that kind of thing.  Another reason I take notice is because my roommate at LSU was Joey's cousin, and I have spent so much time in New Iberia and stood in so many weddings there, that I can legitimately claim dual citizenship.  But that's another story for another time.
In North Louisiana, most people automatically read his last name as "trap-ee."  However, down south it is pronounced "trah-pay."  He won't correct you on it, but trust me on this.  When I mention it, Trappey laughs it off and goes with the flow.
Although he had not completed his Master's in Business from ULM with the intention of starting a restaurant, Trappey saw an overwhelming need for a family-friendly, casual eatery near campus where locals could enjoy affordable, quality food and drinks.
"Before the Fieldhouse, there was really nowhere like it to go after the game to carry on the celebration.  I saw a need for a place that had great food and great service where people could be comfortable.  So at age 26, I started a restaurant," he explains.
Due to the location's proximity to campus and Trappey's background on the football field and basketball court, the sports theme was an obvious choice.  Giant screens adorn the walls of the eatery and are tuned to various sporting events.  The laid-back establishment offers two dining rooms and a prominent bar area with a suitable selection of draft and bottled beers, wine and mixed drinks.  However, it is the all-star menu that keeps patrons coming back.
The most popular entree is the signature Fieldhouse burger.  Although there are several other burgers to choose from that include distinctive toppings, the tried and true version remains the best seller since the restaurant doors were first opened.  This burger includes American cheese, mayonnaise, lettuce, tomato, onions and pickle.  Make it your own by choosing from a wheat, jalapeño, or soft pretzel bun.
The shrimp poboy is another fan favorite.  Trappey shows his South Louisiana roots and gives this iconic sandwich the respect it deserves.  Made with Leidenheimer French bread from New Orleans, a generous portion of shrimp is accompanied by spicy mayo and just enough lettuce and tomato.  The crispy shrimp are music to the mouth, but it's the famous French bread that makes this sandwich sing.  With a crispy, flaky crust and a tender, airy inside, there is no doubt why Southerners are devoted to this sandwich essential.  And shrimp isn't the only seafood on the menu.  Trappey notes that Cayenne Crawfish, which is located on site, produces some of the best crawfish in town.
Trappey's nachos are another popular item.  The way I see it, nachos can either be ballpark level or a thing of beauty, depending on the platform (the chip) and the chosen toppings.  The Fieldhouse might have a sports theme, but their Famous Nachos are nothing like the ball field version of stale tortilla chips covered in radioactive orange cheese.  Crispy tortilla chips are piled high with fresh tomatoes, tender onions and spicy jalapeños making every bite uniquely delicious. Add chicken or shrimp for an extra special experience—it's worth it.  The true beauty of these nachos?  They aren't topped with the usual melted cheddar cheese, which often hardens and sticks to the toppings rather than the chip.  The Famous Nachos are bathed in delicious queso, which finds its way into every nook and cranny and makes each chip easy to pull apart from the stack.  Share an order with friends, and it will leave you wondering why nachos would ever be made any other way.
If you are already making plans for March Madness, the Fieldhouse is an excellent spot to cheer for your team while enjoying appetizer and drink specials.  Chicken wings are traditional game-time fare, and the Fieldhouse knows how to deliver these crowd pleasers.  Trappey is committed to providing local, quality products whenever possible, which leads him to purchase these sizable wings from West Monroe.
"Our wings are the largest size available here.  It means a lot to provide our customers with a quality product for a good price.  There is never a substitute for quality," says Trappey.
Speaking of March Madness, fans of the Fieldhouse are sure to turn out in droves for the restaurateur's newest venture, Trapp's.  Located on the Ouachita River, Trapp's is destined to be a legendary spot for many reasons.  Trappey extensively renovated and completely transformed the former site of Bayle's Landing and added additional floor levels to include a double deck patio system that accommodates river traffic.
"People will be able to pull their boats right up to the dock and get amazing food on the lower deck," says Trappey.
As if dining outdoors and watching the sun sink into the water isn't enticing enough, Trappey has constructed a stage on the lower patio where bands will provide music to the rhythm of the river.  Summer just got a whole lot more exciting, don't you think?
The location and refined rustic atmosphere of Trapp's are ideal for the seafood-centered menu.  Trappey calls upon his Cajun roots and family history in the food industry when designing dishes for his new venture.  The menu will feature seafood nachos, crawfish pie, boudin, shrimp and corn bisque, blackened catfish, assorted poboys, seafood platters and ribeyes, among other mouth-watering items.  Just in time for crawfish season, Trapp's will open its doors in March.
"I took a chance and wanted to invest in a community that really embraced me.  The support has been amazing," says Trappey with sincerity. Judging by the success of the Fieldhouse Bar and Grill, patrons will continue to support him at Trapp's and long into the future.
The Fieldhouse Bar & Grill is located at 1510 Sterlington Road in Monroe.  To see full menu, check out fielhousebarandgrill.com or friend them on Facebook.