The Great American Chocolate Chip Cookie Book
By Melanie Moffett
Jul 24th, 2014
0 Comments
613 Views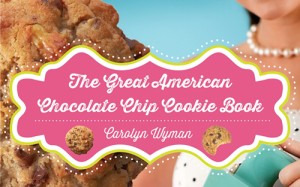 Scrumptions Recipes and Fabled History from Toll House to Cookie Cake Pie
by Carolyn Wyman | review by Casey Matthews
When I found out that the August issue of BayouLife Magazine was going to be a "food" issue, I knew exactly which of my favorite foods I wanted to write about: the chocolate chip cookie. I love chocolate chip cookies—the handy convenience, the fact that they can be baked a multitude of ways, and of course, the fact that they have chocolate. And I am not the only person in the world who loves them; according to author Carolyn Wyman, chocolate chip cookies "are among only four foods acceptable to even the pickiest eaters (the other three are fried chicken, French fries, and macaroni and cheese)."
The first chocolate chip cookie was invented only 75 years ago, and there are many myths to how it came to be. There is no doubt that Ruth Wakefield invented the first chocolate chip cookie in Whitman, Massachusetts; however, many sources on the Internet claim that Ruth made a quick substitution in one of the cookie recipes that she frequently used at her restaurant, the Toll House, and was surprised when the chocolate she used did not melt throughout the cookie, creating a "spotted" cookie of sorts.  Wyman is quick to dispel this myth. In an interview in 1974 with the Boston-Herald American newspaper, Wakefield told the reporter that she wanted to try something different and came up with the recipe of, what was named, "the Toll House cookie." The use of "chips" (named from chipping pieces of chocolate from a large bar of chocolate) of chocolate was deliberate and appeared in Wakefield's early cookbooks from her restaurant.
From that point, the chocolate chip cookie became popular overnight. The book explores other chocolate chip cookie entrepreneurs, such as Wally Amos of the Famous Amos cookies, Debbi Fields, of Mrs. Fields cookie fame, and David Liederman of David's Cookies. Each of these people used the same basic recipe and created three completely different chocolate chip cookies: one was small and crispy, one was larger and gooey, and one was flat and chewy. In the 1980s, companies were developing ready-made chocolate chip cookies that could be packaged and sold in grocery stores. In 1984, Proctor & Gamble sued Nabisco, claiming that Nabisco sent a spy to one of their contract manufacturers and also accused Keebler of "taking aerial photographs of their half-built" cookie plant. In an even bigger scandal, Frito-Lay admitted to surreptitiously obtaining a dough sample from P & G. Who knew the innocent chocolate chip cookie had such a sordid past?
The book also discusses more recent innovations with the chocolate chip cookie: Ben & Jerry's Chocolate Chip Cookie Dough ice cream and Martha Stewart's 3,000-pound chocolate chip cookie that had to be lifted into a banquet facility by a crane. And of course, no chocolate chip cookie book would be complete without recipes, and there are over 50 of them, including vegan, gluten free and Passover variations. There is also a section in the book that gives specific instructions about making the cookies chewier or crispier or multi-textured.
One of the most interesting aspects of the book is the list of the best chocolate chip cookies by state (interestingly, Louisiana had no listing- does no one make amazing chocolate cookies in this state?!? This needs to be rectified immediately). On a recent trip south, my family and I stopped at one of these listed locations –Donna's Gourmet Cookies in Cincinnati, Ohio. When I explained to Donna why we were there, she had no idea that she was mentioned in the book. She was very excited about the book and I was very excited about her "The Everything" chocolate chip cookie (white chocolate chips, dark chocolate chips, smooth milk chocolate pieces mixed with pecans and flakes of coconut). It was a win-win all around.
The Great American Chocolate Chip Cookie Book is a fun book full of delicious tidbits and mouth-watering recipes. But be warned: you will crave a chocolate chip cookie after reading this book, which on second thought, really isn't such a bad thing after all.
Casey Posey Matthews graduated with her Bachelor of Arts degree in English Education from University of Louisiana in Monroe and her Master of Arts degree in English from University of New Orleans and is now an English teacher at Beachwood High School in Cleveland, OH.