The Hippest Train in America: Soul Train and the Evolution of Culture and Style
By Melanie Moffett
Jun 26th, 2014
0 Comments
401 Views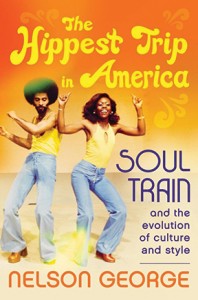 by Nelson George (William Morrow) | review by Casey Matthews
So, there I was in the bookstore, buying a gift for someone when my eyes were magically drawn to one particular book. On the cover were two people, paused mid-dance, wearing matching yellow tops and high-waisted bell-bottom jeans. As if pulled by a retro retractor beam, I found myself picking up the book and carrying it to the counter, moving and swaying inside of my own Soul Train line.
The Hippest Trip in America: Soul Train and the Evolution of Culture and Style, by Nelson George, is a dance line through the history of Soul Train comprising interviews George conducted himself and by personal narratives from some of the former dancers and performers. The show debuted in 1971 and was on the air for 35 years, making it the longest-running syndicated program in television history. For many, Soul Train was the trendsetter of its time, inspiring innovation in fashion, music, and dancing, and the conductor at the epicenter of this landmark television show was a man named Don Cornelius.
In 1966, Cornelius began his career as a radio newsman in Chicago. At the time, many deejays hosted local dance parties to supplement their income, and Cornelius partnered with a local deejay and began promoting these dance parties. These parties were moved from location to location, and Cornelius said it "felt like a train…moving around the city," which is how Soul Train received its iconic name.  Cornelius approached local affiliate WCUI to pitch his show, and they agreed to broadcast it. However, it wasn't until 1971 when Cornelius moved the show to Los Angeles that this small production became the cutting edge of a culture.
In his book, George goes through the various decades and dramas of the show: Cornelius's distaste of comparisons to American Bandstand, the various famous dancers who were regulars on the show, the civil rights movements, the live performances (rather than lip-synced), and finally, the rise of rap, which Cornelius never really embraced. Soul Train became a reflection of a powerful culture that had been previously excluded from the small screen. It also became catalyst in advertising and marketing, as companies realized the enormous consumer market associated with the show.  Dance styles, such as popping, boogaloo, and even the (original) moonwalk were showcased.  George gives ample anecdotes in the book about what occurred behind-the-scenes and includes interviews from people who either got their start on Soul Train (Rosie Perez), got initial national coverage (Destiny's Child) or who became influenced by the show in their own musical career (Ahmir "Questlove" Thompson).
George was also a big fan of Soul Train, and his admiration for the show and for Cornelius is evident in his book.  He tempers the well-known off-putting personality of Cornelius with stories of Cornelius' former friends and employees, who speak of him with a respect and reverence.
As a kid, I remember watching episodes of Soul Train, but what this book did for me was give me plenty of events to search for on the Internet. I spent as much time watching old videos of the famous line dance and performances as I did reading the book, and that is the genius behind Nelson George's book. Soul Train meant so much to so many people, and watching and reliving moments that influenced so many realms of culture is what "love, peace, and soul" is all about.
     Casey Posey Matthews graduated with her Bachelor of Arts degree in English Education from University of Louisiana in Monroe and her Master's of Arts degree in English from University of New Orleans and is now an English teacher at Beachwood High School in Cleveland, OH.