The Immortal Nicholas by Glenn Beck
By Melanie Moffett
Dec 1st, 2015
0 Comments
381 Views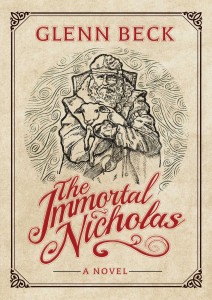 review by Hanson Hovell Holladay
A name known by most Americans, especially those of Conservative political standing, Glenn Beck is a respected journalist, media personality and author of both fiction and non-fiction. Just recently he published his latest novel, titled "The Immortal Nicholas," a rather creative and simple story on the origin of the mythical figure we have all come to know as Santa Claus, or Saint Nicholas. Incorporating the tales of the Bible, both the Old and New Testament, as well as documented history from the setting's era, Beck creates a fictional character that loses everything he holds dear to his heart, and in time becomes a new man  — a man given a wonderful gift without his knowledge.
Surely there are a near-infinite number of accounts that postulate the emergence of Santa Claus, viewed and read by both young and old alike in the households of the Western world, and perhaps beyond into other nations. Many of these myths fall into a variety of genres produced in the form of books, films and cartoons, including Fantasy, Drama and, yes, even Horror at times. To put it simply, one can view Santa Claus as a figure of Public Domain — a person, whether one wishes to believe imaginary or real, which belongs to each and every one of us.
In Beck's novel the reader follows Agios, the protagonist. And note that the story does not take place in the Arctic ice fields, but in the Middle East and North Africa, where, over two millennia ago, Christianity emerged as a religion. Agios, who all readers can relate to in some form or another, loses his wife and son within the same timeframe, and, as a result, the hope and will to live. Because of this, all occurring at the onset, the novel has a rather dark opening, which can lead one to believe this story not suitable for children. This is untrue. What ensues is a quest to protect a newborn child, bestowed upon Agios, which he accepts in the hope of redeeming the fate of his own son.
Regardless of religious standing there is no denying that the Holiday season has become associated with shopping malls and monetary spending, as noted in the cover summary of "The Immortal Nicholas," though this is not true of everyone. This particular story puts a creative background behind the jolly figure adorned in red and white plastered onto tins of chocolates, popcorn, decorative ornaments, bedtime stories and so, so much more. In Beck's novel, one will read the great struggle of a man with a wonderful, caring heart, who, in time, after numerous experiences and teachings over the course of generations, becomes a harbinger to all the wonderful things that all of us can become if we so choose.
We all love to read such tales as "The Night Before Christmas" and "A Christmas Carol" to not only the children in our lives, but to everyone, for nearly all of us can relate and take pleasure in the nostalgia of our earlier years, when our parents and grandparents did such things before a warm fire in the living room. It is important to realize that Beck's "The Immortal Nicholas" is not a preachy tale with the intention of altering one's beliefs, but a heart warming origin story of a great man associated with the majority of each and every one of us; a man that is immortal and magical, all for the purpose of staying true to a "mission" he promised to see through until the end so long ago in the sands of the Middle East, where the "King of Kings" emerged, and brought forth a new religion to this Earth.