The Iron Cactus
By Melanie Moffett
Sep 28th, 2016
0 Comments
529 Views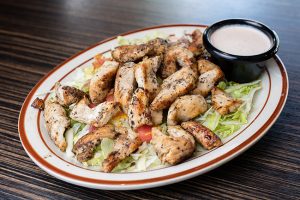 LEAH AND BRAD PARKER ARE THE FOUNDERS OF TEX-MEX FAVORITE, THE IRON CACTUS. THEIR FLAIR FOR COMBINING MEXICAN AND AMERICAN FLAVORS IS WHAT MAKES THEIR RESTAURANT ONE OF THE BAYOU'S BEST.
article by Claire Shephard | photography by Martin G Meyers
Nestled in a non-descript strip of stores between the Chevron and Johnny's Pizza on Hwy 80 in Calhoun sits one of this area's best and most talked about restaurants, the Iron Cactus. One mile from Interstate 20, it would be easy to pass the Iron Cactus if you were not on the lookout, but once you set foot inside, you'll never be able to pass by this gem again. In fact you may be like many of Brad and Leah Parker's customers and drive to Calhoun specifically to dine at this popular Tex-Mex eatery.
Leah, the brains behind the food, is apprehensive to describe the six year old restaurant as Mexican because "many of our dishes are American." Variety is certainly one of the areas in which Iron Cactus excels, as their menu options range from traditional Tex-Mex style enchiladas and tacos, to the popular ribeye and hamburger. Whether you show up ready for chips, salsa and margaritas or prefer a salad topped with fajita chicken, there is something for everyone. In fact, surprisingly one of the best and most popular dishes is the pulled pork. The juicy, tender and flavorful pork makes an appearance in their pulled pork tacos, can be added to the Cactus Burger- which I highly recommend- and is in the Cactus Roll which is Leah's take on a sushi roll.
The pork is no doubt a stand-out due to the 8 hour smoking process and the seasonings perfected by Leah's father, Robert King, who is also responsible for the extremely popular Mexican cornbread. Leah explains her Dad begin cooking as a hobby a few years before she and Brad opened Iron Cactus. As he was perfecting his art, he entered a few BBQ competitions, but never with his pork- which is perplexing. Yes, it is that good and not at all what you would expect at a Mexican restaurant. Which is why Iron Cactus is much more than one genre of cuisine and why it is difficult for Leah to nail down the favorites of her customers. Many of them "stick with one thing" and order it every time, while others have many favorites they alternate between. The fajitas and enchiladas are popular, as one may expect, but their cornbread, pulled pork tacos, hamburger, fried avocado and Tex-Mex salad are, too.
During a busy weekday lunch, the restaurant is bustling with retirees, women celebrating a birthday and co-workers taking a break from the daily grind. While the restaurant is typically full and today has two large groups, Brad and Leah work quickly to take care of their customers to ensure no one has to wait too long on a table. The longest anyone waits is a few minutes, and that is why both Brad and Leah explain they have done little advertising. Most of their customers are either former customers of Brad's from his time at working at Monroe's famed Garden District eatery Ernesto's, lifelong friends of the couple who both grew up in the area or perhaps know Brad through his Dad who is a local coach. Many others have heard about the great food at Iron Cactus and drive from Rayville or other outlying areas for the delicious cuisine. In fact, on this particular day a couple drove from north of Farmerville to see and taste what all the hype was about. "I gave them a brownie," Leah remarked, "for driving so far."
It does not take long to see that Leah and Brad's attention to their customers is one of the reasons the restaurant is so successful. In fact, it was most likely Brad's attention to customers that was the impetus for the Iron Cactus. Brad began working at the aforementioned Ernesto's as a busboy at the young age of 15. If you dined there anytime during Brad's 15 year stint at the restaurant you more than likely had him as your server, requested him as your server or wished he was your server. Brad had and still has an uncanny ability to connect with and remember his customers. In fact, Leah and Brad met at
Ernesto's when Ernesto's when they were both waiting tables, and Leah recalls many of Brad's customers liked him so much, because they could walk in, sit down and never utter a word. Brad knew their drink and food order and built a huge customer base. "We can't go anywhere" remarks Leah, "without seeing someone Brad knows." In his early 30s, Brad left Ernesto's and started working at Sysco and waiting tables at Geno's. It was during that time he ran into a former customer who pushed Brad to open his own restaurant. Thankfully, there was a spot available in Calhoun that previously housed a steakhouse and the former customer of Brad's was a business man. When the "money guy" and the "restaurant guy" came together as Leah puts it, the Iron Cactus was born.
However, unlike many restaurants there were no soft openings, friends and family nights or advertising campaigns. "We just opened," stated Leah. "We didn't try anything" before the first day except for a failed attempt at frying the shells for the taco salads the night before. While they may not have tested the menu, they certainly were not novices. Leah had been perfecting her salsa recipe for years and sold-out at every festival she attended. In fact, her friend and former owner of Jo-El's in West Monroe, Debbie Gross, served it at her restaurant, before Iron Cactus was a dream. In addition the rice, chicken tortilla soup and shredded chicken are sure to be recognized by loyal Ernesto's patrons as Brad brought the recipes for those popular items to his new eatery, which naturally has a strong following from Ernesto's regulars. And of course, we can't forget the recipes Leah's father had been perfecting for several years. While the other menu items were built by Leah and were not put through the rigorous recipe testing required by many high-end eateries, it all works.
On the day I visit Iron Cactus, Leah has set out the Cactus Burger with a side of hand-cut, homemade fries at my table. Thankfully, Leah knows what she is doing not only in building recipes but also in recommending food. I probably would have never ordered the burger at what is often described as a Mexican restaurant, because I would more than likely have tacos on my mind. But this Cactus Burger is nothing short of sublime and one of the best burgers I have ever eaten- if not the best. A layering of crispy bacon, topped with a thick, juicy hamburger patty, topped with the renowned pulled pork, to be topped still with grilled onions, fresh tomatoes, BBQ sauce and just the right amount of mustard, I kept going back for more. Forget driving to Calhoun for Tex-Mex I thought, I will be driving there for this burger- and the fries. These aren't frozen or an after-thought, but the best fries I've had in a restaurant in a long time. When I saw they were not only homemade but also laden with pepper, I was in love. In my family we have a thing for pepper. My Dad loves pepper and often uses so much it makes him sneeze. I have adopted that same method of seasoning, and now my 5 year old nephew demands pepper on his French fries. At the Iron Cactus we won't have to worry about asking for pepper for our fries, as they are already seasoned to perfection with not only salt but pepper, too.
Side dishes, like fries, or in the case of a Mexican eatery, rice and beans are often the difference between a good restaurant and a great one. Many restaurateurs tend to focus on the entrees and forget about the sides. In fact, when I was growing up I never ate the rice and beans provided by most Mexican joints, because they were clearly out of a box. That is certainly not the case at Iron Cactus. Everything is made fresh every morning, Leah declares. The rice recipe from Ernesto's, contains fresh vegetables chopped each day and is topped with the chicken tortilla soup for extra flavor. The beans are well seasoned, cooked fresh and topped with slightly melted shredded cheese making them as appealing to the eye as they are to the taste buds. Their loaded baked potatoes, topped with their mouthwatering garlic butter pair well with their ribeye and certainly make for a traditional American meal.
While I am still salivating over the Cactus Burger it is not the only dish I will be revisiting at Iron Cactus. Leah also started me with her Cactus Roll which like the Cactus Burger, does not contain cactus. Ironically, it is a question Leah gets a lot. What it does contain is the flavorful pulled pork (or your choice of protein), cheese, guacamole and is topped with a sauce so creamy and delicious I could have – or maybe did- eat it with a spoon. When I elatedly asked Leah what it was she replied, "It doesn't really have a name. We call it fish sauce, but there is no fish in it." It gets its name, because it goes on their Baja fish tacos, which themselves are unlike any other you will find in the area. You'll also find it on the pulled pork tacos. Or just ask for a bowl of it, and it eat it with a spoon.
Speaking of, the chicken tortilla soup pairs well with Leah's father's cornbread. In fact, when Leah first noticed customers putting the cornbread in the soup, she didn't understand, but it is certainly akin to the mixture of black eyed peas and cornbread many Southerners enjoy. Also on the lighter side, the Tex-Mex salad with their perfectly seasoned grilled chicken is difficult to beat. If you frequently crave a substantial grilled chicken salad for a light, yet satisfying meal, look no further than the Iron Cactus next time you have a hankering. The perfectly seasoned and freshly grilled chicken sits upon a bed of crisp iceberg lettuce, chopped tomato and avocado and shredded cheese that is oh-so-gloriously slightly melted by the warmth of the chicken. The creamy salsa ranch dressing served alongside is the perfect complement to the crispiness of the lettuce and the slight spice of the chicken.
Finally, if you have been to Iron Cactus you've likely seen someone order the fried avocado, if you did not order one yourself. It is one of those dishes that causes you to do a double take as it passes by your table. As you longingly eye it and have food envy, you wonder… what could that be? It is none other than culinary flawlessness. Amazingly while the entire avocado is fried, when you cut into it the flesh retains its shape, yet is still silky smooth and slightly warm. Stuffed with chicken and cheese it is the perfect consistency and is the perfect pairing for the Baja fish taco, with which it is served.  Or order it for the table to share when you want to be a little more daring than your traditional queso and chips appetizer.
Leah and Brad certainly had to be daring to open this 60 seat Tex-Mex/American eatery in Calhoun in 2010, but just like ordering the pulled pork or burger and fries at what many tout as a Mexican joint, it has paid off. Their attention to customers as well as the variety of flavorful food is second to none. Brad waits tables every day, and Leah is typically in the kitchen. However on the day I dined, they were short staffed, and Leah was waiting tables for what she joked was "the first time in 10 years." With three children ages 10, 9 and 4 Brad and Leah certainly stay busy but manage to be active in the community as well. Many people first sample their food at the Monroe Junior League's Spring Market or Ruston's Holidays in Cedar Town and then visit the restaurant for more. Leah also mentions they work with several churches in the area and have started catering weddings and rehearsal dinners. If you don't want Tex-Mex at your wedding don't fear, Leah has done everything from Italian food to a burger bar to a dips only event.
Therefore, if you live in or around Calhoun, you are in luck. The Iron Cactus is by far one of the best restaurants in terms of variety, quality, attention to detail and family involvement. If you think Calhoun is too far of a drive, just get in the car and go – you won't be disappointed. And if you wonder when Leah and Brad are going to open another Iron Cactus closer to your home, you are not the only one. Leah gets asked that question at least once a day and says, "Maybe one day. It's not out of the question." But for now they are working on opening the long anticipated bar in the space adjacent to the restaurant to better serve their customers. While the bar looks ready to handle a margarita happy hour, there are a lot of "little things" left to do, said Leah, who hopes it is open by November and plans to roll out a new menu of appetizers at the same time.