The Legend Arrives
By Melanie Moffett
Dec 29th, 2014
0 Comments
1025 Views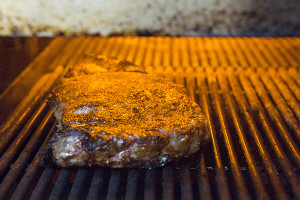 article by Michael DeVault | photography by Martin G Meyers
Tucked in the quiet, elegantly dim cellar of Washington Plaza, Monroe restaurant history is being made. For the uninitiated, the name "Doe's Eat Place" stands out as a touch strange, a curiosity. But for those in the know, the name conjures images of a ramshackle building in the heart of Greenville, MS, and some of the best tamales on the planet.
In the world of southern cuisine, Doe's Eat Place No. 1 is legendary. The brainchild of Dominick "Big Doe" Signa and his wife Mamie, the restaurant opened its doors in 1941. At first, they served up the signature tamales–more about those a bit later–and quickly added other items, most notably the steaks that would make them an international sensation. Decades later, the family franchised the concept and now, the thirteenth location of Doe's calls Monroe home.
"Doe's is a come-as-you-are fine dining restaurant," says Sean Hammons, who owns Doe's in Monroe with Andy Eaton and Andy's mother, Virginia. "It's a place where great food and service are provided in an atmosphere where you can be comfortable as you are."
Fresh from the boardroom or just off the 18th green, diners of all stripes will find themselves at home in Doe's Eat Place. The restaurant has close proximity to downtown commerce and recreation, and it's close enough to major residential and retail areas to make it a convenient place for a meal on the way home. Sometime in the first quarter of 2015, Doe's Eat Place will begin to offer lunch, too. (For now, it's dinner only. And you should probably call ahead for a reservation.)
Hammons and the Eatons undertook extensive renovations of the restaurant's interior. Maintaining much of the original exposed brick, they built new tables out of salvage lumber, antique pie cases and weathered tin replace mahogany and leather trim of the old Cellar restaurant. Another new feature of the restaurant is a private dining room that can seat up to 15. "We wanted to build a restaurant that's comfortable, functional, and inviting," says Andy Eaton. "But it also needed to be intimate and appeal to a broad audience."
The result of their efforts is down-home, southern chic, and on any given evening, diners will find themselves surrounded by people in golf shorts and a tee shirt on one side and the husband and wife in a tuxedo and gown on their way to a charity ball on the other. That's exactly what they were hoping for, Hammons says.
But what about the customers themselves? What is it that those who've eaten at the original Doe's in Greenville know that others might not? What is the Doe's mystique?
For the answer to those questions, look no further than the menu, where at first, visitors are struck by the simplicity. For appetizers, choose from chili or gumbo, broiled or fried shrimp, or Mamie's tamales–in orders from three to a dozen. For a bit of flare, add chili, and kick it up with a healthy dash, or six, of hot sauce.
"The tamales are a classic," said Hammons. "They're exactly the same way Mamie Signa used to make them back in the day. So you're getting a taste of Doe's history with each bite."
Tamales are not only a popular appetizer. Many people order a half dozen as a meal. Doe's Eat Place also sends dozens of tamales out the door each day in to-go orders. "People love the tamales. We'll have people call and order 48 of them in a single to-go order, to take to the camp for the weekend or to an office party," Hammons said.
On the other side of the page, in tall, proud Times New Roman, the menu proclaims the main courses: S T E A K S!
At the top of the scale, there is the Filet Mignon, an eight- or 10-ounce cut of only the best meat. Broiled to perfection, Doe's filets are almost fork-tender. Order medium rare for a hot, red center, and pair it with a bottle of Hahn Cabernet. The steak is served with a choice of sides and a salad.
Another favorite is the Bone-In 2-Pound Ribeye. A prime ribeye is cut thick, left on the bone, seasoned, and broiled to order. At 32 ounces, it's a big cut of meat. "It will feed two, easily," said Hammons. "That's how we sell it, as dinner for two. But every once in a while, someone will come in and order it just for themselves."
Savory black pepper and salt season this cut of meat without overpowering the flavorful steak. Doe's Eat Place cooks the steak in a flame broiler, which seals in flavor and juices while adding a dark, picante finish outside. Even at medium, the steak is still tender and succulent. The Bone-In 2 Pound Ribeye comes with choice of two sides and two salads; so even if dining with a companion, bring a healthy appetite.
Other "fit for two" options include a 14-ounce filet and a 1 1/2 pound strip steak. If you and your companions are really adventurous, though, and you truly want a night to remember, pick up the 3 Pound Porterhouse. "It's a huge steak," said Hammons. "It'll feed four people, easily."
Like the ribeye, the Porterhouse is served with choice of two sides and two salads. Additional sides and salads are available for an additional charge. And what sides they are. From a traditional baked potato or seasonal, steamed vegetables, every bite is a flavorful adventure of southern cuisine. Almost any meal at Doe's goes well with its hand-cut French fries. Crispy, peppered, and perfectly salted, let the bottom layer of fries rest on the plate while enjoying a steak. The result will be a juicy, tangy finish to a meal, the perfect kick of umami before dessert.
Doe's also sports a full service, top-shelf bar. Seasonal cocktails join traditional favorites. At the time of writing, a Maple Old Fashioned led the charge. House-made maple syrup, orange bitters, and Maker's Mark combine for a fresh, original take on the historic first cocktail.
Another popular seasonal offering is the Jackrose Cocktail. Applejack is combined with measures of freshly squeezed lemon juice and house-made grenadine to yield a drink that is at once sweet and tangy, smooth and biting.
To sample the Maple Old Fashioned or Jackrose Cocktail, hurry. Eaton said the drinks menu changes frequently, and what they make today at Doe's may not be possible tomorrow. After all, they make all of their mixers in-house. For bourbon fans, Doe's may just be a new home away from home.
The cocktail menu features more than a dozen premium bourbons and American whiskeys, from Basil Hayden to Old Charter 8. Willet and Weller sit along side Blanton's and Wild Turkey. Be sure to check with the bartender, too. After decades in the bar and nightclub business, Eaton has a few tricks up his sleeve. (While BayouLife was on hand, they were unpacking a fifth of Jack Daniels Sinatra Select, one of the rarest Jack Daniels offerings.)
The selection of scotches is virtually unmatched. Traditional favorites like the Glenlivet and Dewar's share shelf space with three vintages of the Glenfiddich and Balvenie. And, like the whiskey selection, the bartender will most likely have a stash of three or four harder-to-find off-menu offerings.
Once dinner is cleared away and the last vestiges of the bottle of wine are finished, it's time for dessert. Save space for Sweet Potato Pie if they're making it. Or, ask your waiter to provide you with a few choices. Like the drinks, the dessert menu will change seasonally.