The Log Cabin
By Katie Sloan
Oct 30th, 2017
0 Comments
377 Views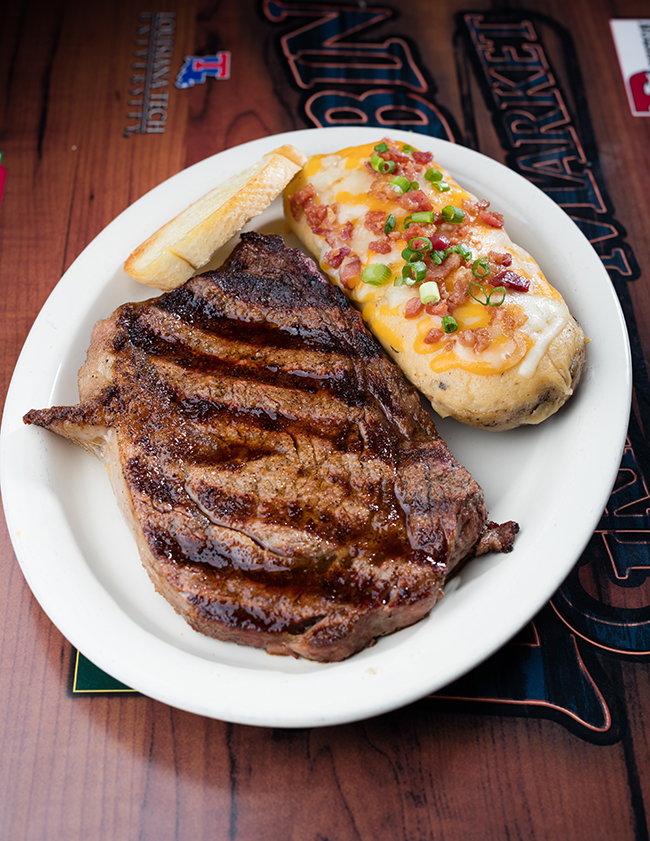 Article by Vanelis Rivera and photography by Martin G Meyers
For twenty-one years, this Cajun-inspired restaurant has served "the flavor of Louisiana" to the Ruston community and beyond. 
Minutes away from exit 86, Log Cabin Grill and Market–a Ruston staple–is ready to appease any grill-lover's cravings. Since 2005, co-owners Johnny Gaudet and Chris Garriga have created a frontier of food in a family friendly, homestead setting, a 'good vibes only' dining experience.
The family oriented focus that resonates at "the cabin" has its roots in another Ruston staple– Ponchatoulas. For twenty-one years, this Cajun-inspired restaurant has served "the flavor of Louisiana" to the Ruston community. It was founded in February 1996 by Johnny, who later partnered with Chris in 2004. Chris, affectionately referred to as "Moose," began working for Johnny as a cook while attending Louisiana Tech University.
Johnny took Chris "under his wing and taught him the ropes of the business, food preparation and customer service," allowing Chris to realize "his passion for the business." The "family vibe" at Ponchatoulas grew effortlessly between patrons and employees, particularly because it was a hub for LA Tech students. Moved by and deep-seated in the closeness of this dynamic, Chris began to shift his career focus.
After Chris graduated from LA Tech in engineering, he told his mother that he wanted to open up a restaurant,  a surprising change, but not necessarily a transformation of character. Chris has "always had a drive to be successful" and "always wants to be better and do better," affectionately recalled his younger brother Michael Garriga, currently manager of the Log Cabin market.
Michael is the kind of guy that has no problem sharing a beer with a stranger. Like his brother, he also worked at Ponchatoulas as a LA Tech student, working his way up from dishwasher to kitchen manager. Michael ended up not pursuing a carreer in marketing, but decided instead to attend culinary school in Baton Rouge. He weighed his odds as a 'win win,' wisecracking that "worst case scenario, I'll just be a good cook for my future wife."
The brothers may have strayed from their degrees, but not from their family heritage. Born into a "big Italian family" from Shreveport, Louisiana, Chris and Michael witnessed the communal joy while sharing food at a family table. Michael recalled, "Every Sunday when I was growing up, we would go to our Uncle Vince's, and there would just be a big layout. Lasagna, spaghetti, Italian sausages, sugo." Family and comfort food became synonymous for the brothers, the foundation for their approach to food and service. "The best time's when you get with your family and you eat, you tell stories, and you embarrass each other, you probably argue a little bit, but nothing brings people together like food," added Michael.
Michael's culinary talents are not wasted as manager of the Log Cabin Market. Part of his duties consist of preparing dishes for the market's "take and bake" items. Honing his love for food, which he credits to his mother and his grandmother "cooking up a storm," Michael is a self-proclaimed "mad scientist" in the kitchen. The siblings often collaborate on market and menu items,  constructing a medley of recipes. "We come up with a recipe, we try it out, we see how it does and if it's awesome, we roll with it… It's really exciting." While Michael is hands-on, Chris has been known to jump into the kitchen. "He can rock the grill like nobody I know. Whenever we get busy, he helps everyone out and then goes back to doing paper work and everything. He's a jack of all trades."
A willfulness to pursue "good food and fun," is the centerpiece of this establishment, which originally was a log cabin home. Thirty years ago it was converted into a restaurant, later purchased by Johnny and Chris. The exterior holds true to its name, while the interior is a modernized casual-rustic feel. Oak and walnut-shaded wood floors, columns, and walls establish the low-key, "set you at ease" atmosphere. Antique trinkets line window-topped shelves, grooved steel panels serve as room partitions, and a vintage white-washed door separates the bar area from the dining hall– A well-balanced space for an equally balanced menu.
Between the appetizers, salads and spuds, Mesquite grill dishes, Tex Mex dishes, specialty sandwiches, burgers, American classic dishes and desserts, Log Cabin's dine-in menu makes it considerably difficult to just choose one dish. In fact, Michael suggests that a table should order different dishes in order to sample each other's food.
New patrons are encouraged to begin their Log Cabin food experience with their BBQ chips and dip, layers of BBQ beans, chopped beef or pork, cheese, sour cream, chives, and bacon bits with jalapeño peppers and served with tortilla chips. Another exceptional starter is the spinach and artichoke dip, a simple classic made with creamy cheeses and served with tri-color tortilla chips. Highly praised by Michael are the Cajun roasted potatoes, slow-cooked "until they crisp up real good," then seasoned and topped with cheese, sour cream and bacon bits.
The Mesquite grill items are must-have picks, especially for first time diners. Log Cabin receives all of their meats from US Foods, a company based in Chicago. They are incredibly proud of their 22 ounce bone-in ribeye, Choice aged Angus beef grilled to order, and served with a side salad, bread and your choice of either Cajun roasted potatoes, grilled vegetables, spud, hand cut fries, loaded baked potato salad, baked beans, mashed potatoes, or loaded mashed potatoes.
Smoking their own meats — beef, pork, ribs and half chickens — is another source of pride for Log Cabin. Smothered in their homemade Bourbon BBQ sauce and seared on an open flame, the Mesquite smoked baby back ribs are Michael's second entree endorsement.
While not marketed as a Mexican restaurant, the Tex Mex menu can stand alone.  The quesadillas reign at the top of Michael's list, mostly because of the savory grill options– BBQ pork, sausage, chopped beef, sliced beef or fajita-style chicken or beef. Choose the jalapeño cheese tortilla and enjoy this classic served with a side of queso, which Michael confidently claims could "challenge" anyone's concerning flavor.
Confidence in their menu items is exhibited on their website in the form of advertising videos. One in particular correlates to a standout entree, homestyle favorite, chicken fried steak. The video's view from the kitchen shows the straightforward preparation, from the tenderizing of the meat, double breading and the deep frying. Yet, the simple artistry of the dish is in its finalization, cream gravy poured over a freshly golden-crisped steak and your choice of side and side salad. The 'noms' are real.
The Mesquite grill may take center stage in the kitchen, but the unexpected stars of the Log Cabin menu can be found in the dessert menu. Namely, their selection of bread puddings, which use the homemade bread pudding mix that originated in Ponchatoulas. The peach bread pudding with a Foster's sauce is a testament to Chris and Michael's daring food choices. It was made popular during Ruston's Peach Festival and kept on the menu by popular demand. While they also make a donut bread pudding and blueberry bread pudding, it's Michael's most recent 'sweet-vention' that goes unmatched– the Oreo bread pudding. A bite of this warm and gooey 'joy capsule' is sure to warrant more than one order.
Thanks to the Log Cabin market, you don't have to wait for the next dine-in experience to fill your cravings. Impressively stocked, you can choose from take-and-bake items, fresh meats, drink mixes, cafe baking and sweets, spices, herbs and sauces, Cajun specialty items, gluten free items and gift items. The take and bake items include bacon jalapeño macaroni and cheese, chicken and sausage jambalaya, crawfish etouffee and crawfish sherley. Meat lovers should be excited at the display of homemade sausages, jambalaya stuffed quail, seasoned ribeyes, filet poppers and stuffed pork. Some take and bake items are market-only items, such as Michael's lasagna, which showcases his grandmother's sauce.
Offering a stand-alone dining experience isn't one man's work. The business is about supporting and investing in people. Log Cabin strives to take care of its workers and take care of the community. They look for employees that they can invest in and that will, in return, invest back into the business. Michael credits the success of the restaurant to the unity of the employees and customers, an effort embodied and perfected by longtime manager Meg Brown. A manager at Log Cabin before it was bought by Chris and Johnny, she's the kind of woman who knows people by name and leads by example. "A lot of people have a right hand man," affirmed Michael, "[Chris] has a right hand woman. She helps my brother with everything under the sun… she is one of the best people I've met in my life."
Proof of their success shows on their Facebook page, Log Cabin Mesquite Grill. Customers have raved about the restaurant's high marks on TripAdvisor, the friendly and attentive food service, and specific dishes from the menu and market, such as the steak and loaded baked potato, the chicken fried steak, boudin and the smoked chicken.
Following them on Instagram grants customers access to giveaways, food specials and new food items. Recently, they promoted their new breakfast menu through a contest. The eagerly awaited menu takes effect on October 25th. Select, local only, draft beers are also highlighted on their Instagram profile to further promote an important focus of the restaurant best depicted by their featured hashtag: #eatlocal. Online services have also taken the form of an app. With the online order option, you can order days in advance, an especially nifty feature for large parties. Be assured that your food will get expedited once it hits Meg's desk.
Log Cabin is located at 1906 Farmerville Highway, Ruston, Louisiana. Open from Sunday to Thursday between 11 AM to 9 PM, and Friday and Saturday between 11AM to 9:30 PM. Visit their website http://logcabingrill.com, follow them on Facebook and Instagram, or reach the restaurant at (318) 255-8023.