The Long Walk
By Melanie Moffett
Apr 5th, 2016
0 Comments
351 Views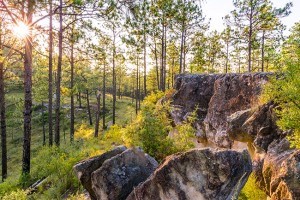 "The walking of which I speak has nothing in it akin to taking exercise, as it is called, as the sick take medicine at stated hours …but it is itself the enterprise and adventure of the day."
–Henry David Thoreau
article by Michael DeVault
Within a day, you've forgotten the cell phone, the distractions of home, and here, amidst the trees and the skies, the latest episodes of The Blacklist evaporate from your consciousness. This is hiking, that activity somewhere far beyond travel and well short of tourism, and when you stop, your senses are inundated with the aromas of the wilderness, the cacophonous blend of birdsong and wind, and you begin to understand why Thoreau spent so many years of his life taking part in what he called walking.
In the confines of modern life, cars and airplanes make it far too easy for us to abandon one of our primary evolutionary forms. We are, after all, designed to be walkers, not sitters, and with every step following a narrow dirt path, we distance ourselves from the confines of civilized society and retreat further into that primal realm of our brains, almost as if, in the deepest recesses of our minds, we arrive at a conclusion: this is what we were meant to do.
Hiking of this sort is a days-long endeavor, and it takes planning, practice, equipment and skill. Yet this pastime isn't at all unapproachable. After all, you already have the main tool you'll need to take part, a set of legs, and everything else, from tents to packs to compasses are just a few quick minutes at the sporting goods store away.
But where can you go hiking to find for yourself the inspiration Bill Bryson talks about in A Walk in the Woods? Not everyone can take a year off from work and walk the Appalachian Trail. Yet, the longing is there.
Deciding where to go depends largely on how much time you have to spend when you get there. Planning those trips, from choosing the right footwear to determining how much water you pack, is as accessible as Google, where you'll find hiking communities, web sites and more than a few travel blogs dedicated to this most satisfying of vacations. And, in order to instill just a bit of the peripatetic wilderness, we've selected three prime locations for your next wilderness trek.
Destination Big Bend National Park
Location Chihuahuan Desert, Southwest Texas
Features: Situated in the extreme southwestern portion of the state of Texas, Big Bend National Park comprises some 800,000 acres of wilderness nestled along a thousand mile stretch of the Rio Grande River. Owning in part to its geography and in part to its geology, Big Bend is one of the nation's premier wilderness areas, offering hikes and camping for all ages and all skill levels.
With altitudes ranging from near sea level to an excess of 8,000 feet, Big Bend can be challenging, if only in selecting what you hope to see. Wildlife ranges from jack rabbits to black bears, and the armchair botanists can take in everything from blue bonnets to towering hardwoods. One particularly unique facet of the park is the near horizon-to-horizon views. During the day, the blue skies overhead and all around can feel free and open. But it's at night when the skies come alive.
Big Bend ranks as the nation's least visited national park due to its remoteness. But being more than 900 miles from the nearest major city certainly has its benefits, as the park earned its certified Dark Skies designation in 2012. The dry, light air of the Chihuahua Desert, means that trillions of stars put on a show every night, making Big Bend a premier spot for star gazers and hikers alike.
Trail experiences range from Chimney Trail to Marufa Vega Trail. Take a walk along the banks of the Rio Grand, and before you know it, you find yourself surrounded by steep canyon walls, traveling through eons of geologic time. A host of guidebooks will provide you with the perfect times of year to visit for the experience you're seeking, and the park is open year-round, though the weather is not always cooperative. If you go in fall or early spring, take an extra blanket and a couple of pairs of thermals, as the nights in Big Bend can get nippy.
Getting There: The nearest airport to Big Bend is located between Midland and Odessa, where Southwest Airlines offers a number of daily nonstop flights from Dallas-Love Field. From Midland, you'll need a car, as it's still 240 miles to the park entrance. Or you can drive, if you think you're up for a 13-hour drive, most of it in west Texas.
Destination Big South Fork National Recreation Area
Location Northeastern Tennessee
Features: In the foothills of the Appalachian Mountains, the Cumberland and Big South Fork Rivers flow alongside one another for miles before they at last converge, merging into one. Along the way, these two scenic and historic waterways have carved paths through the mountains, and along these rivers, hikers have carved paths.
Here you can hike the dozens of trails along the riverbanks or through the hilly terrain around them. In more than a half-dozen locations, the river refused to yield to the rock and, instead, cut through it, making Big South Fork home to more natural bridges than anywhere else in the eastern United States. Oak and pine nestle close to the gravel banks of the river, and more than a dozen mining communities dot the landscape, harkening back to a bygone era.
Before setting off on your big hike, be sure to visit historic Rugby, an English-American settlement that dates to just after the American Civil War. Residents and historians have painstakingly restored and maintained the village's rustic roots while installing miles of walking paths through the village. A trio of bed and breakfast inns provide lodging and a few creature comforts as you prepare for your big hike.
Once in country, designated camp sites dot the paths, and guidebooks outline the many sites you'll want to see. If overnighting in a tent isn't your strong suit, book several days in Rugby and use the village as home base for the more than a dozen day hikes available. The best seasons to visit are Spring and early Summer for flora and fauna, and early Fall for leaf peeping.
Getting There: Big South Fork National Recreation Area lies at the crossroads of Middle and Eastern Tennessee. With easy access from Nashville and Knoxville–it's about a 2-hour drive from both–the region makes a perfect jaunt for a long weekend or an extended stay. Driving is also an option, as Big South Fork is just four hours north of Birmingham, making this scenic area an approachable 8-hour drive away.
Location Louisiana
Destination The Caroline Dormon Trail
Features: The Kisatchie National Forest is home to a dozen species of hardwood and softwood trees, the Kisatchie River and millions of deer, birds, rabbits and squirrels. Along the banks of the river, you're just as likely to share a campsite with a beaver as you are a bear. This is, after all, one of Louisiana's only designated wilderness areas. And it's the only designated wilderness area that's not surrounded at least in part by water.
This is the area that inspired naturalist and historian Caroline Dormon to write Flowers Native to the Deep South and a further five books on flora and fauna of the region. Her efforts culminated with an epic journey up the ridge of one of the Kisatchie's toughest hills, a journey that has been immortalized with permanence and her name, the Caroline Dormon Trail.
Marking some 10.5 miles one-way, this trail is not a loop, meaning that you'll arrive at the end, make camp and hike back out the next day. Because of this trail's unique, one-way feature, it makes the Caroline Dormon the perfect weekender and a nearly ideal way to practice those hiking skills before you set off on your grand adventure.
Towering pines brush the skies and spacious vistas open up along the narrow river, where wide sand beaches hug the turns. Accessing the trail is as simple as walking to the end of a paved parking lot and passing the reserved, developed campsites. Don't fall into this trap, as camping at any point along the trail is permitted, so long as you respect the rules of the wilderness zone.
Unlike some other day-hikes into the wilderness, the Caroline Dormon Trail follows a gentle and manageable rise. But the rise is almost continuous to the trail's end. So you best come prepared to spend a day walking up hill.
Reaching the top of the trail, you're rewarded with vista views of the Kisatchie Forest and western Louisiana hill country. And, if only for a moment, you'll feel like Meriwether Lewis and William Clark, forging a path through the Louisiana Purchase and seeing with first eyes the lands that stretch beyond.
Getting There: Kisatchie National Forest and the Caroline Dormon Trail are located in western Louisiana, near Natchitoches, which makes this beautiful part of Louisiana history easily accessible and close to home.
Final Notes
A few final notes about hiking. Wilderness hiking is a potentially dangerous activity. So you'll want to do some preparation. Make sure you have the proper equipment for the terrain you'll encounter. Not all hiking shoes are created equally, after all. A good backpack is only as good as it is appropriate to your journey. For a day hike, you might be able to forego a full-frame model. But for anything more than a day or two in country, you'll want to invest in a high-end model. These are easily located at local sporting goods outfitters as well as a host of online retailers. REI makes a particularly good model.
Hiking is not like other forms of tourism, either, in that you have to plan to take your meals and your water with you. That means taking everything you plan on consuming in and not leaving behind your trash. A three-day hike with a tent and gear, food and water, and a couple of changes of clothes means you could be packing in excess of 30 pounds.
Finally, hikers are an affable, friendly and encouraging bunch. They also are eager to share both their experiences and their knowledge. No guidebook or web investigation comes close to getting involved in a local hiking community or an online discussion group, where you'll find the kinds of first-hand knowledge that will make your great outdoor adventure your first and not your last.
Happy trails, and good hiking! Now, go take a walk.