The Man on the Corner
By Melanie Moffett
Jun 28th, 2015
0 Comments
15360 Views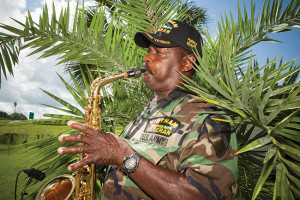 Salutes, A Savior & A Saxophone
article by Meredith McKinnie | photography by Brad Arender
Every morning and frequently in the evenings, the mellow, sultry, deep rich sounds of a saxophone waft across the intersection of 18th Street and Texas Avenue. The source of this musical treat for passersby is Donald Givens, a born and raised Monroe resident, a Vietnam veteran and purple heart recipient, a husband, a father, a grandfather and even a great grandfather, but most importantly to him, a man of faith and testimony. His story is common in that he was a wayward teen turned straight, but exemplary in that it was his determination, his emphasis on the "I can do it" mindset that has served him all these years. Perhaps he acquired that strength 8500 miles away in the jungles of Vietnam when he was only nineteen years old. Perhaps it was the day he was injured with shrapnel to the back just one month into his year tour overseas. Perhaps it was the day he returned and his mom put his first Bible in his hands, which he promptly read cover to cover. Perhaps he was born with a drive to succeed. Or perhaps it was the culmination of all of those or simply God's plan for his life. Either way, his story is one of subtle awakenings by the Lord to lead him on the right path, and Mr. Givens, who only picked up the saxophone three years ago at the age of 62, credits his faith and the belief that anything is possible, at any age.
Donald Givens was born in 1950, the sixth child of fourteen, seven boys and seven girls. His mother was Mrs. Lizzie Dawkins, and his stepfather Mr. William Dawkins, a World War II Navy veteran, worked at a grocery warehouse during the day and operated a service station on the corner of DeSiard and Magnolia. On weekends, the service station would stay open all night, and Donald and his siblings would sometimes operate it so his stepfather could sleep. It was during these evenings that local men would come into the station and share their stories. Donald claims he would hear many accounts of what not to do, though the lessons didn't quite stick yet. He attended Carroll High School and was a self-proclaimed troublemaker, jailed three times by the time he was 18 years old, though later acquitted of all charges. He remembers vividly being at home after a fight with the neighborhood boys, and the policemen coming to his mother's porch, asking him to come outside and then arresting him. It was shortly after he was released that he enlisted in the Army, claiming "I didn't join out of patriotism; I joined to be free." A reevaluation of freedom would come later in Vietnam courtesy of a picture in Jet Magazine.
Serving as a MOS 11D10 armor reconnaissance specialist, Donald was injured one month into his tour with shrapnel to the back. He recalls lying face down while two doctors worked on him, joking around with each other while doing so, and within a month he was back on duty. It was 33 years later in a routine doctor's visit that Donald was told that the metal was still in his back, and the Vietnam metal still resides there to this day. When he initially enlisted, Donald says he didn't think about the war, just wanted to get out of Monroe. He didn't have a fear of military service, a brother having served in the Marines, one in the Air Force, and another in the Army. While on tour, Donald learned to depend on his comrades regardless of race, despite the turmoil of the Civil Rights movement back home in the States.
The soldiers referred to the U.S. as "The World." Even though they were fully aware that Vietnam existed in the world, it was so far removed from what they knew and the conditions there so inhumane and horrible, they chose to think of it outside, almost like it didn't exist in their idea of humanity.
Perhaps this was a coping mechanism, as Donald described the country of Vietnam as "a place of death." He recalls the Vietnamese children following the soldiers in the jungle for food, and him wondering where their parents were and how they would find their way back home. And when they would deliver food, the women would eye the slop served as if it was the finest Christmas dinner. He felt sadness and appreciation for where he came from and was even more determined to make it home.
In basic training, the soldiers were taught how to kill a person and in war, they learned the desire to stay alive. Donald knew his life was on the line, and insists "war will make you do stuff you wouldn't normally do." That kill or be killed mentality kicks in, and Donald realizes how lucky he is to be alive. Through long pauses and a few tears, he remembers that 60,000 men gave their lives in Vietnam, essentially the population of Monroe, his hometown. Every person he sees daily represents a life lost in that "place of death." Anxious to return to the U.S., he proclaimed, "I'm gonna kiss the ground" when he got home. But before he returned, he had a sobering moment. One of his treats, having no TV, only radio for entertainment, arrived sporadically in the form of a tiny old copy of Jet Magazine. The highlight of each issue for the soldiers was the featured "Beauty of the Week." While flipping through one issue from 1969, Donald took note of a picture taken outside an Atlanta City Hall with men on tanks challenging a peaceful African American demonstration. It dawned on Donald that those were the same tanks he operated in this far removed war zone. He said, "I'm over here fighting to make these people free, and I'm not even free myself."
Donald documents the truth of his experience overseas in a Vietnam documentary by R2 Productions entitled Some Call Them Baby Killers, We Call Them Heroes. He and his wife visited the Vietnam Veterans Memorial in Washington D.C. The size of the wall, roughly three acres and hosting three million visitors a year reminds everyone of the significant death toll. But the memorial that most moved Donald was on a much smaller scale in Biloxi/Gulfport, Mississippi. He remembers not only are the names listed, but the pictures of the boys as well, some still in their high school graduation caps, so young with so much potential, just gone.
Having returned home from the war in 1971, Donald was inevitably much more enlightened about the state of the world and grasping to find his place in it. In 1975 his mother gave him a Bible. When he had been wounded, his mother had asked him, "Son, are you praying?" He wasn't, didn't have much use for God or even really believe in him. But something changed him over there, and his previous ways of smoking marijuana, drinking every day, playing dice and blackjack, admittedly addicted to gambling, the Lord began to convict his heart and he saw this Bible as his answer. He said, "Lord, whatever you show me in this book, I'm gonna do." In the first few books of the Bible, he could see his life. He quickly stopped drinking and gambling, but the marijuana and cigarettes were harder to let go. He constantly searched the scriptures for justification of his actions, all the while knowing "The Lord knew I was crazy." He showed up at his mother's house one afternoon with reddened eyes as a result of marijuana smoking and the Bible from his mother under his arm. His mother saw his state and snatched the Bible from him. "When she took that Bible, it was like she took my heart," he said. He went to his brother's house, and immediately inside the front door in the corner was an emblem of Jesus Christ. He was convicted again, and his brother told him, "When you come to the Lord, you have to come straight." He quit smoking marijuana that day.
On April 22, 1975, Donald was smoking a cigarette outside the barbershop, counseling two teenagers on the dangers of marijuana. He told them God intended for their bodies to be temples, and smoking was defiling the temple. One of the boys pointed to Donald's hypocritical cigarette between his fingers. He looked down, said "You're right," thumped it out and never smoked again. He claims the Holy Spirit spoke to him saying, "If you're going to tell people how to live, you have to do it yourself." The smoking ads in those days, boasting, "I'll walk a mile for a Camel," were the truth. Nicotine was Donald's hardest hurdle. Now, he and his wife Ruth host seminars to help people quit; knowing the personal struggle helps.
Donald had known his wife Ruth since childhood, having always run the streets with her brothers, calling themselves "The Block Boys." They began dating before he enlisted. Though many boys married quickly before deployment, Donald didn't want a "Dear John" letter, so he waited. The couple finally married in 1974. Donald was determined to break that common law cycle. The ceremony took place in a small Presbyterian church in Cincinnati, Ohio, where the couple lived for a year. When asked why only a year, Ruth piped in that, "I wanted to come back home because it was cold. That wasn't my type of living." Donald remembers as a child,  being obsessed with The Wizard of Oz. Not having the benefit of DVR or DVD, the parents would yell outside that the movie was on, and all the neighborhood kids would run to the nearest TV. Donald said at that time, he didn't realize the significance of the scene when Dorothy clicks her red slippers together, but Vietnam and Cincinnati taught him, "There's no place like home."
The couple has one daughter, Sonja, a nurse, three grandchildren, one great grandchild and one on the way, due December 24th, an early Christmas present. Donald tried his best to be a good dad, always the disciplinarian. Ruth called him strict, since "back then you could whoop kids." He taught Sonja to drive a standard, and when she was eight, he would take her for piano lessons. Rather than just sit back, Donald decided to take the lessons as well. Like Donald, the seventy year old piano teacher was strict, often rapping his hands with a ruler when he made a mistake. He and his daughter were instructed to practice thirty minutes a night, though she would watch the clock the entire time. But Donald would play for hours, attempt music beyond his level of learning. He believed he could, so he did.
When he was 62 years old, he heard a man play the saxophone at a church in Minden. It piqued his interest, and he bought a used sax from a local pawn shop for $150. Not knowing anything about the instrument, he blew in the mouthpiece, and nothing happened. Only later did he learn he needed a reed. He turned to Mr. David Butler in Ruston for lessons, Butler having played with the likes of James Brown and Percy Sledge over the years. Donald picked up quick because of his background reading music in piano. He also recently picked up the guitar, taking guitar lessons on Wednesdays and sax lessons on Fridays. He wants to inspire the young people at church. He believes "people are against themselves." They don't think they can, so they don't. Accomplishing something is more about mindset than ability. It's not always the fastest guy that wins the race.
A man approached Donald after hearing him play at the intersection under the gazebo and asked him to play his wedding in downtown Monroe. Donald asked if he could bring 7-8 people because no one would ever believe it. He didn't want to charge the man because he was so honored to be asked to play. The man insisted, but Donald's sentiment remains the same. An elderly lady acknowledges Donald for encouraging her to finish her real estate license, saying whenever she thought about giving up, she pictured the man on the corner playing the sax and kept going.
One can find Donald in the mornings at 7:30 and the evenings at 4:30, playing about two hours each trip under the gazebo right off his backyard. He says he started playing in the house. Then he got a little better and moved to the driveway. Then he got even better and moved to the gazebo. He is so religious in his visits, Ruth claims if he misses a day for whatever reason, people come knocking to see if he's sick. People assume he is there to entertain them, but he does it more for his own pleasure. His faith and determination have both served him and fulfilled him. He is an inspiration to the youth he strives to motivate and to random passersby daily on the street. Before I left, without hesitation, he got out his small saxophone, strapped it around his neck and played Summertime. As his cheeks puffed up as he blew with all his might, I could see the peace and fulfillment spread across his face, waft across the room and envelop me in the classic melody. Donald Givens has found his place in the world.
A few words From Mr. Donald Givens: "I'd like to give a shout of praise to the millions of men and women who serve and have served in the US Armed Forces and salute you for the sacrifices you've made both here and abroad."