The Mansion at Red Hill
By Melanie Moffett
Jun 6th, 2016
0 Comments
1561 Views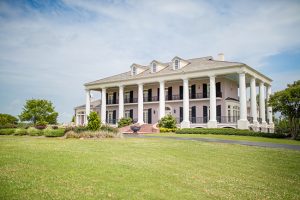 A Wedding Venue Like No Other
article by Maré Brennan  | photography by Martin Graham Meyers
Originally built in 2002 as a grand estate and private retreat by Silicon Valley technology innovator and entrepreneur turned sweet potato mogul, Lev Dawson and his wife Anne, the Mansion at Red Hill in Delhi is now a world-class, luxury bed and breakfast hotel to rival those you might find in Europe. When the property came up for sale in the spring of 2015, Janie and Frank Earl Maxwell, Jr. decided that northeast Louisiana should have a opulent bed and breakfast experience not unlike the ones they had shared on extensive travels through Europe and England. Enlisting the expertise of Eva and Seth Dawson, daughter-in-law and son of the original owners, the home has become a destination for quiet stays far from the madding crowd as well as a luxurious venue for weddings and parties of all kinds since it opened in March of this year.
Driving out toward Delhi's reservoir, Poverty Point Lake, a sweeping vista to your left affords views of the four-story home sited on a natural ridge and surrounded by farmland called Red Hill because of the clay content in the soil. The winding drive up to the Mansion at Red Hill takes you through large gates which affirm you have arrived. A bridge over tranquil ponds stocked with bass and bream leads directly to the bed and breakfast, which stands like a luxe beacon amid a sea of rich agricultural land.
The 7,000 square foot bed and breakfast is resplendent with the looks and details of an antebellum princess with all the technology and appointments one has come to expect from modern luxury living. Designed by noted Vicksburg architect Skip Tuminello, who is no stranger to life among some the greatest examples of pre-Civil War era plantation homes, and built by luxury home contractor Robert Stone, The Mansion at Red Hill leaves no detail undone. Twelve massive columns stand guard along the perimeter of the home's verandas. Golden oak hardwood floors throughout the first floor were installed by Dupuy Flooring and are inlaid with strips of oak stained a darker cherry to delineate rooms and create architectural detail and structure. Custom cabinetry designed by Sandy Sartor and built by Key Millwork is found throughout the home and provides incredible amounts of storage. Anne Dawson was responsible for over ninety percent of the interiors, selecting gorgeous silk rugs, exquisite wallpaper and opulent drapery and fixtures throughout the home. The elegant Foyer, a photographer's favored spot for bridal portraits, features a rotunda with a spiraling staircase that leads the eye upward toward a towering rotunda painted to mimic the blue of the sky. Eyebrow arched openings lead guests from the entrance into either the dining room and salon. Ceiling heights range from fourteen to sixteen feet on the first floor adding to the generous volume of the space and call for an extravagant four layers of crown molding. Comfortable vintage furnishings create a warm environment for guests. WIFI is conveniently available throughout the property, making the B&B perfect for business travel as well. Businessmen and women from as far as Corpus Christi and Crawford, Texas have learned firsthand about the benefits of staying with the Mansion at Red Hill when conducting business in northeast Louisiana.
Tranquility is at your fingertips upon entering the grounds of Mansion at Red Hill. Other than the resplendent Honeymoon Suite, each of the guest rooms are known by their wall color, for example, the Blue Room and the Lavender Room. All rooms are known for their comfort and privacy. Solid wood doors and private en suite bathrooms keep the outside world at bay. The Mansion uses sumptuous bedding by Comphy Co. Several upstairs rooms feature private balconies or access to the upstairs veranda. A butler's pantry just beyond the kitchen downstairs offers a round the clock coffee station for guests.
As proprietor of the Mansion at Red Hill, Eva Dawson's love and respect of the property is evident. The Mansion at Red Hill's B&B guests are in for a treat! Vivacious and worldly, Eva, a West Coast native, acts as a personal concierge and chef, providing home-cooked, gourmet breakfast, like an fresh omelet with baked heirloom tomato topped with artisan-made parmesan along with made-from-scratch biscuits or muffins in the mornings and fruit, dessert or snacks in the evenings. Served on traditional Blue Willow place settings, each homemade breakfast is an homage to Old World grace. "We get to know our visitors and have breakfast ready for them whenever they would like it," says Eva. Many guests like to take coffee or tea in the library in the afternoon.
In addition, Eva is the go-to person to contact when you are planning your wedding or next party, as she can help you plan your event at the Mansion on Red Hill to perfection. "Seeing is believing, but you gotta come see me," smiles Eva as she encourages those considering a destination event to make the trip to the Mansion on Red Hill to visualize what could be.
Fairytale weddings come to life when the Mansion on Red Hill is the venue. Brides can arrive by carriage, drawn by the B&B's grey mare Percheron, named Millie. A multitude of areas throughout the property would be ideal settings for nuptials and intimate gatherings. Many brides have chosen the veranda as the backdrop for their marriage vows. When a recent wedding at the Mansion at Red Hill was threatened with rain, Eva and her team made plans to move the ceremony inside to the Grand Salon. But when at the last minute the clouds parted, they sprang into action, placing white chairs at the ready for guests to enjoy the ceremony which took place on the front steps leading to the front door of the Mansion. The Mansion at Red Hill is dedicated to ensuring that brides, grooms and their guests have the very best experience possible, and that means going the extra mile. Brides and their wedding party are able to use the Honeymoon Suite for dressing, while the groom and groomsmen are able to use the rooms upstairs for changing. For an extra fee, the whole house can be rented for parties or weddings, providing an authentic experience of staying in the home during the event. The Honeymoon Suite, alluring in design, features an en suite bathroom with a sunken, Roman-style tub, an oversized, glass and tile shower, and ample mirror and counters for preparing for the bride's big day.
A brick courtyard with a raised bed parterre is filled with clipped boxwood and colorful impatiens. The tiny white blooms on mature ligustrum fill the air with sweet scent while doves coo soothingly adding to the ambience.
Weddings can be catered in house or brides can enlist their own caterers. The state of the art kitchen is a culinary dream with Viking range, warming drawers and ample counterspace covered in African granite. With so many options, creating a dream wedding or event, like a bridesmaid's luncheon, prom, club meeting or shower, that is uniquely yours is no problem.
Nearby attractions, such as the challenging Black Bear Golf Course, Poverty Point Reservoir and the newly designated UNESCO World Heritage site, Poverty Point, where ancient native Americans built mysterious mounds and earthworks, provide guests to the Delhi area with ample opportunities to explore the beauty of northeast Louisiana. For those who like to dip a line in the water, the Mansion at Red Hill has tackle that guests may use to try their luck fishing the well-stocked ponds on the grounds. With over 85 acres to explore, guests can see all manor of northeast Louisiana flora and fauna. Says Eva with surprise, "We even had a flock of pelicans come through in January this year!"
The bed and breakfast can be booked online through online travel agencies or through bnb.com or booking.com. To reserve the Mansion at Red Hill for your upcoming wedding or party, contact Eva Dawson at eva@mansionatredhill.com or call her at 318.878.5155 or 318.282.6959.  Says Dawson of her incredible bed and breakfast experience and event venue, "I offer what no one else offers." Come stay on the grounds or plan your next event amid the lush surrounding at The Mansion at Red Hill.