The Phoenix
By Melanie Moffett
Mar 27th, 2015
0 Comments
411 Views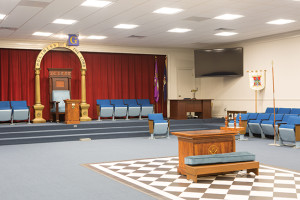 Scottish Rite Temple's Glorious Renovation

article by Maré Brennan | photography by Martin G Meyes
When the tornado of 2014 cut a swath through Monroe, the swirling winds found a way to wreak havoc on the Scottish Rite Temple which is located across the street from ULM's Biedenharn Recital Hall. The venerable hall that is the meeting place of Monroe's Scottish Rite Masons suffered major damage to its roof by a falling tree, necessitating a complete renovation from tip to toe.  33° member Travis Holley and his wife Sara, as a gift to the Temple, enlisted the help of local design guru, Gregory Hudgins, to restore the lodge and create a space worthy of the A-list events and occasions that are often held in its gathering spaces.
Throughout the foyer and the Grand Hall, Sara and Gregory chose a regal marble flooring in large 12" x 24" rectangular tiles to replace 12' x 12' linoleum and 70's shag carpeting and to unify the voluminous spaces. Where the walls had once been dark, wooden paneling, the designer chose to brighten the space with Sherwin Williams "Agreeable Grey" applied to the walls. Windows are now dressed with grey silk panels that fall gracefully to the floor. "Our contractor, Bing Bishop, never failed to deliver quality craftsmanship throughout the project," said Gregory. An industrial kitchen, convenient for caterers of any size event, is accessed directly from the Grand Hall and can be opened to the hall via a granite topped bar counter.  Celebrations and meetings, like weddings, parties and reunions, are easy to imagine taking place in the Scottish Rite hall.
Restroom renovations include calming grey tiled floors and walls, new vanities and interesting artifacts showcasing the Scottish Rite's history as art on the walls. The hallway leading to offices and storage rooms at the Temple is lined with interesting documents from the initial chartering of the lodge, photographs of members who have reached the highest degree in the order and memorabilia from the past. The portraits and names displayed throughout the Scottish Rite Temple are a who's who of influential men who forged a path of greatness through their service to our community.
One can imagine secret handshakes exchanged between masons as they pass through the new double doors stained a beautiful walnut hue which lead into the masons' space for rituals. Within the Temple itself, Gregory designed the space with a new ceiling and generous lighting. New charcoal and blue striaed industrial carpeting updates the flooring throughout the Temple. Intricately carved, handcrafted furniture, created by the lodge's members, is placed according to the order's mystic rituals.
By day, the Scottish Rite Temple in Monroe does double duty as home to the Admiral E.A. Barham, 33°, G.C. Speech and Hearing Clinic, fulfilling the Monroe Scottish Rite Bodies' commitment to its philanthropic mission to help those in need.