The Senior Scam
By Melanie Moffett
Apr 25th, 2014
0 Comments
912 Views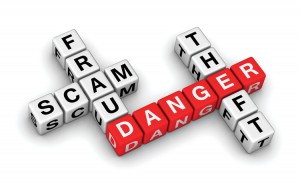 How to Protect Your Loved Ones From Financial Abuse    
by Angela Genusa
"Granny!" sobbed Justin* into the phone, in a voice she barely recognized because of the muffled crying, "If you don't send me $1,700, they won't let me out of jail here." Here was the Dominican Republic, of all places, where Justin said he had gone on spring break.
A gruff-voiced who said his name was Roger Clark took the phone from Justin and demanded that 85-year-old Pauline* send the $1,700 in the form of a Green Dot card (a prepaid debit card) or else he would imprison Justin on the charge of driving while intoxicated. Clark handed Justin the phone back for another minute with his grandmother. "I'll pay you back, Granny. I promise. And whatever you do, please don't tell mom and da—". Someone snatched the phone away from Justin, and there was silence.
Pauline panicked. The thought of Justin in a foreign prison thousands of miles away from home frightened her. She went straight to her bank and withdrew $1,700 from her savings account.
Within less than hour, Pauline stood in line at the MoneyGram counter at Walmart in Monroe with the $1,700 cash in her purse. Roger Clark had instructed her to buy a Green Dot card for Pedro Rosa-Pena in Santiago, Dominican Republic. Another elderly couple then stepped forward to the counter—also ready to buy a Green Dot card for $1,700 for Pedro Rosa-Pena in Santiago to get their grandson out of jail.
"Wait a minute," said a concerned Walmart MoneyGram counter employee. "Both of you can't send that much money to the same man in the Dominican Republic. We've had customers come through here lately wanting to send Green Dot cards to the same name, same address, everything. It's a scam." Confused but still frightened about what would happen to her grandson, Pauline stepped out of the line with the other couple as the cashier had asked them to do, and the Walmart manager came over to speak to the three grandparents. He explained to them that it was a scam and asked them go home and investigate it further before sending any money. Pauline left saying, "I'm going to check it out." But the other elderly man didn't believe it was a scam. "This is my grandson, and he's in trouble," he said. "I'm going to send the damned money one way or the other!"
When Pauline got home, she called her son in Minneapolis, and Justin, it turns out, was not on Spring Break. Pauline immediately texted Justin, and he called her right back saying he was in the library studying for finals. She then called her son in Minneapolis back and he said, "Mother, this (scam) is going on all over Minneapolis, too."
Pauline had fallen for—and almost been victimized by—what is called "The Grandparent Scam," just one of many scams that target senior citizens and bilk them of millions of dollars every year.
The financial abuse of older Americans like Pauline has become epidemic. Scammers fleece our seniors out of an estimated $3 billion a year. A 2010 survey found that 7.3 million older Americans—one out over five citizens over the age of 65—have been ripped off. In 2012, people 60 years and older made up 26 percent—the highest of any age group—of all fraud complaints tracked by the Federal Trade Commission. Scams targeting seniors have become so widespread that elderly financial abuse is being called "the crime of the 21st century."
Why seniors? Because as Willie Sutton, the infamous bank robber said of banks, that's where the money is. After a lifetime of working and saving, older Americans sometimes have enormous nest eggs. But it's not just wealthy senior citizens who are targeted. Scammers don't discriminate: They'll take the money and run, whether they can get it from the rich, the middle-class or the poor.
Older people can be easy prey for con artists. Experts believe that the elderly are more vulnerable to scams, because they tend to be too trusting, naive, live alone and don't always have someone keeping an eye on their finances. Loneliness also plays a role. Senior citizens with nothing but time on their hands are happy to have someone with whom to talk—not suspecting that the "kind man" on the phone may be trying to steal their money. "People who grew up in the '30s, '40s and '50s were generally raised to be polite and trusting," says the FBI in a warning about elderly abuse. "Con artists exploit these traits."
Declining cognitive abilities also make senior citizens easy targets. More than one-third of Americans over the age of 71 have mild cognitive impairment or Alzheimer's disease, it is believed.
Tina Anzalone, 52, of Monroe said her now 87-year-old mother Flo had been getting piles of mail from politicians, charities and other organizations soliciting money for several years before Tina noticed something was wrong with her mom. Her mother was finally diagnosed with Sundowner's Syndrome, an ailment that causes symptoms of confusion after "sundown." These symptoms appear in people who suffer from Alzheimer's disease or other forms of dementia.
"Four or five years ago, she was getting all this mail, and she was reading and studying it. It was like her daily job," Tina said. "I didn't pay much attention to it at the time. I figured it was her money and her time." But early this spring after Flo was diagnosed with Sundowner's, Tina spotted two checks her mother had written within four days of each other—the first check was for $5,000, and a second one for $2,000. On the memo line of each check, she'd written "Dan."
"Dan," it turned out, was a mechanical signature on a letter "personally" addressed to Flo soliciting money for what Tina believes to be an illegitimate—but perfectly legal—politically oriented cause. "That's when I knew I had to take her checkbook," Tina said.
"I did go to her bank, and I talked to them for some general advice," Tina said. "They're well aware of it, but they said this was not fraud, because my mother intentionally wrote the checks and sent them. They suggested that I put in a change of address on her mail. But there was nothing I could do about the $7,000."
And in the last week of March, Tina found in her mother's checkbook a notation of two checks written for $600 within four days to "USIU" where she made a handwritten notation:  "Investigative Unit." Tina has just begun to decipher her mother's checkbook to discover any money her mother might have sent in reply to all the direct mail pieces.
Tina and untold numbers of others face one of the most frustrating things about financial abuse of the elderly: the crimes are rarely investigated, much less solved. Much of it goes unreported, due to seniors or their children not even being aware that they've been had. Seniors who have been scammed are ashamed of being conned and are reluctant to report it to anyone, even their children, for fear their independence will be taken away from them. There is a general lack of knowledge of how to report the crimes and to whom to report them. In addition, no laws exist preventing some of the deceptive practices soliciting money from the elderly, such as the kind of direct mail Tina's mother received.
"A lot of these letters are coming from senators, representatives, sheriffs—some of it legitimate," Tina says. "Nancy Pelosi sending my mother a letter is not illegal. Some of these organizations are trying to get money for their causes. If you're in your right mind, and you believe in that stuff, that's fine. But I don't get this mail at my house, so I believe this is targeted to elderly people."
The variety of schemes, the FBI notes, "is limited only by the imagination of the con artists who offer them." According to the Better Business Bureau of Northeast Louisiana, the current top 10 scams that target senior citizens are:
1. Health Care/Medicare/
Health Insurance Fraud
2. Counterfeit Prescription Drugs
3. Funeral & Cemetery Scams
4. Fraudulent Anti-Aging Products
5. Telemarketing
6. Internet Fraud
7. Investment Schemes
8. Homeowner/Reverse Mortgage Scams
9. Sweepstakes & Lottery Scams
10. "The Grandparent Scam"
According to the Better Business Bureau and other organizations, caregivers can take steps to spot red flags to help protect their elderly parents and grandparents from scam artists and fraud against senior citizens. These include:
•    Make chitchat with elderly relatives to find out if something strange has happened. Ask them questions: Did the phone ring today? Have you made any new friends? What did you get in the mail today?
•    Visit their homes regularly. Watch for a full mailbox. A mailbox bulging with letters soliciting money indicates that the senior is on a mailing list targeting seniors—or even what's called a "sucker list."
•    Establish a code word or code question that the senior can ask that only they and their children and grandchildren know. Use this code word or code question in any phone conversations in which the senior might need to be sure they are not talking to an impostor. Beware of using answers and information that is readily available on the Internet, such as other family members' names, birth dates, and addresses.
•    Get involved with seniors' finances as much as possible, especially when managing their own personal finances has become a burden to them. Encourage them to let you balance their checkbook, so you can spot suspicious or large deductions.
•    Encourage them not to answer the phone and let voice mail pick up if the number on the caller ID is unfamiliar and not that of a family member or friend. Caller ID can be spoofed by scam artists. Official agencies, such as the IRS, will never call and ask for personal information over the telephone.
•    Warn your parents not to ever give out personal information, such as their social security numbers, banking information, or credit or debit card numbers by phone.
•    If someone calls from a "government agency" demanding money, request a certified letter on an official letterhead.
•    Tell your elderly relatives not to answer the door (unless they are expecting you) and never to hire someone who shows up at their door. A scammer may tell them their roof or plumbing needs repairing, but they take the money and never do the work.
•    Warn your parents and grandparents never to make an "on-the-spot" decision. Scammers and con artists will tell them they have to take the offer immediately or miss the opportunity. Legitimate companies do not pressure people to act without giving them the time to look into a deal.
•    Put the senior's phone number on the National Do Not Call registry and sign them up for the Direct Marketing Association's Mail Preference service to remove them from telemarketing calls and mailing lists.
Jo Ann Deal, president and CEO of the Better Business Bureau of Northeast LA, encourages all senior citizens and their caretakers to report such fraud to the Better Business Bureau and other investigative agencies. "What we want people to know is that anybody can make a mistake," she says. "And we want the world to know that just because we're old doesn't mean that we're stupid."
* Names changed to protect identities
Better Business Bureau of Northeast La.
(318) 387-4600
(800) 960-7756
http://www.bbb.org/north-east-louisiana/
Louisiana Attorney General's Office About Elderly Issues and Scams Consumer Protection Hotline
(800) 351-4889
(To report elderly fraud or to receive additional information)
http://www.ag.state.la.us/Article.aspx?articleID=17&catID=9-
National Fraud Information Center
http://www.fraud.org/
Direct Marketing Association Mail Preference Service
P.O. Box 643
Carmel, NY 10512
(To remove your name from mailing lists)
https://www.dmachoice.org/
Do-Not Call Registry
(To reduce telemarketing calls)
(888) 382-1222
http://www.donotcall.gov
Louisiana Do-Not Call
(To reduce telemarketing calls)
(877) 676-0773
www.lpsc.org
Federal Trade Commission
(888) 382-4357
http://www.ftc.gov/
Public Service Commission
(To report Do Not Call violations)
www.lpsc.org
Louisiana Law Help
(For information on elder financial abuse)
http://louisianalawhelp.org/issues/seniors/elder-abuse
AARP Fraud Watch Network
http://www.aarp.org/money/scams-fraud/fraud-watch-network/
Wise Giving Alliance
(Check the records of national charities through this program operated by the Better Business Bureau)
(703) 276-0100
http://www.give.org