THE TANGIBLE HISTORY OF WONDERFUL THINGS
By intern
Feb 1st, 2018
0 Comments
567 Views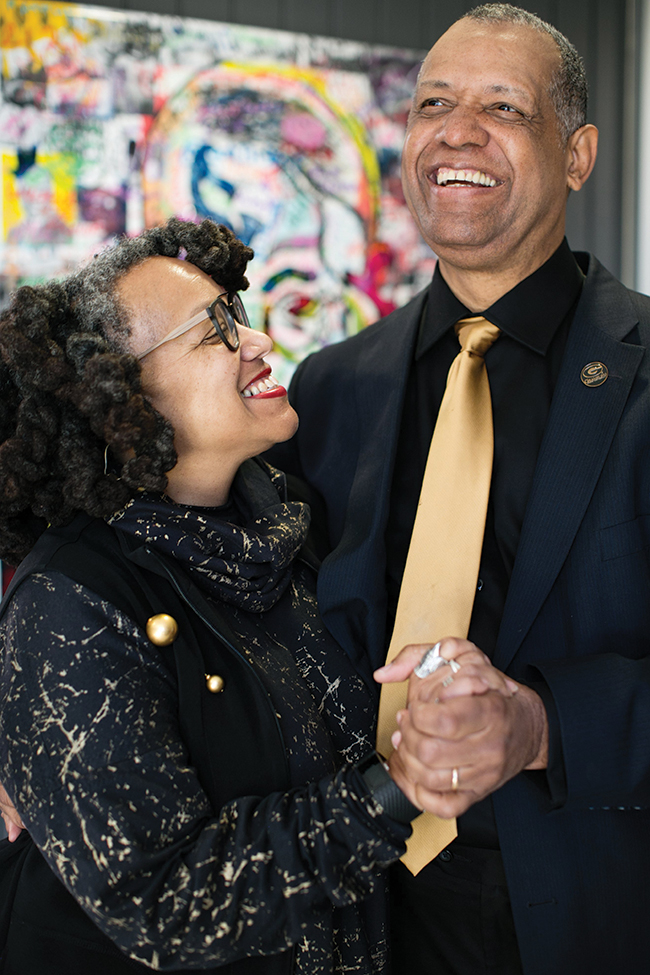 ARTICLE BY MICHAEL DEVAULT  |  PHOTOGRAPHY BY KELLY MOORE CLARK
Their life has been filled with beautiful works – of art and of service. Through diverse careers in art, journalism, higher education and ministering the Gospel, the Suttons have left their mark on generations of young artists, professionals and communities. For more than thirty years of shared experiences and efforts, Cheryl and Will Sutton are BayouIcons for the month of February.
Cheryl Sutton's life has been an uninterrupted exposure to "wonderful things," whether she was learning about airplanes from her Air Force mechanic father or painting murals in her elementary school classroom. It was one of these wonderful things that would launch her on a path in life that would find this young, African-American woman from Washington, D.C. to help enrich the lives of almost every individual she's ever met.
Across the table from Cheryl, Will Sutton's life has followed an equally unpredictable and inspiring path. Growing up in a family of Louisiana, Will knew from an early age he wanted to be a journalist. Despite growing up in New Orleans, home to the Times-Picayune, one of the most storied papers in the nation, Will's pursuit of the journalist's pen would take him far from home, only to deposit him back where he began decades later. The couple's shared experiences, their mutual adoration for one another and the artworks that fill their walls, and their passion for helping others find their paths to wonderful things have woven together into a rich tapestry of experience and living that makes them, at once, two vibrant, professional individuals and a singularity, an intertwined, inseparable pair. For the Suttons, as you will see, life is as much what the world brings you, as it is what you make of it.
"I think of myself as a citizen of the world–being from a world capitol and having the opportunity to live in different places," says Cheryl, who grew up in the nation's capitol but traveled the world with her military father before heading off to college. She credits her extensive travels as a young person with opening her mind to the world around her. "It really heightened my visual sense of the world, because I saw a lot of different places. I saw beauty everywhere."
For Will, the beauty in the world starts with music. He attended St. Augustine High School in New Orleans, a school renowned across the country for its marching band. Will played clarinet, and though he knew he wanted to study journalism, he had some conditions for where he'd study.
"I knew I wanted to attend an HBCU, and I wanted to play in the band," he says. "So, coming from St. Augustine, it was important that they had a band – and a very good one."
In the late 1970s, admissions to schools in the Historically Black Colleges and Universities system was competitive. Though his father was on faculty at Dillard, a prominent HBCU in New Orleans, Will wanted to experience a bit more of the world. So he applied to Hampton University in Virginia, the university made famous by its engineering school and its close proximity to the NASA Langley Research Center.
When it comes to colleges with lineages, Hampton is a school that exists in a class alone. The alumni roster includes engineers, artists, writers, performers, musicians, scientists, theologians and scholars of the highest order. Comedian Wanda Sikes is an alumna, and so is NASA engineer Mary Jackson, who was portrayed by Janelle Monáe in the hit film Hidden Figures. Other graduates include singer Dorothy Maynor and more than half a dozen NFL standouts. Martin Luther King Jr.'s mother, Alberta, graduated from the school in 1924. And civil rights trailblazer Booker T. Washington would spend a few years there before founding his Tuskegee University, graduating in 1875.
Hampton provided Will with the stimulation and education he needed to start a career as a journalist, which he did during his studies, holding both student internships and staff positions at a host of newspapers, including the Times-Picayune back home. After stints at a half-dozen newspapers and with a comfortable, full-time job at a Gannett flagship newspaper in New Jersey as a staff reporter for the Courier-Post in Cherry Hill, he was offered a full scholarship and living stipend to pursue a master's degree at the University of Michigan, one of the top programs in the world.
"It was a rather generous program, because it paid for tuition, room and board, books and a job," Will says. "My path led me to leave Cherry Hill and head to Michigan on Labor Day weekend of 1977."
He made the drive, pulled into Michigan, and then it clicked. Something wasn't right.
"I turned around and drove back to New Jersey, because I realized I was having too much fun," he says. "I loved what I was doing and felt like it wasn't the right time for me to go back to school."
The decision to return proved to be one of the most vital and impactful decisions he'd ever make, and it would set him on a path to a series of events that would be completely unbelievable – had he not lived them.
At a house party just a few months later, he found himself drawn to a young woman who had immediately caught his eye. His friends at the party told him her name was Cheryl, and that there were two other boys in line ahead of him, and he'd have to wait his turn if he wanted her attention.
"I did my time," he says. "I had the opportunity to chat with her – not enough time. But we had a mutual friend who told Cheryl of my interest."
The mutual friend told Cheryl that the young man she'd met was a professional, a southern gentleman, and "not someone she'd have to worry about." With her friend's assurances of the young suitor's intentions, Cheryl agreed to share her number.
"I had been placed in the friend's zone," Will says, with a laugh. "That's how I started down the path of beginning a friendship – because that's all she wanted. Fortunately for me, it worked. We've been together ever since."
During his past three years, Will had continued to ply the craft of a cub reporter and staff writer at the Courier-Post. One afternoon, a co-worker goaded him into a bet: the Philadelphia Enquirer had just posted a job opening in their newsroom. He scoffed at the thought. This was, after all, on the heels of the paper's still-unmatched five year run of back-to-back Pulitzer Prizes, a paper where journalists could make a career with their pens. He agreed to the bet, not long after making a somewhat ostentatious purchase of a telephone answering machine – a $500 expense in 1980.
"The very first message I received was from Jim Norton, at the Philadelphia Enquirer, who said they got my stuff and wanted to talk to me," he recalls. "The next thing I knew, they were offering me a job. I was stunned."
Together and apart for the next decade, Will and Cheryl began beginning their lives together. Courtship, marriage, job changes came and went. And through it all, they continued to follow a path of their own forging.
Cheryl had studied art and technology in college at Trenton State College, and though she was talented, she knew that hers wasn't a future in the creation of art but, rather, the business of art and artists. When Harvard offered her a fellowship in their art museums, Cheryl leapt at the chance, following an opportunity that "really changed the trajectory of my life." At Harvard, one of the perks of employment and fellowship was access to fine art in the Fogg Museum permanent collection.