The Top and Bottom of Fishing High Water
By Melanie Moffett
Apr 28th, 2015
0 Comments
1569 Views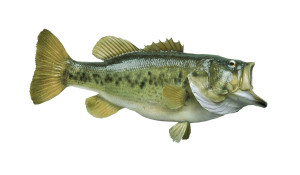 article by Kenny Covington
I have fished about every scenario that an angler can encounter.  I have fished through tornado warnings, hurricane aftermaths, snowfall, ice storms, you name it I have seen it and fished through it.  The one situation that has given me the most problems through the years has been fishing rising or high water on our river system on the Ouachita River.
Rising water or high water presents its own set of rules when it comes to bass fishing.  Typically when spring rains and rising water come this time of year, it puts the bass on the move.  For years it was believed and preached that on a flooded river system you had to find a bank in order to catch fish.  My experience has shown me that this is not necessarily the case.
Each body of water has its own personality, and the fish will act accordingly.  On the Ouachita River the higher the water, the more the fish tend to congregate into smaller areas.  Some might be current related, while others may relate to areas of standing cypress trees.  While other schools of fish will stay in the general vicinity of where they can be caught at normal river levels.  The key thing to remember is that bass in river systems have two
things on their mind this time of year, eating and spawning.
The active fish are more inclined to take advantage of the new abundance of food due to the higher water conditions are usually current related.  Old road beds, ditches or anything that can create a current break can be a potentially good area.  The current created by a rising water level can bring shad into newly flooded areas or it may flush out an area that has a high crawfish population.  If you can find areas such as this, bass will not be far away.
Fish that are more spawn minded tend to relate to harder objects, such as logs, bushes and trees, or anything that will provide them a way to move vertically in the water column as the water rises or falls.  I have found that the cleaner the water you can find the better this type of scenario.  Clear water is not really an alternative on a river system, but if you can find areas where the water isn't an influx of the muddy water coming from the main river then the better your chances of finding more productive areas.
I mentioned earlier that "finding a bank" on high water river systems has always been the normal response when asked about locating bass and while I don't necessarily agree, I don't discount it either.  Levees with little current flow can be good, as well as flooded pipelines.  Flooded fields have always been good areas for potential spawning fish. Try to find areas where the water stops, as this will let you pinpoint with more detail not only where the fish are you have located but where they will move to once the water starts to recede.
While locating river bass can be difficult, the choice of lures to use is relatively simple.  Topwaters, soft plastic jerkbaits and creature baits are popular choices.  The following is a quick rundown.
TOPWATER
Prop baits, like a Devil's Horse or Boy Howdy, are standards.  I will have a popper style lure, such as a Pop N' Image, on as well.  I don't get to hung up on lure colors as shad or bream patterns will both work.  The biggest key to fishing topwater in high water areas is to fish them slow.  The fish have to locate your lure and may have to swim a longer than normal distance to strike it.   Patience is key.
SOFT PLASTICS
For a more subtle approach, a Texas rigged Senko is a good choice if the fish are spooky while fishing around visible cover.  Flipping and pitching has always been a favorite technique in our area and a Texas rigged Brushhog or creature bait, such as a Sweet Beaver, can be good choices.  When casting and covering water, a Zoom fluke has always been a popular local choice.  All my soft plastic color choices will start with Watermelon/red, but at times in dirtier water, I will switch to Black neon.
For current related fishing, spinnerbaits and crankbaits are very good choices.  Both lures are very good search tools and will allow you to cover a lot of water.  For crankbaits, I prefer crawfish schemes and a 3/8 ounce double willow bladed white/chartreuse spinnerbait is a good bet.
The higher the water gets, the more possibilities there are for catching bass.  However, the river can be hazardous, so be careful when navigating it when it is higher than its normal water capacity.   Remember to catch one for me, and I will see you next month.