The Town They Built
By Melanie Moffett
Jan 27th, 2015
0 Comments
1222 Views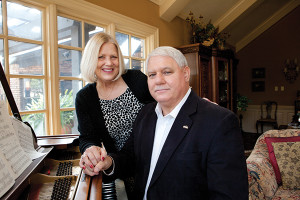 Linda and Joe Holyfield open up about the interests they share, the dream they've lived and their plans to continue serving the community.
by Michael DeVault | photograph by Brad Arender
Joe Holyfield leaves his home on Deborah Drive early every morning. He travels up Deborah, past dozens of homes and acre after acre of neatly planted lawns. It's a trip he's made many times over the last three decades, and if he seems a bit familiar with the neighborhood, that's expected. After all, his home was among the first houses in the neighborhood, and his construction company built many of the other homes around him.
Joe's wife, Linda, takes a slightly different path to work each morning. She passes along the way a surgical hospital, doctors' offices, and outpatient clinics—all part of a growing network of medical care providers that fall under the supervision of one of her several professional hats.
He's known as one of the region's premier contractors, and she's known by most as "the CEO of P&S Surgical Hospital," but spend a little time with Joe and Linda Holyfield, and you come away with a picture of a dynamic, vibrant duo staring down autumn together in the town they helped to build. In 41 years together—years in which they raised two children, helped to start or started outright more than a dozen businesses and nonprofit groups, and become entrenched fixtures in economic development and community service—Joe and Linda have come a long way from their roots as two kids who met at Ouachita High School.
Theirs is a story of hard word, determination, success and generosity, and that story begins—at least for Linda—in the sleepy southern California town of Tustin, in Orange County, and the day she learned her the family had been transferred to northeastern Louisiana for her step-father's job as one of the men tasked with building a new manufacturing facility for ITT Canon. It was the late 1960s, and in spite of a decade of growth and renewal for the Twin Cities, the area was a far cry from southern California.
"It was a culture shock, to say the least," said Linda. She entered Ouachita High School, and that's where she met Joe. But both are quick to point out that, though they were friends, it wasn't love at first sight. Instead, that part would have to wait.
"We really didn't date until college," Joe said.
Joe played fullback and linebacker for the Lions football squad. His twin brother—yes, he has a twin—Johnny also played football. When it came time to graduate, it seemed Joe's future was spreading out before him thanks to his performance on the gridiron. The standout—in every way, as more than 40 years later he still towers above most of the room—had been given a scholarship to Louisiana Tech. He could study engineering, design or construction and play football for a squad that was drawing national attention. After all, in 1970 Terry Bradshaw was drafted in the first round. As Joe would see time and again throughout his life, things rarely go as planned.
"I didn't play football at Tech," Joe said. His father had recently fallen ill, and his family needed him. So Joe kept it close to home and enrolled in classes at Northeast Louisiana University. He decided early on to major in business and marketing. But another program caught his attention, and before long Joe was a construction major. By then, he was dating Linda, who was at the school studying education.
Joe and Linda had big plans. He would graduate in construction and go to work as a contractor while she would become a teacher. Their plans set, the young couple decided to get married. That's when plans changed again.
"One of us was smart, and one of us could work hard," said Joe. "So, she went to school, and I went to work." He intended to go into business immediately, to become a contractor of custom homes. For a time, it seemed like that would be precisely what happened. He set to work building camps on Lake D'Arbonne for Monroe residents. To help make ends meet, he took a paper route for the Monroe Morning World and The News-Star. And, he drove a school bus for his old alma mater, Ouachita High School. "We did everything," Joe said.
"Everything" included another major shift—one that would impact both of their lives. Linda was beginning to question her future as a teacher, and she had already set her sights on a different career. She wanted to become a physical therapist and was well on her way when the university eliminated the program. "I ended up graduating in nursing," Linda said. The change of major proved to be one of the best decisions the Holyfields have made, and it opened up to Linda a path that would, over the next thirty years, lead her to become a titan of healthcare in northeastern Louisiana. "Nursing's been great."
By the time the 1980s rolled around, Linda was making her way up the management ladder at St. Francis Medical Center. But Joe's construction business had slowed, in part, because a major recession had significantly curtailed the housing industry. Looking back, Joe is more appreciative of those days. They had had children early, and both Lisa and Chris were involved in numerous activities. Joe was able to be an incredibly involved parent, spend time with them at school, coached ball teams and capitalized on the time he had with his children. Meanwhile, though, Linda was rising quickly in  management careers, she was still there on the sidelines. "Neither of us missed any kind of events with our kids," Linda said.
It was a magical time for them as their lives, with all the twists and turns, began to congeal into something resembling the powerhouse of activity and involvement the couple is today. Early on, Linda became the ICU/CCU supervisor at the hospital. She moved around, supervising nursing staffs at various levels until, at last, she reached the pinnacle of the St. Francis chain of command. "I've had probably every nursing position at St. Francis, all the way up to the vice president of nursing," she said. Hospital administrators had spotted a talent for business in their young vice president, and they sized the opportunity. Over the next two decades, Linda would tick off a laundry list of accomplishments, any one of which is enough to define a career:
Original developer of the community health center
Developer of the Cancer Institute
Founder of the S.D. Hill Clinic
Eventually, St. Francis brass decided they had the perfect place for Linda. A few years before, the hospital had purchased the Physicians and Surgeons Hospital, an outpatient clinic situated adjacent to St. Francis. The business model was sound, but it was fledgling. Administrators asked Linda to take over the organization as its CEO.
Somewhere along the way, Linda had figured out a crucial service lacking in smaller medical service providers. Doctors, clinics and smaller hospitals were in desperate need of back office support—someone to manage billing and health records systems. With the promotion to CEO of P&S Surgical, Linda decided to fill the void for the smaller providers and she started her own healthcare management company. Specialty Management Services of Ouachita, or SMSO, opened for business with its first client—P&S Surgical.
The company has grown from its single client roots into a thriving enterprise servicing dozens of enterprises and hundreds of doctors. The company provides management, billing, and implementation services for health records. They serve small physician's practices, outpatient surgical facilities and rural hospitals. "Our specialization is small groups that maybe can't afford the services of the really big consultants," said Linda. It's a lucrative niche carved out of a growth industry. Recently, the company took possession of corporate offices in downtown Monroe, in the long-vacant former headquarters of People's Homestead. As if to underscore the organic nature of the business, Linda notes a curious fact about SMSO's growth. "We've never marketed it or advertised it. It's all grown by word of mouth."
Linda wasn't the only Holyfield to find success in her chosen field. After the kids were grown, Joe focused in earnest on the construction company he founded all those years before. Holyfield Construction was on the move. He built hundreds of homes, mostly higher end properties in neighborhoods like River Oaks. His company developed major new residential and commercial tracts, too, such as Louisianne on Forsythe Avenue and the Tower Drive business area, where Holyfield Construction's office are. For much of his career, Joe focused on building mostly residential areas with a bit of commercial. "Now, we probably do mostly commercial with a little bit of upper-end residential," he said.  Still, though, the company continues to develop new residential tracts, most recently with the Egret Landing community near CenturyLink.
"This community has been good for us," said Linda. "He's grown his business out of this community, I've grown my business out of this community, and it's been good to us and our children."
Both Lisa and Chris are involved in their father's construction business, even though Lisa divides her time between Monroe and New York. Joe and Linda enjoy spending some time with their grandchildren, too. These days, though, they remain focused on their businesses and their numerous civic involvements. And by numerous, that is to say the Holyfields are everywhere.
Joe has worked for 20 years for ARCO, which provides services to developmentally challenged individuals. "They just don't have the things you and I have, the support," Joe said. "Most of them have been abandoned. They have nobody that cares for them. That's what ARCO does."
ARCO hasn't been his only activity. Joe was on the founding board of the Children's Museum, and while he served as the chairman of the Ouachita Economic Development Corporation, he was instrumental in shepherding the city through one of its darkest periods. State Farm had closed, their employees were leaving and the community was shell shocked. "It was my proposal to ask for the State Farm building," said Joe. "We asked for and received the State Farm building when they left town."
The proposal paid off. Since State Farm left, the building has been used to attract numerous new employers to the region. Lately, it's served as offices for the state of Louisiana. Joe also served on the boards of the North Louisiana Economic Partnership, on the board of Habitat For Humanity and was a founding member of the Food Bank and the Children's Coalition. His company renovated the first house for Rays of Sonshine. Two common threads run throughout his service activities: assisting the poor and economic development. "The people who need help are the poor, those who can't necessarily help themselves," Joe said.
Linda's activities have been equally diverse, though these days she tends toward healthcare efforts. "Healthcare is really fragmented right now, and I think we've lost sight of why we exist," Linda said. "That's why I like what I do, trying to connect those dots."
She helped start the Fellowship For Healthier Communities in the late 1990s, spearheaded the Turning Point initiative in the early 2000s and continues to be active in the Louisiana Public Health Institute. And what about economic development? Both of them continue to be involved on that front. Joe is currently on the boards of OEDC, NLEP and the Monroe Chamber. Linda is past chairman of the Chamber.
It's been an interesting life for the two kids from Ouachita High who started out their lives together with visions of marketing and teaching. They're pretty resilient, too. Where many couples might be thinking about slowing down, they're both firmly committed to continuing their pattern of growth and development—of both the professional and personal varieties.
"You change as life goes by," Joe said. "You realize what's really important in life isn't what you necessarily thought."