The Upper Cut: Sparky McDuffie
By Admin
Nov 3rd, 2016
0 Comments
636 Views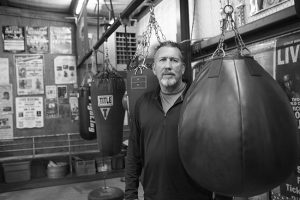 A Fighter, A Teacher, A Coach, An Inspiration – Sparky McDuffie Has Dedicated His Life To Inspire Others
Article By Nils Borquist
Photography By Brad Arender
THE IMAGE OF THE CIRCLE, OF THE RING, PERMEATES throughout mythologies all over the world, and this has been so for many millennia. This image holds a variety of meanings: order, being bound to principles, metamorphosis, the cycle of life and the bringing together of two people who are missing an aspect of life that only the other can bring to fruition. In the sport of boxing, two individuals meet within a ring in a contest that tests their physical, mental and emotional limits in a display illustrating each symbolic aspect, with the rules constituting order, the adherence to the rules representing being bound to principles, the knockdowns before rising again to one's feet providing the cycle of life and death and life again, and the winner and loser being forever altered by the outcome as metamorphosis. The fifth meaning, however, may be considered the most important, as the two competitors need each other to attain their pinnacles of mind, spirit and body, the competitive bond necessary in order to heighten their respective senses and fully realize unseen potentials.
In order to sufficiently prepare for such a trial, for a duel of this nature, another individual is undoubtedly needed. The mentor, the trainer, emerges as an invaluable guide who teaches the pupil how to approach the adventure, how to build oneself up, how to prepare to face another warrior alone in the ring. In the West Monroe Boxing Club, such a mentor can be found. Circling from the open doors past bins of entangled yards of cloth for wrapping hands, moving beyond the rope jumpers dripping sweat onto thinly cushioned mats, passing stacks of thick, red gloves, and weaving between racked barbells and suspended punching bags, visitors come to the ring that looms within the center of the room. Inside that ring, eyes wide with focus, lightly stepping, right then left, feet slightly pivoting and shoulders bobbing, hands wearing padded targets being constantly popped by a steady succession of apprentices, round after round, hour after hour, he tirelessly works. For over four decades, George William McDuffie, known to everyone around him as Sparky, has trained anyone with the desire to learn, hundreds of willing students, in the always delicate and sometimes vicious artistry of boxing, helping them along the way to discover things about themselves they may or may not have known to exist but could not unearth in any case without the right leader.
One could believe that Sparky McDuffie was born to train fighters. His father, George "Buck" McDuffie, became a master of coaching gangly, raw youngsters into refined and powerful winners. From his own years as a United States Marine Corps champion in post-World War II years, Buck learned the skills required to be successful in the ring, skills he realized he could convey to dedicated students. One such pupil was his own son, Sparky. In order to effectively teach, though, Buck needed a proper facility. Thus, after moving every so often from one local town to the next, in 1971 Buck created the West Monroe Boxing Club where he would begin to tutor one premiere titleholder after the other.
In the early 1970s, Sparky developed into one of the rising stars. While attending Ouachita High School, where after he studied during the days and played football in the brutal heat of the afternoons, Sparky would train with other up and coming fighters under his father's tutelage in the early twilight hours. It was a routine that forged the younger McDuffie into a workhorse, absorbing his father's wisdom while also transforming himself into a powerful physical force. During the decade, he fought numerous amateur contests, steadily progressing into a nationally known talent. After graduating from Ouachita, Sparky attended Louisiana Tech, playing defensive end and offensive tackle for the football team and eventually earning his degree in physical education. All the while, McDuffie continued boxing, and boxing well, earning the opportunity to fight in several Golden Gloves tournaments. These bouts along with hours of grueling training sessions provided Sparky with irreplaceable insight about what is required from an athlete to succeed, especially in an individual sport like boxing, where no matter how many trainers and sparring partners and weight lifting spotters one has, in the end, he or she is alone to put everything learned to the test.
"If you know the enemy and know yourself, you need not fear the result of a hundred battles. If you know yourself but not the enemy, for every victory gained you will also suffer a defeat. If you know neither the enemy nor yourself, you will succumb in every battle." So wrote Sun Tzu in The Art of War over twenty-five centuries ago. While he was referring to military skirmishes, the quote can certainly be considered apt in any competitive event. The better we organize, which involves our own mental and emotional preparation, the greater the likelihood of success. For Sparky McDuffie, the years of instruction and application in the ring taught what Sun Tzu discovered so long ago. To become a champion fighter, mental acuity, involving developing patience, calmness and dedication, must be honed. In fact, McDuffie believes that without such powers, a boxer will not succeed regardless of muscular prowess. He has seen several top-tier athletes collapse under the pressure produced within the ring. Those who do not possess or are unwilling to develop iron-like nerves will certainly fail. Part of the training delivered by Buck McDuffie was motivated by this idea, one that in practice consisted of rigorous physical training meant to either produce unwavering fortitude or convince the student to quit altogether. Most fought through the pain, and they came out not only better fighters but better citizens, which, in the end, was the ultimate goal. Undoubtedly, the gym was not going to produce a series of Rocky Marcianos, Muhammad Alis, or Mike Tysons, but helping to produce a series of better young men and women was absolutely achievable. Sparky certainly learned this lesson well, and he was tested through one of life's difficult trials that has come to afflict much of society.
In the early 1980s, after several dozen amateur contests, Sparky became a professional boxer while maintaining the grueling pace he set for himself while still a student in high school and college. Nearing the end of his college days and with his final football game played, McDuffie kept plugging away in the ring at night, and the work paid off. In 1982, McDuffie fought and won his first professional bout. While the trail to the peak of athletic success is often beset with difficult terrain, once on the path, with enough determination and skill, the climber can reach the top. However, sometimes even the strongest person encounters an opponent that can be difficult to overcome. Though he did not know it at the time, Sparky McDuffie would fight his final fight less than a couple of years into his career. It was neither a man nor a beast that would prevent him from moving forward but a monster of a different sort that reared its head. In the fall of 1984, while Sparky was training for another fight, his father, his trainer, complained of pain in his midsection. After tests, the initial diagnosis involved an infected gallbladder, and surgery to remove the organ was scheduled. Unfortunately for the McDuffie clan, though, the belief that the gallbladder was the issue was discovered to be incorrect; instead, terminal liver cancer was found, and Buck was given less than a year to live. Understandably so, this outcome was exceedingly difficult for Sparky, a man in his twenties starting his own family and in the early period of two promising careers. The premise of losing one's father is never easy, and the sting may be intensified with the foreknowledge that it is to come, that it is cruelly happening, rather than it occurring in a surprising fashion; however, he faced the impending situation with grace, and he made a tough decision about the direction of his life.
Replacing time in class learning and time on the gridiron practicing with teaching classes and coaching several sports, Sparky joined the staff of Sterlington High School in 1983, holding his position for 12 years at Sterlington and for 31 years overall in Ouachita Parish Schools. Balancing the life of a promising boxing career with that of a full-time teaching and coaching career was difficult, but McDuffie said that it was worth it. Between juggling the time to complete his work tasks, he was also embarking on a fulfilling family life. Just as this hectic existence was taking off, though, Sparky lost his father, and the West Monroe Boxing Club lost its greatest mentor. Making one of the most difficult resolutions anyone could, Sparky decided to suspend his fighting career to resume the work undertaken by his dad. He quickly discovered that a trainer wears many hats: personal motivator, strength and conditioning coach, psychologist and father figure. With the fortitude that made him a successful athlete, McDuffie leaped headlong into all roles, and his determination made an impact on every potential beginner who strode through the gym doors, no matter race, gender or age. Normally modest about his accomplishments, acknowledging the commendable pursuit his club has made over the years and continues to make today, to break exclusionary societal boundaries may bring the proudest smile to McDuffie's face, and it is obvious that training or involving anyone who wants to be trained or involved brings him great joy.
During his tenure at the helm of the WMBC, McDuffie has trained, by his estimate, over 300 and perhaps even close to 400 competitive amateur boxers. Among those who have moved into the professional ranks, a number approximately in the 100 range, there have been several standouts. Richard Savage, from West Monroe, finished his career with 35 victories against only 8 losses, and he fought for and won the International Boxing Council world featherweight title against former Olympic Gold medalist Steve McCrory. Adolpho Washington won 31 bouts, including the IBF cruiserweight world title against former Olympic Gold medalist Torsten May, lost 9, and had two draws, and he was famously never knocked out in the ring. Monroe native Jeff Williams won 14 professional fights as well. Glen Modicue is a former top-20 ranked professional junior middleweight. Savage, Washington, Williams and Modicue are but four of the success stories written by the McDuffie family and the fighters themselves, but by no means are the victories on the canvas the best measure of success for McDuffie and the WMBC. Molding hundreds, even thousands, of men and women of every race, age and background into admirable citizens should be the greatest consideration. If so, recognizing that many former competitors return to the facility to help McDuffie train the next generation of eager boxers, doing so freely and in gratitude for the offerings of their former trainer and knowing all too well what the sport can teach—tenacity, willpower, hard work and the setting and achieving of goals—should demonstrate the positive impact McDuffie and the sport had on their lives.
Joseph Campbell said that a hero is one "who has given his or her life to something bigger than oneself." Employing this simple definition, everyone who knows Sparky McDuffie or knows his story or has even been fortunate enough to cross paths with the man quickly realizes that he fits the description of hero. Beyond his own triumphs, those of college graduate, college athlete and professional boxer, achievements that are enough for many individuals to rest on until they are no more, Sparky decided that his mission in life would be to teach. He decided to give. He gave his time, he gave his energy, he gave his knowledge, and he did it with a smile on his face and the belief that those who gave all they had would be successful, no matter what the scorecard said. He gave and continues to give his life to the young of age and the young at heart, so that they may feel and understand the power of courage, self-discipline, respect and sharing the canvas in order to not only feel personally fulfilled but to help someone else attain his or her own ultimate fulfillment. He gives, so that they may learn to give as well. It is a lesson well understood, well appreciated, and one that is perpetually being given and received, a circle of friendship, a ring of life and of love.