The World is Her Oyster
By Melanie Moffett
Jul 6th, 2017
0 Comments
419 Views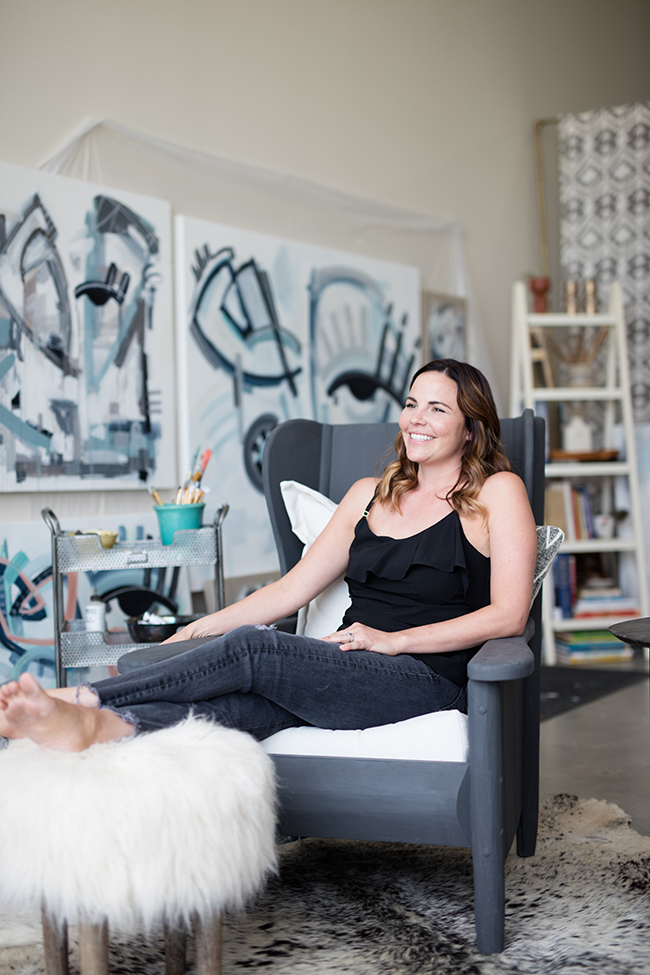 A Portrait of Sallie Bynum Anzelmo
BY APRIL CLARK HONAKER. PHOTOGRAPHY BY MARTIN G MEYERS
About two and half years ago, Sallie Bynum Anzelmo took a leap of faith and decided it was time to pursue her art full time. Originally from Shreveport, she had studied art education at Louisiana State University in Baton Rouge where she then taught art in K-12 classrooms for nearly ten years. Now Sallie owns her own art and home décor business, Sallie Bynum Anzelmo Art + Décor. When Sallie made the decision to leave teaching, it was scary because her husband, Charles ,was still in law school, and she was, in a sense, giving up a piece of their security. Teaching had provided a reliable income and benefits, but Sallie had steadily grown her business while teaching, and they felt it was time for her to go all in with her art.
According to Sallie, taking this risk and following her heart was worth it. While she enjoyed teaching and found it inspiring, making art and owning her own business had been long-time dreams. "Teaching allowed me to experiment with different things and push myself to grow," she said. "It helped me keep a fresh perspective and mix things up." But eventually, her art business required more time than she could devote while continuing to teach.
To reach this point, Sallie put in a lot of hours working outside the classroom. When creativity would strike at 2 a.m., Sallie would honor it and then go to work with her students the next day. Coming from an artistic family, art came naturally to her. She grew up loving and appreciating it, but said, "You've got to hustle when it's your job." She learned this lesson in part from her grandmother, who had started a scrapbooking line in her garage. When the line was picked up by Neiman Marcus, Sallie watched her grandmother's hard work lead to success.
Sallie's own success began in LD Linens & Decor of Baton Rouge. While in college, Sallie had worked at LD and developed a friendship with owner, Lisa Davis Gilly. When Gilly saw Sallie's work, she offered to feature several pieces in her store. After those pieces sold quickly, Sallie's success continued to grow. Her line is now available in more than 40 locations across the South and East Coast, including her newly opened Monroe-based studio, which can be visited by appointment to commission or purchase work.
Sallie currently sells glassware, paintings and other home décor items, including several items featuring oyster shells. For many people, oysters and their pearls carry special meaning. Over time, they've been associated with wealth, beauty, spiritual transformation and even seduction, but for residents of the Gulf Coast, oysters are often symbols of everyday life. According to Sallie, people from all over the world buy her oyster shells, but especially Louisiana transplants. "They relate to it," she said. "It's a little piece of home."
Sallie first used oyster shells in her work after being inspired by the floral arrangements at her wedding reception. "I had never thought of how pretty the shells were until seeing them in the arrangements," she said. The simplicity and natural beauty of the shape inspired her to paint them. In the beginning, she would collect the shells used in her work by hand, but now her business has grown so much that she's developed relationships with restaurants to obtain huge bins of them.
Running her business and keeping up with the demand for her sought-after line can sometimes remove a bit of the creativity. To stay inspired and compensate for the lack of daily interaction she'd gotten from teaching, Sallie has built strong connections with other artists through social media, and she makes a conscious effort to expose herself to other artists' work through direct encounters, as well as through books and online.
Sallie also explores a variety of media when she creates. She loves painting, sculpture and 3-D design. "I'm a very hands-on artist and really expressive," she said. "I work quick." Although realistic paintings and sculptures require more time, Sallie will sometimes complete four to five paintings at once when creativity strikes. "I love to have music up loud and throw myself into my art," she said. While working, Sallie listens to a range of genres from indie/alternative to hip hop and Texas country. When it comes to music, she said, "I love a little of everything."
Sallie described her studio as a haven and painting as an outlet. "When I get to paint freely, I feel most creative," she said. "I feel every piece I create is like an individualized thought. I focus my attention on each piece." She feels it's important for customers and clients to know "that the thought and attention were there." For Sallie, every piece is special and comes from the heart. "I love what I do. I eat, sleep and breathe it," she said. "I put my heart and soul into everything I do."
Now that her home décor line is well established, Sallie has the freedom to experiment more, especially with her paintings. Her current work is a little more personal and has been inspired by some recent trips and her recent move to Monroe. "I've been on a self-awareness journey, a bit of soul searching," she said. The work that has grown out of this soul searching focuses on intuition. Some of the pieces feature darker colors, and eyes are a prominent theme. Although the work is a departure from her previous work, Sallie said, "I think it's important for artists to learn and change and grow."
After spending her whole young-adult life in Baton Rouge, she and her husband's decision to move to Monroe inspired a lot of self-reflection. Baton Rouge had become home. It had become part of her identity. She knew where she fit and felt secure there. Now, in Monroe, Sallie is finding her place and wants to get more involved in the art community. "The slower pace and warm welcome to the city is bringing out some fresh ideas," she said. "I'm excited about our future here. It's already starting to feel like home."
Since beginning the "eyes" series, which was inspired in part by the move, Sallie has had a great response and attributes that response to the connection she's making with viewers. "When I buy art," she said, "it's something I'm drawn to." Emotions are triggered. "It's a quick reaction," she said, "and I think that's how I create and how I live." Sallie believes telling her story is important, but at the same time, she believes the work can speak for itself and that people can interpret it in their own way without a lot of explanation. Like oysters, eyes are powerful symbols with multiple meanings, making it easy for viewers to relate.
In addition to creating representational art, Sallie enjoys creating more abstract pieces with lots of texture. In these pieces, she often includes a word, phrase or quote that viewers might not notice at first. "I'm fascinated by the surrealists and hidden meanings," she said. "I like to put in something hidden—whatever comes to me. I think it's heartfelt."
Sallie's greatest source of inspiration is nature. While the women in her family introduced her to the hands-on side of art and supported her early development as an artist, her dad's influence came through books, music and his love of nature and the outdoors. Because of her dad, she spent a lot of time on the family farm in east Texas, where her dad gardens and raises grass-fed cattle. She grew up fishing with her dad, listening to Stevie Nicks and reading John Steinbeck, whose characters often shift in and out of sync with nature.
When spending time outdoors, especially on trips, Sallie is attuned to nature—its shapes, colors, patterns and landscapes. She's always taking pictures, recording videos and collecting things she can return to later for inspiration. Whether it's the pattern of a deserted wasp nest or the way moss grows on a tree, pieces of the natural world make their way into Sallie's art.
"I always start with a little something in mind and go from there," she said. "I'm a quick thinker, so I know what I'm going for, accomplish it and know when I'm done. I can't say it always goes as planned, but if it doesn't speak to me or make me happy, I'll rework it." Sometimes that means painting over it, and other times it means more drastic measures, such as cutting it up and repurposing it. Also, if people she trusts tell her a piece doesn't look like her or doesn't seem right, she knows it's time to rethink it. At the same time, she said, "I'm not gonna work something to death." She strives for a cleanness and simplicity in her work that reflects the natural world that so often serves as her muse.
Aside from nature, one of Sallie's main sources of inspiration is history, especially her personal history. As an artist, Sallie has been very influenced by both sets of her grandparents and described herself as an "old soul." In one series, she even included pieces of their old cookbooks and said including these memories was like including pieces of her grandparents in her work.
Because so much of her work is created from special memories, the process takes her to a special place—a place filled with love. In a way, Sallie views her work as a means of sharing that love. Because her work was created from a place of love, she hopes it can also be enjoyed in a place of love. "Having people respond to it and cherish it is so satisfying," she said. "I want it to make people happy, so I love getting feedback about how much they love something I created, and I love having that way to connect with people."
One way Sallie forges connections with people is through direct commissions. Over the years, she's received requests to create some very specific and very sentimental pieces. For example, she once painted a 4-foot swan for a woman whose maiden name was Swan. The painting allowed the newlywed to have a heartfelt reminder of where she came from as she transitioned into married life. Another client who was recently going through a transition in life wanted to treat herself to an original piece of art. "After hearing her story," Sallie said, "it made me want to make the most special thing for her, something that she could enjoy every day."
Looking ahead, Sallie hopes to one day have a storefront gallery where she can feature her own and others' work. Her goal is to create a cool, eclectic space that reflects her own tastes and supports other makers and artisans. For Sallie, "Art is something that brings people together—that people can take pride in, that brings joy and beauty." Sallie hopes the dream of owning a space will become a reality here in Monroe. With her hard work and passion behind it, her dream is sure to come true. Until then, Sallie said, "I want to keep painting what inspires me and being true to myself."