This Is Her Story
By Admin
Nov 3rd, 2016
0 Comments
246 Views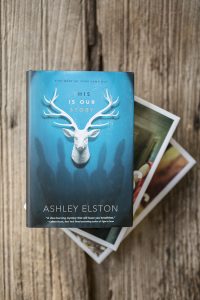 article by Kay Stothart Rector
photography by Martin G Meyers
"No one knows what happened that morning at River Point.  Five boys went hunting. Four came back.  The boys won't say who fired the shot that killed their friend, Grant; the evidence shows it could have been any one of them." 
So begins the synopsis on the cover of Ashley Elston's new book, "This Is Our Story," a legal thriller that Kirkus Reviews deems "Chilling and suspenseful, with just the right number of twists."
Scheduled for release November 15, 2016, "This Is Our Story" is the tale of the River Point Boys, five teenagers who, after a late night of partying, decide to go hunting.  Five boys walk into the woods, and only four come out alive.  Because drugs and alcohol are involved, the boys know that they could be held criminally responsible for their friend's death.  There in the woods, the boys make a pact not to disclose the identity of the shooter. The story is told from the perspective of a high school girl who works as an intern in the District Attorney's office, who has her own reasons for wanting to know what happened that morning, and from the perspective of the shooter, who narrates every other chapter.  The story unfolds through these narrative voices and through text messages and transcripts.  A legal suspense novel, "This Is Our Story" is written for a younger audience but has cross-over appeal for adults.
Growing up in Monroe, Louisiana, Elston never dreamed that one day she would be a published author.  "I've always been a reader.  I love to read and will read anything that I can get my hands on," she says, "but writing was never something I did or even thought about doing."
Though she may not have set out to become a writer, Elston is now the acclaimed author of three young adult novels, all published by Hyperion, an imprint of Disney Book Group.  Her debut novel, "The Rules for Disappearing," released in 2013, was chosen as a finalist for the International Thriller Writers Best Young Adult Novel Award in 2014. It has been translated into Dutch and German.  Last year, "The Rules for Disappearing" was optioned for film by Shorelight Pictures of New York, and the screenplay is currently in production.
"I still have to pinch myself sometimes," Elston says of her literary success.  She recalls her first trip to New York after receiving the nomination for Best Young Adult Novel.  She and her husband, Dean, attended the awards dinner and visited the offices of Disney-Hyperion to meet with her editors.  She remembers thinking, "I can't believe I'm here."
Elston and Dean, her husband of over twenty years, live in Shreveport with their three sons, aged 16, 14 and 8.  A Monroe native, she graduated from Neville High School and attended what is now the University of Louisiana at Monroe for one year before transferring to LSU-Shreveport to be with Dean.  She tried to pursue a career in nursing and was heartbroken when she was not accepted into nursing school. Looking back, she realizes what a blessing that disappointment was for her.
While her children were young, Elston developed her interest in photography into a successful business, working as a wedding photographer.  "At that time in our lives, it was ideal, because wedding photography is mainly weekend work. I was able to be at home during the week, and Dean could be with the boys on the weekends, while I worked."  However, after their third child was born and the older boys became more and more active, she found that she was missing out on a big part of their lives.  So many things happen on the weekends—soccer games, birthday parties—that she wanted to be present for.
Taking a break from professional photography in order to be a stay at home mom, she took over the bookkeeping for her husband's landscaping business. Elston says that while she enjoyed doing that and being at home with her boys, she found that she missed having a creative outlet. It was then that she began to write.
The manuscript of her very first book is, Elston says, "in a drawer, where it will stay forever."  She refers to it as her "practice book."   "It wasn't very good, but it was good practice.  It contains a lot of my personal story that I don't know if I would ever want to share or have published."  Although that attempt did not lead to publication, it did confirm for Elston that writing a book was possible for her.
The idea for "The Rules of Disappearing" began with the opening scene that Elston says she visualized, without really knowing what it meant or where that story might be going.  "As a photographer, I'm very visual.  I have to see my scenes, before I can write them. If I can see it, I can write it."  Elston says that she kept picturing a teenage girl in a tiny bathroom with a bare lightbulb, cutting and dying her hair, having to change her appearance.  She wasn't sure why, but she knew that there was a story there.  That vision ultimately became "The Rules for Disappearing," the tale of a teenage girl whose family has entered the federal Witness Protection Program.
"There was something different about that book," remembers Elston. "It just sort of fell out of me. I could not write it fast enough. Every moment that I could find to write, I did.  I would write until I had to pick up the kids from school, and after everyone was in bed, I would stay up late and write."  She finished writing "The Rules for Disappearing" in less than eight weeks.  Although it was very rough, Elston says she felt she had created something that someone might actually want to read.
She spent the summer of 2011 researching the publication process and trying to find an agent to represent her book.  She received a lot of rejections and learned that the road to publication is, as she says, "not a fun process."  Despite those disappointments, by the end of that summer Sarah Davies of Greenhouse Literary Agency had agreed to represent her.  Davies is a former London editor who had been Elston's top pick when researching potential agents.  Choosing Davies as her agent was, Elston says, "one of the best decisions I have ever made."
While Davies loved the manuscript, she insisted that it could be better and set Elston to work on revisions. "I went through two rounds of revisions with Sarah," she recalls, which involved multiple phone conferences and a lot of long hours.  When Davies broke the news to Elston that Disney-Hyperion had expressed an interest in "The Rules for Disappearing," she was thrilled.  Davies told her that they loved her story and that "they see where you've left it open for a sequel.  What do you think the sequel will be about?"  Elston says she had no idea, because she never intended for there to be a sequel.  "I just left the ending open, because I thought it was funny," Elston told her. However, Davies was able to sell "The Rules for Disappearing" to Disney along with its sequel.
Elston suddenly found that she had a sequel to write, with due dates and deadlines and lots of expectations from the well-known publishing company.  Completion of "The Rules for Breaking" followed quickly.   Elston feels especially proud of the sequel, because it was, she says, "probably the hardest thing I have ever written."  Already under contract and with only three months to finish the project, she worked furiously.  She jokes that her kids "ate a lot of pizza" during those three months.  She recalls being under tremendous pressure that did not exist as she wrote her first story.  "For the first time, I was writing something that I knew was going to be published," Elston says.  With expectations looming, she was afraid of disappointing everyone.  "I still don't know how I did that."
Like the writing itself, Elston says her focus on young adult fiction "just sort of happened."  Her stories seemed always to develop from the perspective of a teenaged protagonist.  That continued to be true as she approached themes for her next novel.
The idea for Elston's third book came to her as she was sitting in the kitchen of her home, talking with friend and fellow YA author Elle Cosimano.  Cosimano was in Shreveport to visit and travel with Elston to New Orleans for a book festival.  They were discussing book ideas when Elston's mother, Sally Ditta, called, complaining that she had been summoned for jury duty.  Elston begin to recount to Cosimano tales of working in the Monroe law office of her father, Tony Bruscato, as a teenager.
Like most of her Catholic family, Elston attended Catholic school the majority of her life, but her senior year she decided to transfer with some of her friends to the much larger public high school.  As a senior at Neville High School, she was able to leave early each day on a "work pass" for a job in her father's law office.  Bruscato is a trial lawyer and had a jury trial that year.  Part of her job was helping prepare that case for trial, which Elston says she found fascinating.
As Elston talked about her teenaged experiences working in and learning about the legal system, Cosimano looked at her and said "that's your next book." The two writers started brainstorming and batting around ideas as they traveled to New Orleans and back to Shreveport.  Somewhere along the way, Elston says, "This Is Our Story" was born.
Elston drew on her memories as she created protagonist Kate Marino, a high school senior whose internship with the District Attorney's office lands her right in the middle of the drama surrounding the prosecution of the River Point Boys.  However, Elston is quick to point out that all of the characters in "This Is Our Story" are purely fictional, as are the high schools, St. Bart's and Marshall, and the Louisiana town of Belle Terre.  She admits that she enjoyed imagining and writing about these characters, some of whom are extremely corrupt. "It was fun to write, because these characters are so bad," she says. "They are definitely not based on anyone I know."
One day early in the writing process, Elston called her father to consult with him about some of the legal aspects of her storyline.  He happened to be at the courthouse, waiting to go into court and handed the phone to Michael Fontenot, an assistant district attorney, who was sitting next to him.  Although she and Fontenot had never met, Elston began asking him questions about criminal law and the "crime" she was crafting.  "Mike was so helpful," Elston says.  "I called on him at least once a week, as I was writing the first draft."  She notes that even with Fontenot's input, "I took some liberties with the law, as you always do in fiction.  Any mistakes in legal procedure are all mine."
Elston received advice from her husband and sons, who are avid hunters, about all things hunting and outdoors.  She says that she also got occasional admonitions from her sixteen year old, who was quick to set her straight whenever her teenage jargon did not ring true.  "No one says that, Mom," was something she heard more than once during the writing process.
Looking back, Elston sees the many ways that her own life and experiences are reflected in her stories.  None of her books are even remotely autobiographical, yet she notes, "You cannot help but have your own life influence your writing."
Like Elston's earlier novels, "This Is Our Story" is a great read for teens as well as adults, with a fascinating storyline, suspenseful plot and unexpected ending.  It is available for pre-order through Amazon and Barnes and Noble and will appear on bookstore shelves beginning November 15, 2016.
For more information visit www.ashleyelston.com and follow Ashley Elston on Twitter and Facebook.