Top Gun
By Katie Sloan
Oct 30th, 2017
0 Comments
255 Views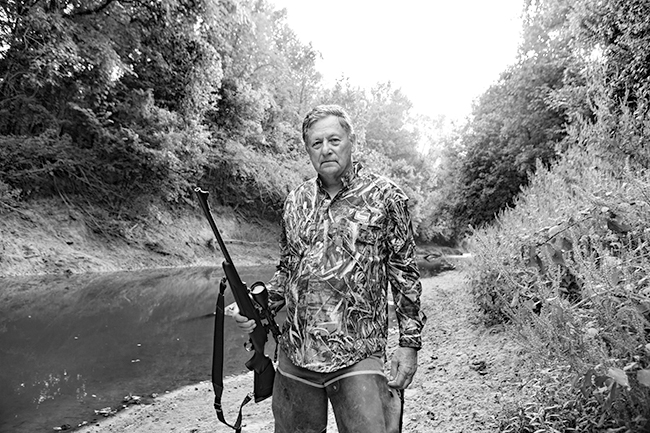 Article by Dan Chason, Photography by Brad Arender
Terry Denmon and his team at MOJO Outdoors have taken hunting to a new level. Denmon's love of the outdoors and commitment to community drives his passion.
If you have ever spent a cold still morning in a pit blind or leaning against a cypress tree in flooded woods, it does not take you long to figure out that ducks are attracted to movement.  We have an old saying, "This is duck hunting, not bird watching." Nothing is more aggravating than to watch ducks circle and circle and not want to come in. When it is still and there is no wind to move decoys, ducks are hard to work. I have hunted with some of the best duck hunters in the world, and they all have one thing in common:  They understand the association with movement in your spread and how that affects the reaction of ducks.
Prior to 1999, the typical manner in which one would add movement was the use of a "jerk string" or by moving your body while standing in the water to create waves/movement. The movement added life to decoys, and this resulted in ducks wanting to come in for a closer look. I have seen some elaborate jerk strings and devices to create movement, including a thin piece of metal staked out with a string on each end, trolling motors that moved water, and, yes, even an attempt to use a duck's wings and wave them, as if there is movement coming into the decoys.  In 1999, a company out of California came up with a revolutionary device:  The spinning wing decoy. This contraption was primitive and had many flaws. The biggest flaw was its loudness, and even worse, the batteries would not hold up for very long. Nevertheless, word got out, and soon you could see spinning wings in fields, woods and ponds from Canada to Mexico.  Around this same time, there happened to be a tie-in with north Louisiana at a store we all know well, called Simmon's Sporting Goods in Bastrop.  Even with the current decoy's flaws, Jeff could not keep them in stock.  Jeff contacted his good friend, Murry Crowe. Jeff knew Murry could engineer anything mechanical and asked him to take a look at the decoy to determine if some changes could be made to achieve its full potential.
Terry Denmon of MOJO explains, "I guess because I have become the face of MOJO in the latter years and because I am an engineer, I am often incorrectly given credit for the first MOJO Mallard, but actually that was done entirely by Murry. He is a mechanical genius and a perfectionist and can build most anything mechanical. We would not be here today, if he had not done that."
After Murry had engineered a "better mouse trap," the trio of Simmons, Crowe and Denmon decided the project was worth pursuing.  Demand was astronomical, and the three saw an opportunity to produce a product that already had a high demand.
ABOUT TERRY DENMON
Terry Denmon came to the Monroe area from Vicksburg in 1973 after establishing himself as a top engineer with the Corps of Engineers. He took a leap of faith and decided that he would start his own engineering firm and did so. Denmon Engineering was soon born. The price was high, as there were many sacrifices by Terry and his family to birth a new venture. However, with much hard work and dedication, the firm quickly grew.
Terry believed that with hard work he would succeed.  His business model was based on "doing the right thing." Through this simple concept, he grew his company into a leader in the engineering field in a short time. Hunting was always a passion of Terry's.  When you live in rural areas, it is natural to hunt and fish.  But hunting was a way of life for Terry, as his father raised and trained bird dogs.  Terry took this love of hunting and turned it into something that he never fathomed could occur. Little did he know that his passion would lead to 6 year term on the Louisiana Wildlife and Fisheries Commission, serving as Chairman for 2 years and Vice Chairman for 2 years, while being heavily involved in the local Chamber of Commerce and his own charity for kids, called "Caring for Kids." He currently serves as a member of the Louisiana Committee of 100, which is an organization of the top CEOs and Presidents of public and private businesses. Giving back and providing help to those less fortunate continues to be something that comes natural to Terry.
MOJO'S STAR IS BORN
While the rewards of his successful business allotted Terry opportunities to run a commercial waterfowl business near Catahoula Lake and took him on 7 trips to Africa, Terry was always looking for ways to change the way people hunted. Such was the case when Jeff Simmons approached Murry with the spinning wing decoy.  When Murry brought the decoy to Terry for some engineering advice, Terry knew right away that he was looking a something special. They knew the demand was there, and with a better product, they formed a team and decided they needed to get the product to market. Shortly after Terry joined Murry and Jeff, they formed a company called "Hunt Wise." This company's goal was to manufacture, produce and market hunting accessories. Their main objective was to pursue this new device that was setting the hunting world on fire:  The spinning wing decoy.
Murry Crowe is a tinkerer.  He can take just about anything and build it into a working product. Terry gives full credit to Murry for the concept and design of what is now the number one spinning wing decoy in the world. Terry and Murry went through many prototypes, received much field testing from Jeff and his close customers, who spent hundreds of hours in the field testing them. To develop their first working product, each prototype would be tested in the field with hunters. The name "MOJO" comes from Voodoo folklore and means "magic."  And magic is what the spinning wing decoys produced. The only thing they needed now was a marketing direction. During the early 90s, there were many outdoor television shows. Terry decided that instead of spending dollars on a bunch of different shows, the way to market his products was to become a "headlining" sponsor. This gave him more bang for his buck and also the ability to have input on how and how often his products were utilized. In 2012, Terry acquired all remaining interests of Hunt Wise from his partners, and the expansion of MOJO's footprint grew tremendously. Today, these products are highlighted via the Sportsman's Channel and Pursuit Channel on Terry's shows that he films and produces called MOJO TV and MOJO Migration. Keeping his commitment to north Louisiana in place, Terry opened the MOJO warehouse and production studios on the outskirts of Monroe. Business is good with product lines increasing to include hunting accessories, new spinning wing decoys, apparel and a strong on-line presence that is supplemented with professional videos and DVDs for the avid hunter.
MOJO SUCCESS.
Terry is quick to give credit to others.  First and foremost he credits Murry Crowe for what has become the patented design now used for all models.  He credits his on-going success to the team of professionals that work with him daily. He maintains competent people around him, including Mike Morgan, who heads up Media Relations.  Mike is the long time host of "Hunting Across America" and serves as co-host of Terry's shows.  Chuck Smart runs the day to day operations as General Manager, while Nate Metcalf handles the TV and Video Production.  Marty Bailey keeps tabs on Operations, and Terry's latest addition is Stevie Fry, a very talented lady with a B.S. in Industrial Design and Juris Doctor degree who handles promotions and communications for the company. Terry is quick to point out that his biggest passion is his family.  Terry's kids, Randy, John and Karen (Graves), are a driving force for Terry as the Company moves into a very sure future.
Hunting and the outdoors in general is a tough way to make a living. Terry has worked hard to survive in a very competitive business. However, he never dreamed that his work would be recognized as it was in 2014, when he was inducted into the Legends of the Outdoors Hall of Fame. This is a high honor but well deserved, when you look at where all of this started and where it has come to be today.  The spinning wing decoy has changed the way duck hunters hunt.  It's a simple concept, but one that has proven over time to be as much of a staple in a blind as shotgun shells and a gun. I would wager that on opening day, on any flyway in the world, you will only find a small percentage of hunters who are not using a MOJO Mallard.
But to spend some time with Terry will remind you of having a sip of iced tea with your favorite uncle. Terry loves hunting, and it is apparent when he is talking about what he loves.  Whether it is big game hunting, varmint hunting or duck hunting, Terry is a pure professional and knows his business. Terry is unassuming, cordial and down to earth.  Most impressive to me was the fact that he was ready, willing and able to get his hands dirty to get our job done for this article.   He is always up to a challenge, and I am sure that we have not seen the last game changing product from this man and his team at MOJO Outdoors.