True to the Past
By Melanie Moffett
May 27th, 2015
0 Comments
1075 Views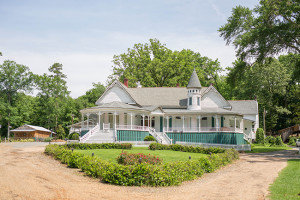 Edgewood Plantation:  Finding Love and Breathing New Life into Farmerville's Historic Baughman Home
article by Maré Brennan | photography by Martin G Meyers
This love story begins over one hundred and thirteen years ago at a time when small town merchants were kings of their domain, providing their communities with the necessities to grow. It was an age of horsedrawn carriages and rivers plied by steamboats. In 1902, Farmerville's leading merchant, Jefferson Davis Baughman, built a Victorian showplace of a home for his wife Nancy and their four daughters.  Complete with a unique bell tower and dramatic wrap-around porch with stick and ball latticework, the home, locally known as a Steamboat Gothic masterpiece, originally had thirteen rooms with soaring ceilings, hardwood floors and handcrafted crown molding details. When it was completed, Edgewood was the centerpiece of a three thousand acre working stock plantation and as one can imagine a social hub of northeast Louisiana's high society. It has been noted that Mr. Baughman, ever the savvy businessman, had gone to New York City to sell his cotton, when he happened to see an exhibition conducted by none other than Alexander Graham Bell, introducing the newest invention – telephones! Baughman promptly bought three, one for his mercantile store, one for the warehouse and one for Edgewood, making his home the first house south of the Mason-Dixon Line to have a phone. Edgewood encountered another brush with history when a young and a not-quite-famous-yet Charles Lindbergh ran out of gas while piloting his plane across the country and landed in one of Edgewood's vast fields where he was promptly refueled and sent on his way.
Fast forward to the turn of the millennium and Edgewood, with the passing of the last of the four Baughman daughters in the 1970s, had fallen into disrepair, a Sleeping Beauty castle that needed to be reawakened. Passersby would slow to get a peek of the plantation home slowly being overtaken by the piney woods and vines. Worse, vandals and scavengers would break into the structure, stealing anything that they dared carry out, including three of the home's four fireplace mantles which were literally pried off the walls. One of those frequent passersby was a longtime Farmerville resident, Kay Carroll, who dreamed of turning back the ravaging hands of time for Edgewood. "For years, I kept telling my husband, Pat, that it sure would make a great Bed and Breakfast," she smiles, recalling how she laid the groundwork for what has become the couple's passion, restoring Edgewood to its former glory and becoming the hosts with the most at this sought after venue. Pat was listening, and in 2010 Pat purchased the dilapidated property and surprised Kay with the keys. Luckily, Pat's background in construction prepared him for the arduous restoration that lay ahead.
"The third day we owned the property," remembers Kay, "the Sheriff's deputies, who were accustomed to looters destroying Edgewood, tried to arrest Pat for trespassing. I thought I was going to have to bail him out of jail, but they realized we were the new property owners fairly quickly and even helped with the restoration by returning architectural items which had been recovered as stolen property." What awaited the new owners was a turret 4.5 inches out of plumb after years of water damage, a disintegrating foundation and lots of bats and critters roaming throughout the structure. After seeing the condition up close, Kay recalls she had no idea that one day this overgrown diamond in the rough would become an amazing venue for weddings and events, as well. Explains Kay, it took over six months for Pat to get the home into a stable and livable state. No modern love story with a distinctive home such as this would be complete without an Internet intervention. During a search for materials online, Pat happened upon a fortuitous Craigslist ad in Shreveport offering three Victorian-era mantles that had recently been removed from an estate during its remodel. What are the chances that he would find three mantles built during the same time period to replace the three that had been stolen from Edgewood and only an hour drive away!
The Carrolls have taken painstaking care to restore the details that make Edgewood Plantation worthy of its place on the National Register of Historic Places. Layers of wallpaper were stripped and original colors of walls were discerned. Original oak floors throughout were restored to a beautiful sheen. As the couple points out, not one ceiling throughout the home is the same. In the Diamond Bay Room, which is often used for showers, teas or receptions, the exceptional molding throughout the room as well as the ceiling uses as diamond motif.
Kay Carroll's dream of a bed and breakfast is now a reality with Edgewood's guests discovering the charm and elegance of a by-gone era with every modern convenience and Kay's delicious breakfasts to fuel their mornings spent exploring north Louisiana or just getting away from it all. Within the main house, overnight guests can stay in either the Belle Tower Room or the Magnolia Room. The Belle Tower Room features the only fireplace mantle that was original to the home and a cozy reading nook that is nestled beneath the two-story turret. The Magnolia Room, painted its original creamy yellow and named for the large magnolia that blooms just outside the room's windows is a favorite of guests. Brides, too, love this cheery, spacious room and often choose to get dressed with their wedding party within the room's spacious and sunny walls. Guests love to relax in the Parlor with its unique doors with inset bookshelves and the Game Room with its rustic cypress board and batten walls, exotic mounts and hand-built cypress benches for ample seating. A 3-in-1 game table offers guests their choice of bumper pool, cards or a normal table.
For breakfast, served in the formal dining room, Kay says she loves "to make breakfast an event," starting with fresh fruits and catering to individual guest's preferences. Pat says he loves her Eggs Benedict and that no one can resist her delectable breakfast casseroles or spicy cheese grits. "It's all about the presentation," explains Kay. "I love taking care of people and try to create something different and unexpected." For Bed and Breakfast reservations, usually three weeks in advance is needed to book a room.
What the Carrolls did not expect after the restoration of their beloved Edgewood was the number of requests to use the grounds for parties and special occasions ranging from weddings, reunions, showers, birthdays, luncheons, business meetings, bar mitzvahs, church meetings, bachelor parties and more. Weddings are usually booked at least six months in advance, and Kay assures that she does not book rooms for the Bed and Breakfast concurrent with a wedding celebration, unless the rooms are reserved for family of the wedding party.
The large central staircase and over 3,000 square feet of wrap-around porch creates a dramatic setting for weddings. The heart-shaped garden lined with roses and delicately scented jasmine blossoms is another favorite setting that sets the tone for romantic nuptials. In addition, Pat put his master craftsman skills to work creating a wedding gazebo in the West Meadow utilizing bricks unearthed on the property and the same Victorian detailing found throughout the historic home. The Carrolls ensure that no detail is left undone to make weddings and events special. Blackjack, the Carroll's black roan Clydesdale, can be hitched to a beautiful wedding carriage, and with Pat at the helm in a top hat and tails, can deliver the bride to her groom or whisk the newly married couple to their reception.
One of the most incredibly innovative options for parties and wedding receptions is the Steamboat Pavilion, which Pat named the "D'Arbonne Lady K." Using architectural creativity, Pat built it to look like a steamboat and dedicated the structure as an homage to Captain Oscar Baughman, J.D.'s brother who brought materials and furnishing up the D'Arbonne to help build Edgewood. The pavilion will accommodate 150 people, features a 16 x 16 dance floor and is centrally heated and cooled. The space is designed for catering ease, is set up with speakers and is completely furnished with chairs and tables.
Edgewood Plantation and its accompanying buildings are handicap accessible. One of the Carroll's most recent additions is the Caretaker's Quarters which offers two guest rooms with a more rustic feel. Located near the West Meadow, the Caretaker's Quarters is a quick walk over a hand-built bridge to the dog-trot style cabin. Each side of the duplex sleeps up to 4 guests, has a private shower and is great for sleepovers and reunions. Grooms and their groomsmen love the Caretaker's Quarters and its laid-back atmosphere as their headquarters for getting ready for the "big day." For this relaxed space, Pat handcrafted single beds with unique retractable dowels for hanging tuxedos or suits. A cozy fire pit is located nearby for late night s'mores and conversation.
For those who love a little ghost story, it's been said that Oscar Baughman still walks the porch on occasion. Mark you calendars now for a one-of-a-kind Halloween experience at Edgewood. Every Halloween, the Carrolls, their family and friends don their ghoulish best and offer candy to guests who pass through the plantation's custom wrought iron gates hoping to get a glimpse of the dearly departed steamship captain. Louisiana Spirits has conducted several paranormal investigations throughout the grounds at Edgewood, including the private cemetery located across the highway from the plantation, that have led to some very interesting findings from unexplained footsteps to flashlights turning off and on by themselves.
    For more information about Edgewood Plantation, call Kay and Pat Carroll at 318.368.9709 or go to www.edgewoodplantationlouisiana.com.
text