Turning Heartbreak into Hope
By Admin
Dec 9th, 2016
0 Comments
286 Views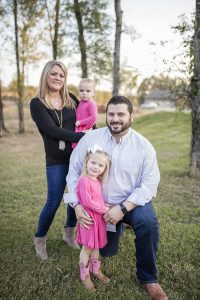 In November 2015, Holley and Jonathan Perry lost a child. Through grief and heartbreak, what would transpire in the days after losing John Clarke is nothing short of a miracle. This is their story and the beginning of what will be their legacy, a child was saved and a foundation was formed.
article by KAY STOTHART RECTOR and photography by MARTIN G MEYERS
John Clarke Perry and his twin sister, Ella, were born in Monroe, Louisiana on May 5, 2015 to Jonathan and Holley Watts Perry.  Healthy and beautiful, the twins were welcomed home by their big sister, Emarie, who had just turned two.  Life with two infants and a toddler was hectic but full of joy for the Perry family.  Jonathan serves as director of marketing for Century Marketing Solutions, a subsidiary of CenturyLink, and Holley works as a speech therapist.
In late November 2015, on a day rather like any other, the Perrys received a call from the twins' day care, reporting that John Clarke had been fussier than usual and had a mild fever.  Thinking he had an ear infection, they took him to a local walk-in clinic and eventually made an appointment with their pediatrician for the next day.  Just one week before, a routine pediatric checkup had pronounced both twins healthy and normal.
A family photo session was scheduled for later that day, which Holley says she considered canceling since John Clarke was not feeling well. He seemed better, though, so they kept the appointment and the photographer shot some wonderful family portraits as well as lots of candid photographs of the three children.
Later that night, John Clarke was sick and restless and did not sleep well.  The next morning, blood tests revealed lower than normal iron levels, and John Clarke was admitted to the hospital. After tests and scans, doctors delivered the devastating news that a blood vessel malformation was causing bleeding in John Clarke's brain.  He underwent surgery to stop the bleeding, but within hours he was bleeding again and a second surgery was required.
Holley recalls that the doctors were very candid with them about the seriousness of John Clarke's condition. Understanding that the situation was critical, they were scared and emotional. Family, friends and members of their church came to the hospital to be with them and pray.  They drew on their faith in God and looked to Him for strength.
Julie and Brooke, two nurses on duty at the hospital when John Clarke was admitted, stayed beyond the end of their shifts waiting for him to come through that first surgery.  They remained with him for most of his stay. His second surgery was on the Wednesday before Thanksgiving. Doctors were cautiously optimistic, and the Perrys went home for a few hours on Thanksgiving Day, hopeful that the second surgery would be successful.  When they returned to check on their son, they saw a handmade sign the two nurses had taped to his monitor.  It read:  "Have I not commanded you? Be strong and courageous.  Do not be afraid; do not be discouraged, for the Lord your God will be with you wherever you go.  Joshua 1:9."
By Friday, the bleeding in John Clarke's brain had returned.  The couple continued to pray, but the doctor explained that there was nothing more they could do.  The Perrys realized then that their precious son was not going to live. They began to discuss organ donation. After talking with doctors and representatives from Louisiana Organ Procurement Agency, they decided to donate John Clarke's organs.  They wanted their son's organs, particularly his heart and lungs, to help another child.  The Perrys were told that it was extremely rare for an organ donation from a six month old to be matched with a donor in need.
More than 400 miles away in Auburn, Alabama, another couple was praying for their son. Baby Davis Boswell, born June 30, 2015, was only a few days old when he became seriously ill. Diagnosed with a rare but deadly viral infection which affected his heart, Davis was hospitalized and underwent heart surgery. Although the surgery was successful as a temporary life-saving measure, Amanda and Tucker Boswell were told that their son needed a heart transplant in order to survive.
By the last week of November, Davis had been on the list for a heart transplant for over 110 days.  Doctors had warned the Boswells that it was extremely rare for an infant heart to be available, especially one that would be an appropriate match.  They knew the chances were not great, but they kept praying.  On Sunday, November 29, 2015, the Boswells received a call from their hospital's transplant coordinator, letting them know that a heart for Davis had been found.  On November 30, 2015, Davis Boswell's tiny body received John Clarke Perry's heart.
Although they did not know at the time who received John Clarke's organs, the Perry family took solace in the fact that through their grief another child's life might be saved.  Friends and family held a prayer vigil with the Perrys at their home on November 30th to pray for them and for the recipients of John Clarke's organs. Having their community come together and pray for them was comforting.  "We knew that we weren't in this alone," recalls Holley.
The day after John Clarke's funeral, a member of their church sent Holley a message.  Through mutual friends in Auburn, Alabama she had been following the story about the Boswell's son, Davis, on Facebook.  Holley broke down and cried when she read her message.  After some online research and conversations with another mutual friend, they were able to determine that the timings of John Clarke's death and Davis' heart transplant were too close to be coincidence.  Certain that the Boswells' son had received John Clarke's heart, Holley sent Amanda Boswell a Facebook message.  She let her know that they were praying for them and were happy that John Clarke's heart may have saved their son's life.
Actual confirmation about the recipients of John Clarke's organs did not come until months later.  A LOPA representative contacted Holley in March 2016 and was shocked to learn that she and Jonathan had already figured out who John Clarke's heart had gone to. "That never happens," Holley says. "No one ever finds out that early. It is amazing the way God has worked in all of this.  Jonathan and I are not completely healed yet by any means, but it has helped so much with our healing process to get to see Davis grow and thrive and know that John Clarke was able to save his life."
The Perrys were also able to confirm through LOPA that a little girl who was three months old at the time of transplant received John Clarke's liver.  They are still waiting for information about her and her prognosis.  The process takes time and it is up to the recipient child's family to decide what information to disclose. For now, the Perrys are at peace just knowing that John Clarke was able to help another child.
After corresponding for months, the Perrys met Amanda and Tucker Boswell for the first time this past April. The chaplain at East Alabama Medical Center in Opelika invited both couples to attend the hospital's annual Donate Life event to raise awareness and promote organ donation. Jonathan Perry spoke at the event and shared their connected stories with the audience.
At the end of that first meeting with the Boswells, Jonathan says that the two couples jokingly referred to the rivalry between the Perrys' beloved LSU Tigers and the Boswells' home team, the Auburn Tigers.  To lighten the otherwise serious and emotional tone of the occasion, Jonathan presented the Boswells with a T-shirt for Davis that reads "My Heart Bleeds Purple and Gold."  On the way home from Opelika, Jonathan thought about ways the two teams might join together to promote organ donation.  He later asked a staff member of the LSU athletic department about the possibility of a promotional event to help raise organ donation awareness.  The idea made its way to Les Miles' wife, Kathy, who contacted ESPN.  Holley and Jonathan were at the cemetery visiting John Clarke's grave when Jonathan received an email from an ESPN producer wanting to do a television story about John Clarke and Davis.
Crews from ESPN traveled to Monroe and interviewed Holley and Jonathan in their home.  When the Perry family visited the Boswells in Alabama over the weekend and attended the football game between LSU and Auburn, ESPN was there.  On September 23, 2016, the night before their teams met in Jordan-Hare Stadium, Auburn head coach Gus Malzahn and Les Miles of LSU came together for an unprecedented pre-game meeting.  They talked with the Perrys and Boswells, fans of the rival SEC teams, as they shared their story of a connection much greater than football.
The ESPN College GameDay segment, entitled "Heart of a Tiger," aired September 24, 2016.  In the television interview, Jonathan Perry describes his excitement at having a son and looking forward to taking him to LSU games in Tiger Stadium.  He describes the heartbreak of losing his son at only six months old.  He shares the story of how John Clarke saved the life of Davis Boswell, and how knowing that John Clarke's heart beats on in Davis has helped him and Holley live through their grief.
The Perry and Boswell families plan to meet each year at the LSU vs. Auburn football game. "We will be forever connected to the Boswells," Holley says.  She and Jonathan describe how, both times the families met, baby Davis smiled and reached out for them.  He especially loved Jonathan and would go to him without hesitation.  Davis was content whenever he was in Jonathan's arms.  His parents say that this is not the way Davis usually acts with strangers.  LOPA nurses explain that cellular memory, while not a medically accepted phenomenon, is sometimes offered as an explanation for what the Perrys experienced.  It is a theory that Holley and Jonathan believe is at least possible.
During the second visit with the Boswell family, sisters Emarie and Ella played with Davis and his brother, Hudson.  They are too young now to fully understand the connection between their families and it is not clear what, if anything, they will remember about this experience.  As they grow up, they will certainly hear this story, and they will remember their brother from his pictures that adorn the walls of their home.
The Perrys are blessed to have lots of family photographs with John Clarke and his sisters.  On the day the last ones were taken, the Perry family had no idea the difficult path they would be soon be traveling.  This year, they took another family portrait.  In it they held a photograph of John Clarke taken at that photo shoot last November.  Next year, when they pose for a family portrait, there will be another child in the photograph.  The Perrys are expecting again—a little girl, due this spring.
Jonathan and Holley talk freely about all of the ways that God has blessed them through John Clarke, despite the terrible pain of losing him. To be able to hold Davis, put their ears to his chest, and hear the heart that had once belonged to their son beating in his chest is, they believe, a gift from God.  "Our faith has grown so much stronger," Holley says.  They believe that John Clarke is in God's hands.  They are encouraged by the words of Joshua 1:9, the scripture the nurses posted at his bedside.  "Joshua 1:9 has become our verse," says Jonathan.
Earlier this year, Holley and Jonathan established the John Clarke Perry Foundation as a way of honoring their son and offering hope and assistance to other families.  In addition to promoting organ donation, the Foundation's mission is to provide support to families with children in need of life-changing medical treatments.  To raise funds for the Foundation, t-shirts were designed bearing the Joshua 1:9 scripture reference and the "Heart of a Tiger" logo.  The shirts are for sale at Louisiana Purchases on North 18th Street in Monroe and are available in adult and children's sizes.  All proceeds benefit The John Clarke Perry Foundation.
Inspired by John Clarke's story, a group of LSU students set up a table in front of the Student Union and began registering organ donors and educating other students about organ donation.  In the week before the LSU vs. Auburn game, they signed up enough donors to save over 100 lives.  They will continue their efforts, in honor of John Clarke, throughout the semester.
John Clarke Perry touched many lives during his short time on Earth.  His parents remember him as a loving soul with big blue eyes and a sweet smile that could light up a room.  John Clarke Perry's organs saved the lives of two children.  In the midst of their grief, Holley and Jonathan Perry gave the gifts of life and hope to two families.  Through the John Clarke Perry Foundation, they continue to give.
To learn more about organ donation or make a gift to the John Clarke Perry Foundation visit the Foundation's Facebook Page or
www.johnclarkeperryfoundation.com.