Unconditional Love
By Melanie Moffett
Feb 1st, 2016
0 Comments
1803 Views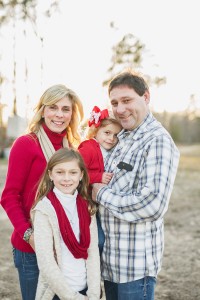 When she was only 13 years old, Annie Douglass made peace with her belief that she would likely always be a single woman with no children. She couldn't imagine that there could be a man who would understand her unique needs, accept her medical diagnosis and still choose to join her in the challenges that a life together would bring.
article by Barbara Leader | photos by Martin G Meyers
Little did she know that only a few miles away, there was a young man who would one day become her husband and the father of their children. Together the young couple would conquer incredible challenges and celebrate victories that most wouldn't believe possible.
West Ouachita residents Annie and Terrence Broussard and their two children Savanna, 8, and Sara, 3, appear to be like most any other young family. They ride horses together, go to Savanna's basketball games and practices and attend church. Unless you knew the family intimately, you would never guess the hurdles they've overcome and the blessings they've experienced on the road to becoming a family.
Medical Challenges Shape Life
Annie was born with a heart condition that required her to have surgery when she was only three years old. During that surgery, she was given a blood transfusion that was contaminated with HIV. Ten years later, she went to the doctor for treatment of another illness and learned that she had HIV – a result of the surgery to repair her heart.
"Through my life, I always prepared for it to be just me," Annie said. "I didn't think I would ever find a guy who could handle my illness. It will never go away. The doctors will never say that I don't have HIV/AIDS."
As a child, Annie attended Claiborne Christian School and spent her spare time with her animals – a Yorkie named Angel and a horse, Fancy. "My animals were my life," she said. "That's how I coped."
Illnesses Create Additional Challenges
Through the years, Annie missed a lot of school as she participated in medical studies, including one at the National Institute of Health in Bethesda, Maryland, and going back and forth to local doctors' appointments. But very few people knew the underlying cause of her frequent absences.
Her illness also made her reluctant to experience life like most other teenagers. "I really never looked at guys in a personal relationship kind of way because I knew that when they found out about me, they would run," she said.
Still, like any other beautiful young lady, she attracted the attention of potential boyfriends. At one point she set her fears aside and began a relationship with a young man. Confiding in him about her illness confirmed her worst fears. The relationship ended abruptly.Annie resumed her life as before, depending on her family and friends for support and riding her horses to fill her time.
A Love Story Begins
"I never knew Terrence," she said. "I knew his younger brothers – they were friends with my brother – I was friends with all of my brothers' friends. I cheered and they played basketball."
Terrence was four years older than Annie and was home-schooled. Even though Annie knew of Terrence, she didn't meet him until the two began working food booths sponsored by their churches and located across from each other at the Ark-La-Miss fair. They began talking as Annie went back and forth between the booths visiting with Terrence's brothers. "I thought Terrence was cute, but there weren't sparks," she said. "I just didn't let myself look at guys that way."
But a friend of Terrence's decided the couple needed to get to know each other better. He ran across the way to Annie's booth and asked her out for Terrence.
"He said, 'Do you know that guy?' pointing to Terrence," she said "I said 'Yes, he's Jeremy and Brandon's older brother."
"Would you go out with him?" Annie recalled the friend asking. "I said, 'Yeah, but he's got a girlfriend."
After learning that Terrence's relationship had ended, she agreed to go out with him. Their first date, Annie says, he picked her up at her house in his truck and took her to the fair. The couple shared a common love of horses and spent many hours riding together.
Young Love Confronts Serious Illness
"I asked her about her heart surgery," Terrence said. "She couldn't deny that. There wasn't any skipping around that, everyone knew she had heart surgery. But nobody was for sure what (other diagnosis) she had or why she had it. "
"She said 'I had heart surgery, but they fixed it and everything is alright," he said. "I said 'okay'. I didn't ask her anything else. I just made up my mind that if that's all she was going to say, that's fine."
Two or three weeks later, Terrence said Annie was ready to talk. "She said, 'I need to tell you something.' She told me about how she had contracted HIV. She said, 'I understand if I don't want to see me anymore and I said, "No, I've got to think about this."
"The next morning, I was sitting in my truck reading my Bible," he remembered. "I'd been praying to find the right girl. I was only 21, but I was tired of dating. I wanted to get married and have little kids and have a house to go to every night. So, I was reading my Bible and it was like God thumped me on the ear kind of like 'Ain't you listening?'
"He said, 'Look, I gave you someone. I've shown you someone who has all the same interests as you. Believes the same way you do, likes to do things with you and you like to do things with her. Everything you asked for, except there's this one little thing….HIV." And it came to my mind, "Tomorrow is not promised to anyone.' And God said…'Don't let this one little thing be a hindrance." So, I said. "I can handle it."
Annie said she expected that after telling him about her illness, the relationship would end. "I knew I really liked him, but I was afraid that when I told him, it would be over, so I wouldn't get really connected," she said.
An Answer And A Proposal
"I called her the next day and said, 'I'm good with it," Terrence said. Eight months after their first date, he proposed to Annie.
"He called me and told me that my horse had a hurt leg and that I needed to come down to the stall," she recalls. "I took off running in my pajamas, and when I got to the stall, there he was down on one knee and he had the ring out."
Before the couple married, Annie went public with her medical issues. She gave her testimony in each of their churches. "I went into my teenage years being diagnosed with AIDS," she said. "I wanted to go out of my teen years and to tell people what I had and what God was doing."
Terrence said after his initial decision to spend his life with Annie, he wasn't concerned that he made the wrong decision.
"I never had any doubts after that morning in that truck when God said 'I've got this. You asked for me to send you somebody. I've got this.' And still to this day, I don't have any doubts about her health. She could die tomorrow. I could die tomorrow. I don't have a problem with that. No, I don't want to go on without her, just like any other man wouldn't. And she's not going to die tomorrow. But if that was to happen, I could deal with that."
Young Newlyweds Confront Medical Crisis
Annie's medical issues continued. She was in and out of hospitals and doctor's visits – a routine part of her life. But at one point shortly after the couple married, it got significantly worse. Annie had a serious infection in addition to the HIV.
Terrence found himself, a newlywed of six months, sitting beside his wife's hospital bed in ICU in Shreveport. He'd been told that she likely wouldn't live through the night.
"You could see the monitors and her blood pressure was like ….it was horrible. She shouldn't be alive," he said.
"I grabbed her hand and prayed for her and she was blue and cold," Terrence said. "I prayed, I said, I finally found the person that I want to be with the rest of my life and the person that I think you want me to be with. I know you didn't just allow us to date, get married for this short amount of time and then bring us to this point. I don't feel like this is the end, but it's in your hands."
"I prayed that if He had a job for us to do, we needed to be doing it. I didn't believe it was the end… with her dying right here in this hospital after we ain't done anything together as a couple or anything."
Miraculously, Annie's condition turned around and soon, she was headed home from the hospital. The couple says no one ever knew what the infection was or what caused it. Over the years, Annie had beaten the medical odds time and time again, surviving illnesses that according to doctors, she should not have.
Beginning early in life and throughout her time with Terrence, Annie would endure illnesses and treatments then defy the odds, recover and move on.
Moving Ahead With Their Dreams
When Annie's medical condition seemed to be stable several years later, the couple decided they wanted to have children. They tried several times to adopt, but all of the attempts ended in disappointment.
"The adoptions were a letdown and it wasn't like they didn't happen because of the HIV. The mama would just decide she wanted to keep her baby," he said. "I think God had the ultimate plan to let us have our own two kids."
Annie and Terrence now have two girls, neither of which have HIV. For more than ten years Annie's medical indicators of HIV have been classified as "non-detectible."
"It's a treatable disease now," Terrence said. "Ten   years ago, it wasn't."
The Future Is Bright
Today, their life is much like other couples their age. Annie is a stay-at-home mom. Terrence owns an electrical business, ASTS Electric, and is studying to take the exam for his general contractor's license. Annie plans to one day write a book chronicling her life. She hopes that it will give others in similar situations both faith and strength.
For Terrence and others who know her well, Annie's already been an inspiration. "I figure I'll make it to about 80 years or so and I'll die and she'll still be alive," Terrence said. "In my opinion, God's used the medicine to heal her."
"Our relationship would not be possible without God," Annie said. "There's a verse in the Bible that says, "With men it is impossible, but not with God; for with God, all things are possible."
Annie and Terrence have been married 16 years and are looking forward to a bright future with their children and eventually their grandchildren.
"Just like all relationships, we've had our ups and downs," Annie said. "Terrence has always loved me for me. I love him for many reasons…but, I especially love him for loving me."