View of Tomorrow
By Melanie Moffett
Jan 5th, 2016
0 Comments
313 Views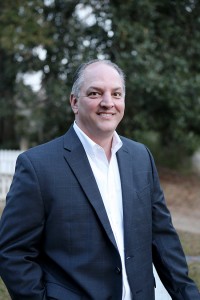 Introducing John Bel Edwards
article by Michael DeVault
Fresh off a resounding victory over Sen. David Vitter, Governor-elect John Bel Edwards isn't resting on any laurels. He's hard at work building the framework for a massive overhaul of state government, undoing years of neglect and shortsighted policies and bringing Louisiana back from the brink.
With just weeks to go before he steps behind a podium and takes the oath of office as Louisiana's next governor, John Bel Edwards is giving Louisiana a preview of what they can expect from his administration. Already, he's made waves by promising to build a bipartisan administration, govern from the center and unite the state's disparate and often competing regions while providing solutions to spiraling education and healthcare costs, a stagnant economy and what some have called a broken state government.
In spite of these challenges, Edwards abounds with a youthful, driven optimism and an enthusiasm for all things Louisiana. He and his wife, Donna, reared three children together–two daughters, both in college, and a son who'll attend school in Baton Rouge, and they're active members of the Amite community and St. Helena Catholic Church. A graduate of West Point and LSU Law School, Edwards is a veteran used to make-or-break challenges. In 1988, he began serving in the U.S. Army, eventually commanding a company in the 82nd Airborne. But during his years of service, his family back in Louisiana was never far from home, and in 1996, he returned home.
Spend just a few minutes with the governor-elect, and you'll leave with a renewed sense of hope in Louisiana. Driven by a hopeful vision for the future, he is busy assembling the team that he hopes will help restore Louisiana's tomorrow. BayouLife caught up with the governor-elect, who spared a few minutes so our readers could get to know him a little better.
BL: Louisiana is a diverse state, with deep cultural differences between north and south Louisiana, southeastern and southwestern Louisiana, and even New Orleans as its own thing. What will your plan be for governing these diverse areas? What do you see as the greatest strength of the state and each of these regions?
JBE: Our diversity is our greatest strength. I'll govern from the center of the political spectrum. That is where the best ideas come from. There is so much that we agree upon regardless of geography, party, race, or gender. When we start with those things, we can work out towards policies that make life better for all of Louisiana.
BL: There is a lot of talk about the first hundred days, but really the situation is more "first sixty days" and "first legislative session."  What are your priorities for the first days in office before the start of the session, and what are your goals for the session?
JBE: We have some big challenges to tackle. Ensuring that we have a good set of proposals for the special session so that we can find areas of agreement to deal with our current year and next year, budget deficits will be essential. In my first days in office I'll be focused on a collaborative approach to reviewing, capping, sunsetting or repealing the tax exemptions, exclusions, rebates that aren't giving people a good return on their investment. We'll focus on ending the annual double-digit tuition increases, returning $16 billion of our own tax dollars to Louisiana over the next ten years through Medicaid expansion and focusing on a more fair, flatter tax structure that provides truth in advertising to businesses who want to operate in Louisiana.  I'll be working hard in the first weeks to ensure that we include stakeholder input in budgeting policy changes ensuring that every opinion is valued in the process. It's time to put Louisiana first. People who want to do that will have a place at the table as we move forward together to solve our problems.
BL: There has been some talk of a special session to tackle the most pressing issues. Will you consider calling a special session in January/February? If so, what will the call be?
JBE: We absolutely have to have a special session to deal with our current year budget deficit, or we won't be able to operate in the current fiscal year. The call of the session is being designed, and we need to make sure it's focused on solving our budget problems, but wide enough to provide solution driven options for legislators, as we all work toward a common goal. Obviously, we have to address the structural budget problems in the next fiscal year as well. There are no more short-term solutions available to us. In 2013, I led a bipartisan coalition to pass the only truly balanced, honest budget in the Jindal years. It took hard work, and it took cooperation. But I know our legislature and its members respond to good leadership that values their input and understands where they are coming from. I'm going to lead from the front.
BL: The last eight years have seen children in the governor's mansion full time for the first time in decades. How about your kids? Are they excited? Does Mrs. Edwards have big plans for the state house?
JBE:: Donna and I have been incredibly focused on building a strong transition team and on the work ahead. I have visited the Governor's Mansion and we are in the process of setting up a move in schedule. It's an honor to occupy the house and I know Donna is eager to make sure it is an inviting home for everyone who visits. Our daughters are in graduate and undergraduate school and won't be living in the Governor's Mansion full time.
John Miller, our youngest child will be moving into the mansion with us and attending school in Baton Rouge. He's excited about making new friends and knows what a privilege it will be for our family to represent the people of Louisiana. We'll treasure this opportunity and make lots of wonderful memories during our time at the Governor's Mansion.
BL: Governors Bobby Jindal and Kathleen Blanco spent a tremendous amount of time in northeast Louisiana during their terms, with Jindal boosting visits to the region almost weekly. Is this a practice you will continue? If so, where can we expect to see you first?
JBE: I will make sure to spend time in every corner of our state. We've got a big jobs boom in one part of our state; that will inevitably have widespread economic impact. We've got a massive infrastructure backlog that is holding back our state, and we're behind on projects throughout the state. Our master coastal restoration plan is in need of attention and input so we can find a way to fully fund it. Our energy sector needs a governor who is in touch with their workforce and business needs. People across our state want better access to high quality healthcare and education. 350,000 Louisiana veterans are ready to have a better partner at the state level.
These are not concerns and issues that solely affect one region of our state. So, I'll be talking to people in every region about our problems, and inviting them to be part of the solutions. That will mean I spend time in every part of our state on a regular basis.
BL: What's the number one thing you expect will be the biggest challenge during your first year in office?
JBE: We're going to have shared compromise to achieve shared prosperity. We'll have to make some decisions that won't always be popular in order to deal with the structural budget problems that are leading to bad decisions like raising tuition, and to bad outcomes, like our hospitals closing.
I expect one of the biggest challenges will be keeping people focused on the long term solution we all need and deserve as taxpayers, citizens, and as a family–as one Louisiana.