What's In The Fridge?
By Admin
Aug 1st, 2016
0 Comments
414 Views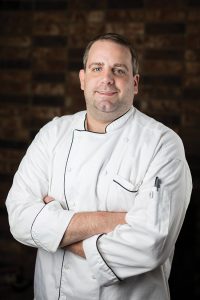 Blake Phillips, Chef at Restaurant Sage and newly crowned King of Louisiana Seafood, talks to Maré Brennan about his culinary influences, ultimate dinner guests and his stock of refrigerator must-haves.
photos by Martin G Meyers
So what's the deal with expiration dates? Do you abide by or care?
Most expiration dates are just suggested. We waste a lot of food in America. The FDA says the dates are a suggestion. Plus I have a really good sense of smell. I always smell test dairy and meat if I think it may be in question.
What do you cook the most at home?
Breakfasts on Sundays are my thing. I'll do biscuits from scratch using cake flour, cold butter, buttermilk or cream, whatever's on hand. I love bacon and biscuits! Breakfast, to me, is the most comforting meal. I used to eat a lot of breakfast food at night when I was younger. Eventually I got tired of that and started experimenting with cooking and used cookbooks from Paul Prud'homme and the Junior League's Cotton Country.
What made you want to be a chef?
I don't know. I like to give back to people and get an immediate reaction to my product that I put out. It's a quick turnaround for getting feedback. You see the results of your work in real time. My mom, sister and I always cooked together, and even now we spend a lot of time in kitchen when we get together.
Who are your culinary influences?
Paul Prud'homme, James Beard, Anthony Bourdain are all chefs I look up to. I actually got to meet Anthony Bourdain on the way back from my Italy trip. He was checking his luggage and I went up and shook his hand. It was so cool to see him. It was the perfect ending to a great trip. I had just spent 9 days in southern Italy – Positano, Sorento and Rome. I got to spend a day in Positano with a local chef in his kitchen. We cooked with produce sourced from the organic farm attached to his restaurant – fava beans, fresh cabbages, fennel and the most gigantic lemons you've ever seen.
Ultimate dinner party guests?
Thomas Keller, Anthony Bourdain and Kanye West just to stir things up.
How has life changed for you since you've been crowned King of Louisiana Seafood?
Well, the win has made me a lot busier in a good way at the restaurant, in my personal life and with catering events. It's created the opportunity to sell myself more as a chef. People are more willing to venture out and try my specials. Right now I'm getting ready for the North Delta Food and Wine Festival in October and trying to recruit chefs from around the state to participate up here. I did a restaurant takeover in Austin, Texas that Sheila Snow from the Monroe/West Monroe Convention and Visitors Bureau helped coordinate and I'll be representing  Monroe/West Monroe in another upcoming restaurant takeover in Asheville, North Carolina. On August 6th I'll be participating in the American Seafood Cook-Off in New Orleans which is sponsored by the Louisiana Restaurant Association. I'll be representing the great state of Louisiana and competing against some of the best chefs in the country.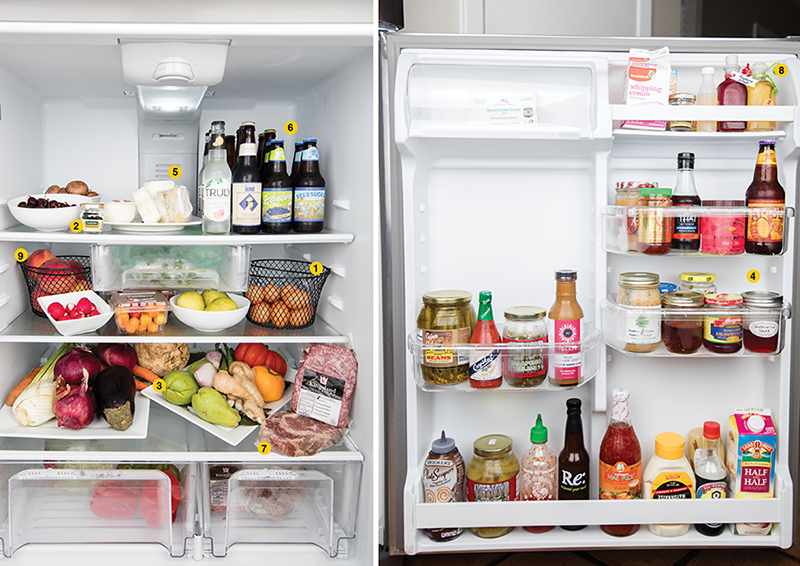 WHAT'S IN THE FRIDGE?

1) "I only buy natural,cage-free eggs. At the restaurant [Sage], we order fresh duck eggs and goat sourced locally from Swamp Fox Farms in Rayville."
2) "I love using truffles in my dishes and these I smuggled back into the states from Italy."
3) "Mirlitons are so versatile. You can make them into a slaw, bake or stuff them. At Thanksgiving I do a mirliton, cornbread and oyster dressing at the restaurant. Lately I've been adding crab into the mix, too.
4) "Muscadine jelly is a staple in my refrigerator. This jar is made by a friend's mom. Perfect on my homemade biscuits!
5) "I love snacking on cheese:  Asher Bleu Cheese from North Carolina, Drunken Goat Cheese which is made from goat's milk cheese soaked in red wine, Brie, Fresh Mozzarella"
6) "I always have craft beer on hand. Abita Beer is brewed just outside of Hammond, LA. Anita Amber – that's what I drink. Anita Seersucker is a great summer ale. Blueberry Wheat by Abita is a super seasonal offering. Bell's Brewery from Comstock, Michigan has a Kalamazoo Stout – a dark beer – that I really like, too. I really like craft beers; I'm not a light beer fan."
7) "We use Kingsland Steaks at the restaurant [Sage] because its locally-produced, grass-fed, grain finished, with no GMOs. Our fish at the restaurant is delivered whole and we skin and process it ourselves so that it is at the peak of freshness and never frozen."
8) "For intense flavors produced locally, raspberry and lemon extract are always available."
9) "There is nothing better than Mitcham Farms peaches: Full, sweet, delicious peaches grown in Ruston."