"Workin' 9 to 5… What a Way to Make a Livin'"
By Melanie Moffett
Sep 29th, 2014
0 Comments
348 Views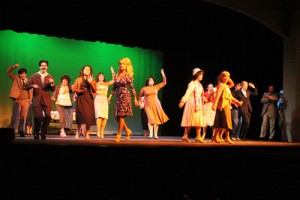 Strauss Theatre Center Kicks Off 2014-15 Season With "9 to 5" Musical
Director Gayle Frick is busy completing props and fluffing sets before the first run through of the new musical, 9 to 5, being presented at the Strauss Theatre Center beginning September 26 and running through October 4. She is nimbly crafting a "left-handed cigarette" from a regular tobacco kind for one of the scenes of the play which is set in 1979, when women's place in the workforce was behind a typewriter or "under a desk." No stone is left unturned by this detail-delving director, whose cast has been hard at work perfecting each scene since August.
Several of the lead and supporting actresses join forces on stage before the curtain comes up to talk about their roles. Linnea Fayard-Allen explains that she and Strauss veteran Brenda Rowan are thoroughly enjoying their comedic roles. "Tonight will help us guage where the laughs are and help us with getting our pauses and timing right," Linnea adds. Linnea's character is the one made famous by Dolly Parton in the movie of the same title, and Strauss audiences will immediately see the similarities, especially Dolly's trademark hair and "assets." Linnea is quick to credit Dolly Parton for writing wonderful songs and lyrics that interweave the storylines so perfectly.
Every one has a favorite song in the production. Strauss veteran Camille Peterson, who plays company stickler and administrative assistant Roz, says her favorite song in the show is "Heart to Hart" and elaborates that the characters found in this musical are extremely relatable. "I Just Might" is Linnea's favorite and "Get Out and Stay Out" is definitely a crowd pleasing, show stopper.
Adds Brenda, "The crux of this show is these pretty sharp women who do amazing work and the men who take the credit for those women's work and get promoted over them. Although the show is set in 1979, it's interesting that even today Louisiana still ranks at the bottom for equal pay for equal work."
Adding to the excitement of the show is the "busiest chorus/ensemble" ever, with actors singing even when they are not onstage. Ben McQuillin, a student at ULM's VAPA and part of the ensemble offers, "The music is a lot more fun than I thought, and it is heavy work on the ensemble. The ensemble as a whole is like a character in itself."
Megan Wilkins choreographed this high energy production. Stage manager Allison Tugwell adds, "I love this musical. I saw it first in New York the summer I lived there right after grad school. And to stage it here is incredible." Mike Gibbens created realistic sets in record time, and music director Julian Jones has whipped the cast into a strong, cohesive wall of sound. Says Julian, "My stress comes from not being able to breathe with the singers and dancers, since we had to use a track for the orchestration." Sound director for "9 to 5" is Scott Frick, husband of the director. Says Scott of a family that "plays" together, " I am so glad to run sound for the show, so Gayle and I can see each other. I love when her creativity starts coming out; she's is so great and fun to be around. Plus, our youngest son is usually at the SYAA stage, so he just pops over when he's done with rehearsals."
Many hands and countless hours went into making this first show of the season even a possibility. Strauss Theatre Center's near death experience after tornadic winds ripped the roof from the stage and flooded the facility nearly wrecked this venerable arts institution, but Board President Bobbette Prince and volunteers have resuscitated the giant, bringing in wunderkind Corey Trahan as Executive Director and restoring the house that Strauss built to a spit-polished shine.
Don't miss this bawdy and rollicking good time of a musical, that proves "9 to 5" to be as funny as the movie you remember. You'll love seeing lots of Strauss Theatre Center "veterans" on stage adding to the sparkle of the evening.
Sponsors for "9 to 5" include Merrill Lynch, the Northeast Louisiana Arts Council, CarTown, BayouLife Magazine, Glazer's, Choice Brands, and Tripptography,
For tickets, call the box office at 318-323-6681, email info@strausstheatre.com, buy tickets online at www.strausstheatrecenter.com